09.12.07
home | metro silicon valley index | music & nightlife | band review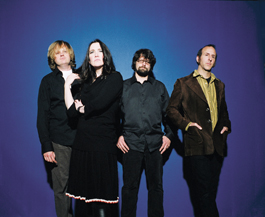 No Spring Chickens: But Kinski's got the huevos to play a flute hooked up to a distortion pedal.
Voiceless
Even with a mixed-bag new album, Kinski leads the pack of instrumental rock bands
By Sara Bir
INSTRUMENTAL rock bands never reach the same levels of mass adulation that their vociferous counterparts do. Maybe it's because people naturally respond more to the charisma of a lead singer, or perhaps music fans prefer to sing songs to themselves rather than hum them. While a lick can be as easily grafted onto memory as a snazzy chorus, people tend to identify songs with stories. Without words, the story of a song is 100 percent music.
There's a lovely purity to this, but when instrumental music fails to evoke images, a surplus of technical proficiency on the band's behalf can't make up for lack of soul. In other words, instrumental rock music can be as boring as hell. It's not a thing I'm proud of, but I've fallen asleep during multiple shows with three instrumental rock bands on the bill—a worst-case scenario of background music becoming the main attraction.
Kinski isn't strictly an instrumental band, though the matter-of-fact nature of its vocals, when it does appear, suggests that its attention lies elsewhere. Totally kicking ass, perhaps? In a land crawling with well-intentioned but musically overindulgent Kraut-rock/prog fans playing midtempo noodlings, Kinski shines as a beacon of powerful, engaging jams. Since forming at the end of the 1990s, the Seattle quartet has toured frequently and recorded a strong catalog of blissed-out space rock.
Due to its unfresh faces (Kinski are no spring chickens), woman-on-bass setup and love of feedback, Kinski is often compared unfavorably to Sonic Youth, but it far less downtown cool and far more acid-soaked. The band recently released its fifth album, Down Below It's Chaos, and is garnering more attention than ever, having toured with Tool earlier this spring.
With the passing of each album, Kinski guitar mastermind Chris Martin looks more and more like the band's namesake, the famously maniacal German actor Klaus Kinski, though the bags under Martin's eyes hang heavier and the features of his face slide lower into its bottom half in a gnomish fashion. He's a haggard-looking dude, and at Kinski's live shows, the longer the song, the more he droops over his guitar, until his posture calls to mind Quasimodo.
True, the band doesn't bother to make eye contact with the audience, but the best way to experience Kinski is live. The members don't smash anything or punch each other onstage, but the band's songs are living things whose energy penetrates a crowd.
Alas, one needs to dwell in Seattle to make a regular habit of catching Kinski shows, but the group's albums are rewarding; too bad Down Below It's Chaos, despite the presence of strong songs, is its least coherent. Since its first release, 1999's Space Launch for Frenchie, Kinski has issued albums that have shifted from sprawling psychedelia to capable but somewhat monotonous shred metal.
Down Below It's Chaos is too stylistically jumpy to grow monotonous. Power-rocking opener "Crybaby Blowout" is a swift, amped-up take on Black Sabbath-y stoner metal, the crunchy "Passwords & Alcohol" finds a strong groove, and Reid-Martin's keyboards infuse "Argentina Turner" with a garage-band party atmosphere.
But it never gels. Kinski's first three albums opened with epic, slow-building space jams that were fraught with musical tension. A bit formulaic, perhaps, but they always delivered a big payoff; at a song's close, you'd felt like you'd been somewhere profound. Down Below It's Chaos revisits that cinematic swoop just a few times, like the lovely "Child Had to Catch a Train," whose subtleties are somewhat buried in the album's punchier, more direct material.
There's a bright side to the sampler-pack character of Down Below It's Chaos: it's probably the best way to get a taste of all the things this band is capable of. Maybe a handful of adventurous Tool fans who caught Kinski this spring (and presumably did not fall asleep) are enjoying a gateway to experimental space music, the kind that tells a story without uttering one word.
KINSKI plays on Friday (Sept. 14) at 8:30pm at Bottom of the Hill, 1233 17th St., San Francisco. Tickets are $10. (415.621.4455)
Send a letter to the editor about this story.