09.12.07/div>
home | metro silicon valley index | the arts | visual arts | review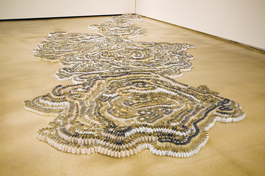 Photograph by David Pace
BREATHING SPACE: Mitra Fabian's construction 'Ventilate 1' takes on a life of its own.
Materials Girl
By Michael S. Gant
IN THE HANDS of artists Mitra Fabian, simple items such as plastic nozzles, tape, ping-pong balls, punch-hole rings and paper proliferate into organic installations that crawl around corners and up the walls at the San Jose Institute of Contemporary Art. Fabian's elaborate and painstaking constructions include floor works in which contoured swathes of accordion-folded colored paper look like topographical maps of Arctic ice fields. The papers strips are white on one side and silvered or ochre-tinted on the other, so that the vista changes depending on your angle of vision. In a delightful corner piece called Plot, Fabian uses various collections of colored plastic hospital supplies to evoke undersea corals. Red and yellow scrub sponges sucker their way up the wall like anemones. Everything Fabian does feels open-ended, as if her creations had taken on a life of their own and might soon inch their way out of the gallery and onto the sidewalk. Hence the most appropriate title for the show, "Propagation."
PROPAGATION, a show by Mitra Fabian, runs through Sept. 29 at the San Jose Institute of Contemporary Art, 560 S. First St., San Jose. Open daily except Sunday–Monday. (408.283.8155)
Send a letter to the editor about this story.