September 13-19, 2006
home | metro silicon valley index | columns | silicon alleys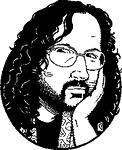 Silicon Alleys
San Jose Drift
By Gary Singh
SOMETIMES there are so many things going on over a stretch of just a few days that it's impossible to fully experience everything. Instead, one must engage in what some have called psychogeography, a subconscious drift through places with no intended final destination. Taken from the Situationist International, a radical French art and political movement in the '50s, psychogeography is related to the concept of derive, which translates as "drifting" and in Situationist parlance refers to locomotion without a goal or to a mode of experimental behavior having to do with a technique of rapid passage through varied ambiences.
So that's what I did, beginning with the press conference for the Dew Action Sports Tour last week. About 10 members of the media and a few photographers showed up to listen to some of the BMX riders and skateboarders wax poetic about how great the tour was in San Jose last year, and about how much noise will take place this year. Los Gatos High School graduate Ryan Nyquist, who currently ranks second in the BMX Park standings, had this to say: "I would really, really, really love to win here. To be able to win any contest is good, but to be able to win in the place you grew up and your hometown, that's amazing." Since action sports are starting to infiltrate the Olympics, BMX Vert rider Jamie Bestwick added, "My feel on it is that the Olympics have become a little bit boring. I think a lot of the events have grown old and need replacing and I think that action sports are the perfect avenue." Most importantly, the media guide for the event listed three "Major Attractions" in San Jose: the Children's Discovery Museum, the Tech Museum of Innovation and, curiously, Six Flags Marine World.
I discussed psychogeography with author Erik Davis the very next day after he did an interview at KKUP in Santa Clara. You see, he has a new book called Visionary State: A Journey Through California's Spiritual Landscape, in which he uses psychogeography to research sacred and mystical places all over California. The book is like an episode of Bay Area Backroads, but chock-full of druid libraries, Masonic lodges and Zen retreats. It includes the Rosicrucian Museum and the Sikh temple in Evergreen. He said that psychogeography "reinvests a sense of place that many of us don't have, probably because the world we live in is increasingly placeless." You can read more about this later on, near the end of this month.
At the polar opposite end of the spectrum, over in San Jose's secular landscape, a.k.a. the convention center, mayoral candidate Cindy Chavez opened up for Phil Angelides, California state treasurer and Democratic candidate for governor. They were speaking on behalf of an initiative to bring health care to all Californians by 2008 and they were convening at the second annual SEIU Healthcare Workers West Leadership Conference. A curious typo in the press release listed Chavez as "Mayor of San Jose."
But in the middle of this sacred drift, I just had to make an appearance at the Blank Club to experience Dick Dale, the man who single-handedly invented surf music in the '50s and '60s and—directly or indirectly—influenced every genre of guitar-based rock thereafter. Dale, now 69, sports a gray ponytail and looks like a shaman more than anything else. He tore up the stage and you really felt like you were in the presence of royalty. If anybody deserves to be etched into the spiritual landscape of California, it's Dick Dale. Near the end of the show he did the greatest version of "Amazing Grace" I've ever heard. Sadly, the place was only half full, probably because most folks would rather watch a cover band play Dale's "Miserlou"—only because they heard it in Pulp Fiction—than witness the legend himself. But that's San Jose, I guess. Dale actually alluded to this before playing the tune. "This was done before any of you were born," he said, almost dismissively.
Anyway, my time is up for this week. More on this adventure in next week's column.
Contact Gary Singh or send a letter to the editor about this story.