September 13-19, 2006
home | metro silicon valley index | the arts | stage | review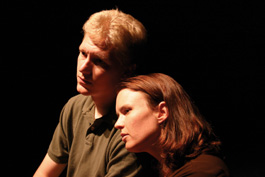 Photograph by Kit Wilder
Caught in History: Jeff Clarke and Julianne Arnall play Joe and Harper, two of the many anguished characters in 'Angels in America.'
On the Side Of Angels
City Lights Theater Company hopes to soar with ambitious production of Tony Kushner's epic 'Angels in America'
By Marianne Messina
ON A ROLL after a sell-out run of Jesus Christ Superstar, City Lights Theater Company keeps things grand-scale and cosmic as an apocalyptic angel ushers in the AIDS epidemic in Tony Kushner's Angels in America, Part One: Millennium Approaches.
"It's really simply a play of several parallel stories," says director Kit Wilder. But the play is also a gnarl of angst and existential questions as AIDS impinges on the lives of several characters: Prior, whose boyfriend can't deal with Prior's disease, and Roy Cohn (based on the real-life Joe McCarthy lawyer), whose conservative views clash with the implications of his disease.
Inseminated with Kushner's avid (shall we say leftist?) politics and set on the eve of a plaguelike wave that decimated the gay community, there is nothing simple about this play. "It's a very huge, daunting piece," Wilder admits, even leavened as it is with an "acerbic sense of humor."
In addition to production challenges, the play calls for nimble acting through discussions, dream sequences and hallucinations. Prior, whose depth is as much symbolic as literal, comes to think of himself as a prophet. In a dream sequence, he meets Harper, wallowing in the dream-state of her Valium addition, and hits her with the revelation that her husband is a homosexual.
"All the actors have to be able to play one, two, three things at once," Wilder notes. In casting, he looked for people who are "really capable of saying one thing and meaning another; saying one thing and suggesting something else, you know ... having various emotional contents and trains of thought that are different from, and parallel to, what's being said—which is fascinating because we all do that."
Given the play's psychological, political and literary complex of arteries, the upside of doing a work that was also turned into a successful HBO miniseries—audience familiarity—will come in handy. There is also a "downside" to TV familiarity—that it's not so easy to jump from hospital room to apartment building, especially if, as Wilder points out, "We don't have the technical capacity of wagons and revolves and a fly system to change scenes within a matter of seconds."
Intensely focused on language and debate, Kushner's directions call for a "'pared-down' style of production," according to Wilder, who set out to create an environment with flexibility for rapid, fluid location shifts.
Wilder's conceptual guide for scenic design grew out of a line from the play: "History's about to crack wide open; millennium approaches." After working with Ron Gasparinetti over four incarnations, the set they arrived at weaves that pronouncement into its texture. "This is a play being performed on a marble slab that has started to crack and settle, so the entire plane is slightly uneven and broken." Wilder calls it a "universal playing field" that takes us from one place to another "with a subtle shift of lighting."
Wilder and Gasparinetti puzzled over how to accomplish the spectacular angelic epiphany that fans of the miniseries will remember. "The script suggests that the ceiling breaks in and plaster falls," Wilder explains, "and there's all kinds of light and sound and flapping wings and great triumphal, orchestral music and whatnot."
That was not about to happen in the City Lights space. "What we're hoping to do is to have part of the scenic vision of the show start to collapse, and the angel makes her appearance more figuratively into the scenic elements of the play rather than literally into Prior's room."
The angel's annunciation, that "the great work has begun," foretells a Second Coming of sorts—Angels in America, Part 2. But for the theatrical version of that we'll have to wait at least until next season.
Angels in America, Part One: Millennium Approaches, a City Lights production, plays Thursday-Saturday at 8pm and Sunday at 2 or 7pm through Oct. 15 at City Lights, 529 S. Second St., San Jose. Tickets are $15-$35. (408.295.4200)
Send a letter to the editor about this story.