September 13-19, 2006
home | metro silicon valley index | movies | current reviews | film review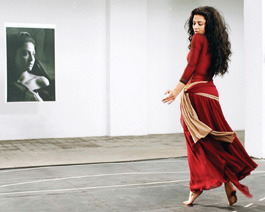 Dance of Art: Dunia retraces the steps of her mother the belly dancer in 'Kiss Me Not on the Eyes.'
Luxor Longing
The Arab Film Festival continues with a second weekend of rare features from the Mideast
By Richard von Busack
PURITANS never last, puritan societies never prosper, and the sooner they get to the next world, the better for everyone in this world. Still, if fundamentalism really does inundate the Arabs, it seems that pleasure-loving Cairo will be the last spot to be submerged. The second week of the Arab Film Festival at Camera 12 is highlighted by war-correspondent-turned-feature-film-director Jocelyne Saab's Kiss Me Not on the Eyes (Sept. 16 at 7pm). The heroine, Dunia, from the sticks in Luxor, is a too-cerebral poetess chafing against an increasingly puritanical Egypt. Dania talks a good game about unquenchable desire, but she doesn't seem to feel it. So she retraces the steps of her mother, a renowned belly dancer (and a scandal to her conservative family). Saab shows us the waning of a sensual world, of music and dance and street life. The plot makes an implicit reference to the 1994 attack on Naguib Mafouz, the Nobel laureate writer stabbed by a fundamentalist Moslem outraged by the author's writings; it also concerns the dispute over the religious correctness of the often-salacious Arabian Nights. Imagine Scheherazade herself becoming an unperson if certain clerics get their way. Saab hasn't lost a sense of humor; note the joke where a religious hag haggles away, believing that it is never too late to clitoridectomize a neighbor's daughter: "Let me just have one half ... a quarter ..."
The Arab Festival also turns West to the erupting state of Algeria, as seen by director Rabah Ameuer-Zaïmeche in Wesh Wesh (a.k.a. What's Going On) (Sept. 16 at 9:30pm), an Algerian/French film about an Arab-Parisian returning to his home village after forced exile and jail. Bled Number One (Sept. 17 at 9:15pm), winner of this year's Cannes Youth Award, also has an Algerian coming home to be alienated by the wave of religious conservatism taking over his land. Goal Dreams (Sept. 17 at 2:30pm) also deserves an a.k.a.: "Yet Another Soccer Movie." Still, it justifies the familiar path it takes by profiling the Palestinian national team as its members prepare for a match with Uzbekistan. The players have a picturesque training ground in Ismailia, next to the ship traffic on the Suez canal, but that's about all they've got: the nets are patched, the coach (an Austrian) must translate his words through an interpreter, and getting in and out of Gaza Strip is a never-ending bureaucratic nightmare. If you think your commute is bad, imagine trying to get through three border checks just to play a match.
On Sept. 16 at 3pm and Sept. 17 at 12:15pm, the festival screens two programs of short films, including Morocco's Amal, Palestine's Be Quiet, Under the Sun from Dubai and the Moroccan/German short film Rain Is Falling by Holger Ernst. Here's how Rain Is Falling is described in the press notes: "Far away in a foreign and merciless world, a little girl struggles to carry water pots that are far too heavy for her. Uncomplaining, she carries the pots from a distant place to her sick mother in their wretched home." No doubt Ernst illuminates this suffering—an honorable vision of the, what, 60 percent of the world that doesn't have indoor plumbing? But there has to be a better way of luring in the public.

The 10th Annual Arab Film Festival plays Sept. 16-17 at Camera 12 in San Jose. See www.aff.org for details.
Send a letter to the editor about this story.