September 13-19, 2006
home | metro silicon valley index | the arts | stage | review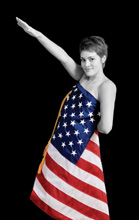 Arron Lewis Photography
Flagging Interest: A Nazi woman (Alika Spencer) wraps herself in the flag to make a point about 'The Bill of [W]rights' in a provocative new show by RTE.
The Rights Of Fall
Renegade Theatre Experiment takes a multifaceted look at the Ten Amendments
By Marianne Messina
LEGAL DOCUMENTS like the Bill of Rights are not moldy, stuffy things but the squirmy, slippery spawn of a seminal dialectic between personal fears and desires—at least that's the sense you get from Bill of (W)Rights, a prickly production by Renegade Theatre Experiment at its best. The show is actually a series of vignettes written by nine playwrights, each inspired by a different constitutional amendment and exercising the playwright's free-speech rights to the max.
The play earns its subtitle in spades: "A Walking Tour of American Freedom"—or rather, the audience earns it. Divided into two groups, we're led from room to hallway to outdoor courtyard, where different scenes are staged. Director Susannah Greenwood and crew cleverly coordinate the odyssey (with the aid of wireless communication) to create a fascinating sense of examining our Bill of Rights on many scales and from many angles. Group scenes full of human diversity—the "angry black woman," the "cracker," the "gay man"—take place on the main stage, at first distanced from the audience, but then spilling out into the seating area. Intimate scenes take place in a classroom, benches provided.
From a few feet away, we watch a husband (Jagjit Choudhary) and wife (Letha Remington) argue over who's spying on whom. Has she read their teen's diary? Has he placed spyware on her computer? Read her journal?. In another scene, the audience stands in the Hoover Theater hallway, which doubles as the hall outside a courtroom, while a juvenile delinquent (in black lipstick and black fishnet arm guards) argues her innocence with her father. Molly Gazay as Tina fumes, paces and kicks the walls (right next to this writer, I might add) in petulant outbursts.
Though Bill of [W]Rights isn't one of those productions that drafts audience members into the show, it can have you feeling like a voyeur in some public space, overhearing—or eavesdropping on—private lives. And the private lives force the recognition that "the right of the people to be secure in their persons, houses, papers, and effects against unreasonable searches" cannot be discussed as an abstract, unrelated to personal psychology.
One of the most illuminating—and ghastly—scenes (other than soldiers quartered in a private home who gleefully molest the lady of the house, Third Amendment) takes place outside, in one of the Hoover's open courtyards. We watch as the hooded Jet Chhay lurks by the courtyard gate. We hear a car pull up, oldies blaring out the window. As soon as Jeff Swan comes through the gate, Chhay begins taunting him. Around the perimeter, audience members face each other as part of the scene, especially pronounced in the broad daylight of the Sunday matinee. As the twisted exchange between Chhay and Swan unfolds, the witnessing effect starts to feel like the infamous New York slaying of Kitty Genovese in front of dozens of witnesses. I can only imagine how eerie this scene must be at evening performances under the courtyard lights.
Because each playwright focuses on a different amendment, themes are all over the place—invasive spying, abuse of authority, freedom to address taboo subjects—but ultimately this directs your attention back to the Bill of Rights itself. Have no doubt, Renegade's bold production makes waves. The post-show talk-back was one of the liveliest I've seen. (Yes, this is adult material. No, America is not Disneyland.) Unlike some experimental theater that is so invasive you want to slap it, this production leaves enough space for a truly active and enlightening experience.
Bill of [W]Rights, a Renegade Theatre Experiment production, plays Thursday-Saturday at 8pm and Sunday at 2pm through Sept. 23 at the Historic Hoover Theater, 1635 Park Ave., San Jose. Tickets are $18/$20. (408.351.4440)
Send a letter to the editor about this story.