September 13-19, 2006
home | metro silicon valley index | columns | live feed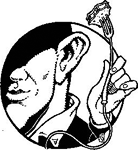 Live Feed
Food for Deep Thought
By Stett Holbrook
A FEW YEARS ago The New Yorker published its first-ever food issue. I still have a dog-eared copy of the magazine that I saved for posterity. The serious treatment of food writing in a publication like The New Yorker was a vindication of sorts for people (OK, me) who have long enjoyed food writing of greater depth than the stereotypical article on choosing a Thanksgiving turkey or how to bake a bundt cake.
Because of food's universality, it offers a window into culture, politics, history, biology and personalities that goes well beyond what's for dinner. In short, food is about much more than food and food writing is finally getting its due.
Of course, literary food writing, as it's sometimes known, is nothing new. Writers like Calvin Trillin, Raymond Sokolov, Jim Harrison and the late M.F.K. Fisher have long mined the subject with brilliant results. What's interesting is that now some of the best food writing is found outside the pages of traditional food magazines.
The latest magazine to discover food as a journalistic subject is The Nation. The venerable weekly magazine is best known for its sharp, left-leaning political analysis and investigative reporting. Its Sept. 11 issue (not a coincidence, I bet) is its first-ever food issue. The cover shows a sleeping woman decked out in red, white and blue and the words "Wake up, America! Pay attention to what you eat."
The issue includes many of the usual suspects of serious, non-recipe-based food writing such as Alice Waters, Wendell Berry and Michael Pollan. If you've read Fast Food Nation or seen Super Size Me, many of these articles will be familiar to you and echo similar themes: the industrialization of food is making us sick, poisoning the earth and endangering the heath of farm laborers and food service workers.
"What single thing could change the U.S. food system, practically overnight?" writes Fast Food Nation author Eric Schlosser in an essay on improving the state of what we eat. "Widespread public awareness—of how this system operates and whom it benefits, how it harms consumers, how it mistreats animals and pollutes the land, how it corrupts public officials and intimidates the press, and most of all, how its power ultimately depends on a series of cheerful and ingenious lies."
One of the most inspiring pieces was an interview with Ann Cooper, a chef at a fancy restaurant who became the director of nutrition services for Berkeley's public schools. She's now a lunch lady on a mission. In less than a year on the job, Cooper has been able to go from serving 95 percent processed foods to 95 percent made from scratch. This year every school will have a salad bar. Milk will be hormone- and antibiotic-free and fresh fruit and vegetables will be offered at every meal. All this costs about 18 percent more per student than the district gets from the government.
"Look, this is not brain surgery," says Cooper. "It's not that I'm so special that I've been able to figure this out; it's just because I care that we're able to do this. ... We have to have the will to stand up and say we're going to serve our kids healthy food and that we have to do it because we're killing our kids."
Santa Clara County schools have been slow to take up the challenge to serve healthier lunches. (One local food service administrator recently told me she was proud her district has instituted a method by which soups and stews could be piped from a central kitchen to cafeterias, streamlining food production. And how, exactly, does that helps kids?)
The Nation's food issue is off the newsstands by now but is available online. It's well worth seeking out. There's nothing wrong with bundt cake recipes, but food is too important a subject and too important to the health of the planet and the creatures who inhabit it to relegate it to just the pages of Bon Appétit and Women's World. I hope to see more of this kind of journalism and promise you will see more of it in the pages of Metro.
Send a letter to the editor about this story.