September 13-19, 2006
home | metro silicon valley index | movies | current reviews | film review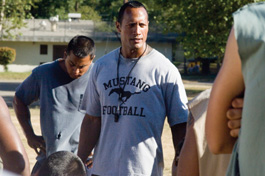 Like a Rock: Dwayne Johnson, a.k.a. the Rock, plays a football coach on a mission in Phil Joanou's 'Gridiron Gang.'
Soft Rock
Can you smell what the Rock is cooking in 'Gridiron Gang'? Leftovers again.
By Richard von Busack
THE END TITLES for Gridiron Gang show the real-life basis for this inspirational football movie: excerpts from the 1993 Lee Stanley documentary that it cannibalizes. Yes, a football coach actually promised his dying mother that he'd win one for her; yes, a football coach actually threw down the gauntlet to a would-be team of youth authority inmates: "Are you ready to accept the Mustang challenge?" You concede it's based on truth, but as acted by the Rock, the movie is as false as a glass eye. This, despite all the would-be authenticity—a no-star cast and director Phil Joanou's execrable attempt to mimic hand-held documentary style. He uses so much rack-focus that the cameraman must have gotten repetitive-stress disorder.
Sean Porter (the Rock) is an ex-state football star who now works at Los Angeles' Kilpatrick Youth Facility; he deals with gang inmates who are carrying out their street disputes even while behind razor wire. He decides to form a football team called the Mustangs to make one "gridiron gang" out of the rivals and to play against some of the Christian high schools in the area. The inmates are the usual mix of types: Setu Taase plays Junior, a Samoan with a rage problem; there's a white-boy car thief (Trever O'Brien); and Willie (Jade Yorker) is the brother of a previous inmate who succumbed to gang violence. Meanwhile, Porter's bosses, a pair of bad haircuts in polyester, stand in for every weary teacher or sagging parole officer that this film's target demographic might have encountered. To provide tension, they keep opposing Porter. "Your neck is on the line for this!" The Rock has a neck?
Survey Gridiron Gang for one new angle, for one road not taken, and you're helpless. They've been making this movie since Boys Town, and they'll keep doing it until the planet explodes. And the logic behind it doesn't stand up well—aren't these kids taking enough pain for their teams in South-Central? When Junior gets a slipped disk from a tackle, the movie treats it like something you can rub some dirt on, rather than an injury that's going to be his companion for the rest of his life.
I saw the film with a genuine urban audience. They were thrilled with the collisions—a soundtrack that sounds like listening to an aluminum can cruncher, amped up so we can hear helmets colliding with shoulder pads. When that thrill started to wane, they got pumped when the player on an opposite team called Willie a "nigger" (an insult repaid with a full-throttle tackle). Were they as moved when the Rock's Porter started weeping over the remoteness of his father, who had driven him hard but never loved him? Perhaps not. ("Like a girl," I overheard in the darkness.) The Rock is trying to get into nonphysical acting. He has a gift for comedy, and he rose to it in Be Cool. Here, he tires to hold down this muck with a mouthful of the direst clichés and a cold, stare-down gaze. That doesn't leave the audience much to do except watch that Easter Island statue face and see if it's going to fissure or shed pebbles.

Gridiron Gang (PG-13; 120 min.), directed by Phil Joanou, written by Jeff Maguire and Jack Flanders, photographed by Jeff Cutter and starring the Rock, opens Sept. 15.
Send a letter to the editor about this story.