September 13-19, 2006
home | metro silicon valley index | the arts | stage | review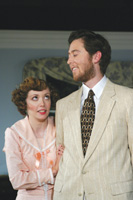 Young Love: Dinah (Lorie Goulart) and Brian (Brandon Hemming) play smitten lovers in 'Mr. Pim Passes By.'
Pim's Cup Runneth Over
Tabard Theatre Company adds a dash of suspense to drawing-room comedy 'Mr. Pim Passes By'
By Marianne Messina
IF YOU tell people you're buying a house for no particular reason, not only will you drive real estate agents bonkers, but advisers will come out of the woodwork to give you a rationale for home buying: you're hedging against inflation; you're providing for a family. We build our lives around certain assumptions, and what's more, we get big stress proceeding without them. You may think this is missing the whole point of Mr. Pim Passes By, Tabard Theatre Company's utterly charming production at Triton Hall Pavilion. And it's true that as Olivia Marden (Leslie Hardy Tamel) learns and unlearns that her deceased husband is not deceased after all, the play asks the question, Shouldn't a good marriage have more to do with two people loving each other than with societal norms?
Brian (Brandon Hemmig) loves Dinah (Lorie Goulart), but Dinah's guardian, Uncle George (Dirk Leatherman), doesn't feel Brian is right for her, given the young man's "socialist" politics and his nontraditional career as a painter: "triangular clouds and square sheep—futuristic nonsense!" George contends. Though his wife, Aunt Olivia, has promised to weigh in on Brian's side, she gets into a bit of trouble of her own when Mr. Pim (John A. Leslie) comes for a letter of introduction and leaves a marital bomb behind him.
The production is pretty, warm and oddly suspenseful. As an English sitting-room comedy, Cathy Spielberger Cassetta's set includes all the homey, Victorian trappings from baroque mirror and sconces to winged arm chairs, sofas and benches with rolled arms and scrolled silhouettes. A nod goes to Marilyn Watts once again for the striking coordination in her outfits: matching orange bows in Dinah's hair and on her peach pinafore, a dangle of Roaring Twenties pearls with pearl earrings to match.
As soon as the leading couple take the stage, this complex Victorian love relationship starts working its magic. Though the old-school truism is in play, that the woman rules the home with subtlety behind the scenes, this relationship jumps out of stereotype from the starting gate. Leatherman is game, jolly and shrewd, with none of the pomposity of the stereotypical English gentleman. Of course playwright A.A. Milne (of Winnie the Pooh fame) has made George a gentleman pig farmer, who incidentally spends an awful lot of time with his pigs. Leatherman shows us the most sympathetic side of a conservative patriarch without any soft cooing, stuttering or other easy signals. He creates a quite reasonable fellow the audience pulls for (audibly at this performance), even as they're pulling for the clever wife who unflappably weaves her goals into his ideals.
Tamel gives her understanding Olivia an extremely even temper, so when George's Aunt, Lady Marden (Cheryl Vicary) speaks of Olivia's "hysterics," it only underscores how out of sync (as opposed to controlling) the aunt is. Without winking or patronizing, Olivia appears confident, not so much in her own wiles as in her assessment of George. As a result, the production doesn't telegraph the laughs; humanity isn't sacrificed for comedy, and the humor feels genuine.
The suspense comes from Leslie, who plays Pim as a sort of repressed type, possibly with something to hide, so we're ready to suspect this "mysterious stranger" of extortion, or worse. It gives a delightful edge to each of his appearances—which are not so many, but are nevertheless powerful, thanks to Milne's clever script and the direction of English transplant Jenny Hollingworth. By the end of the play, Mr. Pim's sudden appearance outside the French brings gasps from the audience worthy of a Hitchcock moment. In Tabard's hands, Mr. Pim has grown larger than his character to represent that recognizable sense of imbalance we all feel when the assumptions on which we build our lives are pulled away.
Mr. Pim Passes By, a Tabard Theatre Company production, plays Thursday-Friday at 8pm, Saturday at 3 and 8pm through Sept. 16 at Triton Hall Pavilion, 1900 Don Ave., Santa Clara. Tickets are $20. (408.979.0231)
Send a letter to the editor about this story.