September 13-19, 2006
home | metro silicon valley index | the arts | stage | review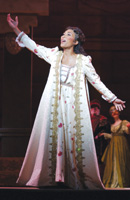 Photograph by Pat Kirk
Potent Potion: Newcomer Talíse Trevigne won over the Opera San José audience with Juliet's 'potion aria.'
New Voices
Opera San José's 'Roméo et Juliette' showcases the company's new roster of resident artists
By Scott MacClelland
GOUNOD'S Roméo et Juliette wins by default. While it's not a great opera, the craving for one on that subject never goes away. (The real winners aren't operas: see Berlioz, Tchaikovsky and Prokofiev.) Still, the Gounod has its moments, and Opera San José's new production also debuts its new lineup of company resident artists—in two casts. On Sunday afternoon, they included TalĖse Trevigne (Juliette), Isaac Hurtado (Romeo) and Daniel Cilli (Mercutio) plus retuning company resident Carlos Aguilar (Frère Laurent). Guest artists who etched an imposing presence were Andrew Park (Tybalt), Sonia Gariaeff (Stephano) and Silas Elash (Duke of Verona.) The veteran maestro Anthony Quartuccio replaced conductor George Cleve, home recovering from an exhausting summer schedule.
For all his tunesmithing, Gounod comes up with little that one can carry home in one's head. There's Juliette's first act waltz song, "Je veux vivre dans le rève" and Romeo's cavatina that opens the second, "Ah, leve-toi, soleil!" But big tunes do not necessarily a drama make. Though Trevigne, who comes to Opera San José all the way from Palo Alto, lacks the coloratura demanded by "Je veux vivre," she plainly took command with the piece and won over the audience. In the last act, her "potion aria," "Amour, ranime mon courage" proved the dramatic high point of the entire performance, a tour de force of anxiety, faith, fear and determination. Fortunately, the production preserved the entire scene, even though some 40 minutes of the complete work (including the gratuitous ballet) were excised.
For his part, Hurtado's vocal equipment is remarkably well suited to the French repertoire, a light, clear production that soars effortlessly across the lyric phrases. But for that, however, he came up short on ardor in the Balcony Scene and, even more so, in the Tomb Scene, where nothing approaching grief perturbed his glimpse of inevitable tragedy. It remains to be seen what he gains in character development over the coming season, and if he can come up with the vocal goods for the big Italian roles ahead.
Nor was the Tomb Scene the only place where the drama fell flat. When Juliette collapses under the spell of Frère Laurent's death-imitating potion, as she is about to wed the unloved Paris, neither a gasp of surprise much less a raised eyebrow was observed among the gathered Capulets. And at dawn after the secret wedding-night scene of Romeo and Juliette, she begs him to stay, he promises to defy death to do so, and she insists that he leaves in a rapid-fire sequence that set the audience to laughter. (Blame that in part on the composer.)
Standout features of the production include the chorus, a startlingly impressive force under the direction of Bruce Olstad, Cilli's teasing Queen Mab scene in Act 1, and Gariaeff's coloratura challenge to the young Capulet hotheads that opens the street scene in Act 3. Stage direction by Olivia Stapp and assistant Laurent Martin fits the space well, even cleverly, though, as mentioned, some individual acting hovered between tentative and aimless. The serviceable sets, consisting mostly of columns, arches and two imposing stairways, were unattributed and the period costumes were supplied by Malabar of Toronto.
Roméo et Juliette, an Opera San José performance, plays Sept. 15, 21 and 23 at 8pm and Sept. 17 and 24 at 3pm at the California Theatre, 345 S. First St., San Jose. Tickets are $65-$85. (408.437.4450)
Send a letter to the editor about this story.