09.16.09
home | metro silicon valley index | columns | silicon alleys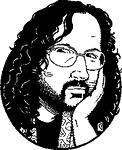 Silicon Alleys
Retro Rocking
By Gary Singh
THE AUTHOR says, "OK, a happy one this time." The folks at Guggenheim Entertainment have transformed the old Century 25 movie theater into the Retro Dome, a new musical-theater facility that will also showcase classic movies, corporate events and other functions. For starters, the place is currently hosting Guggenheim's own production of the musical Schoolhouse Rock Live! Since I grew up with that TV show and since more than a few of us probably sneaked into that theater more than 20 years ago, I just had to go check it out.
Thanks to Guggenheim, the lobby of Century 25 is now a vibrant smattering of lime-green and orchid hues, with retro posters and LPs on the wall, plus Flintstones-era characters and iconography welcoming visitors to the ticket booth. Schoolhouse Rock Live! just started a few weeks ago and runs until Oct. 4, so only one theater is open, and the place is still going through various touchups, but the main gimmick is officially launched. After all, the word "retro" is totally, entirely, absolutely and utterly unavoidable these days, so why not liven up the congested intersection of Saratoga and Campbell avenues with a little retrophilia?
At that corner, the Westgate and El Paseo de Saratoga shopping centers used to exude some killer, albeit dilapidated, nostalgic architectural splendor, but they have long since been homogenized and ruined, so the time is right for some retro interference. Westgate, in particular, is painted the standardized hideous colors of olive-green, brick-red and faded peach that one sees on every strip mall from Capitol Expressway to Mountain View, so upon entering the lime-green and orchid glory of the Retro Dome's lobby, the effect is downright refreshing, in some kooky way. And above the front doorway, the words "Retro Dome" are painted in a '50s-style font on a royal-blue background.
When it comes to Schoolhouse Rock, an entire generation of viewers glued themselves to ABC television for those informative shorts. These were the rip-roaring Saturday-morning children's cartoon programs that taught us about adjectives, electricity, math, the nervous system and how the Civil War ran up a debt of almost $3 billion dollars that still wasn't paid off by World War I. The "Multiplication Rock" and "Grammar Rock" tunes schooled us on integers and parts of speech. "My Hero, Zero," ends with the lyrics, "Et cetera, et cetera, ad infinitum, ad astra, forever and ever/ With zero, my hero, how wonderful you are." Another tune, "Unpack Your Adjectives," features a descending melody that everyone remembers, due to the lyrics, "He was a hairy bear, he was a scary bear."
The Schoolhouse Rock numbers were catchy, masterfully written tunes. It was impossible to hear "Lolly, Lolly, Lolly, Get Your Adverbs Here!" or "Three Is a Magic Number" without those tunes getting stuck in your head for years to come. That last one in particular taught a generation how to count by threes and to this day, whenever I have to do that, I still find myself humming 24-27-30, to the melody of that freakin' song.
But on to the show. With a minimal amount of stage scenery and a seven-person cast, the musical goes through several original Schoolhouse Rock songs, and they succeed at soliciting audience participation quite well. An audience of mostly kids dug it from beginning to end. There is no paper program; instead, a video screen at the beginning displays a computer slideshow of each cast member's information, including his or her favorite Saturday-morning cartoon show. Cast member Aidan Park says his was Speed Racer. Hilary Little opted for Josie and the Pussycats. Shannon Guggenheim picked Land of Lost. Unfortunately, none of them chose Sigmund the Sea Monster—pretty much exactly who I felt like while sitting there in the audience with nothing but young kids and their parents. For one number—I won't say which one—the cast picks an audience member to participate, adding an element of surprise. Bravo!
Contact Gary Singh or send a letter to the editor about this story.