09.16.09
home | metro silicon valley index | music & nightlife | band review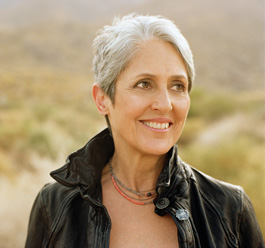 HERE'S TO JOAN: Joan Baez pays tribute to the 'Heroes of Our Heritage.'
Party in Aztlan
Five Events Not to Miss at the Mariachi and Mexican Heritage Festival
By Steve Palopoli
MOST EVERYONE calls it the Mariachi Festival, but that isn't actually its name. And with every passing year, it's becoming less of an accurate description. That's no accident. It's by design.
"This started out as a mariachi festival," says artistic director Linda Ronstadt. "But I want it to be a Mexican heritage festival."
This year, Ronstadt has taken her vision for a multifaceted celebration of Latino culture to another level. Running Sept. 20–27 at locations around San Jose, the T-Mobile San Jose Mariachi and Mexican Heritage Festival, to use its proper name, has one foot planted in tradition, one in contemporary culture. It celebrates a musical style that originated in the 18th century but is moving toward Ronstadt's goal of a high-tech, fully multimedia event.
Looking at the lineup, it's clear that even the "Mexican" description is starting to seem unfairly limiting. Ronstadt sees it more as a celebration of Aztlan, which she sees as a "virtual third country" formed from the interaction of Mexican and American cultures.
With so much on the schedule, here are five events not to miss:
1. An Evening With Joan Baez
Sept. 25, 8pm, Center for the Performing Arts, 255 Almaden Blvd., San Jose
For Ronstadt, Joan Baez represents exactly the kind of cultural intersection she wants the festival to emphasize. In fact, she pioneered it, on her 1974 album Gracias a la Vida (also known as Here's to Life: Joan Baez Sings in Spanish). At that time, there wasn't the notion we have today of a pop crossover hit.
"That was a real leap off a cliff," says Ronstadt. "People weren't expecting that."
Ronstadt even remembers driving to see Baez perform when she was a senior in high school. It turns out they have quite a bit in common in regard to their Mexican heritage. Baez, who is of Mexican and Scottish descent, learned songs in Spanish despite the fact that as a child she was encouraged to speak English.
"In the house, we didn't speak Spanish," says Baez.
Ronstadt, too, grew up with some mixed messages about her heritage. "I thought people sang in Spanish and spoke in English," she remembers. On the positive side, what this did for both of them was establish a strong connection to the music of Mexico, something that would lead to huge success in both of their careers.
For Baez, her performance at this year's festival, subtitled "Our Tribute to the Heroes of Our Heritage," is a continuation of her social-justice activism, as well. Always a political performer, Baez was an early and extremely vocal supporter of Cesar Chavez, and was famously filmed singing "We Shall Overcome" during Chavez's 1972 fast, in the film Si Se Puede. In May of 2006, she performed songs from her original 1974 Spanish-language album at the South Central Community Garden in Los Angeles to protest the eviction of farmers, many of whom were Central American immigrants, and the closing of the site. (The farm was bulldozed in July of that year, as documented in the acclaimed 2008 film, The Garden.)
2. A Concert Tribute to Cesar Chavez
Sept. 27, 8pm, HP Pavilion, 525 W. Santa Clara St., San Jose.
Also embodying Ronstadt's concept of the Aztlan nation are Carlos Santana and Los Lobos. Though both have woven elements of Latin music into their work throughout their careers, they have found much wider success as rock stars. "They're not purely Mexican anymore," says Ronstadt, and though some La Raza hardliners might say such a thing as a dis, she holds it up as an example of what can be accomplished by melding the authentic elements of a complicated cultural background. Appropriately, their performance at the festival will salute one of the most important Mexican-American crossover forces to ever live, Cesar Chavez.
This finale at HP Pavilion will feature Los Lobos and Little Joe y La Familia, and Santana will take the stage to sing several songs during Los Lobos' set.
3. Mariachi Goes to the Movies Concert
Sept. 26, 8pm, Center for the Performing Arts, 255 Almaden Blvd., San Jose
None of this progressive booking is to say that Ronstadt, or the festival, has lost any respect for mariachi music. Quite the contrary—there are several events that celebrate, analyze and teach mariachi music, and this event is the most ambitious of them.
"If you have good mariachi training, you can step into a symphony orchestra and blow their heads off," says Ronstadt.
It's an analogy that works particularly well for movie music, and on Sept. 26, the "Mariachi Goes to the Movies" concert will salute mariachi's role in Mexico's Golden Age of Film, a period from the 1930s to the 1950s that made international superstars out of leads of the era, like Jorge Negrete, Pedro Infante and Maria Felix, and led to an explosion in the popularity of mariachi music around the world.
The event features a literal cast of hundreds, headlined by two big names in mariachi, Aida Cuevas and Mariachi Combre, led by Randy Carrillo. Clips from films like 1949's Alla en el Rancho Grande will not only be shown but actually incorporated into the performance, with singers appearing to come out of the screen. "It's probably the most ambitious thing the festival has done," says Marcela Davison Aviles, executive producer of the festival.
4. La Mission
Sept. 21, 7 and 9:45pm, Camera 12, 201 S. Second St., San Jose
When the Sept. 21 screening of this new Benjamin Bratt film was announced by festival organizers, it sold out quickly, so a second was added. Written and directed by his brother, Peter Bratt, the film is a fairly intense look at Chicano culture and also the shifting identity of San Francisco's Mission district. La Mission follows Che Rivera (played by Bratt), a longtime resident of the neighborhood, who resents the "slumming hipsters and new money types" who have moved in around him. A widowed ex-con and recovering alcoholic, he's surrounded by supportive family and friends, and is a fixture in the local lowrider culture that he loves. But he's also shadowed by his own history of violence, which threatens to destroy his relationships and his chance at love. A question and answer session with cast and crew will follow each screening.
5. Feria del Mariachi
Sept. 27, 10am–6:30pm, free, Plaza de Cesar Chavez, San Jose
"Music and dancing should never be separated," says Ronstadt. "It gets real stiff." With that in mind, this sprawling event on the last day of the festival will feature three stages of Mexican music downtown, along with folk dancing, food, arts and crafts, and more. In keeping with the valley's high-tech cred, the day features several installations by ZERO1: The Art and Technology Network, among them a cyberlounge by Mexican Internet artist Arcángel Constantini and Gustavo Romano's performance project "Last Time Refund Office." Thanks to corporate sponsorship, this is the first year that the "feast day of Mariachi" is free. There will be a mariachi mass at 10am at the Cathedral Basilica of St. Joseph.
THE MARIACHI AND MEXICAN HERITAGE FESTIVAL runs Sept. 20–27 in San Jose. See www.sanjosemariachifestival.com or call 800.745.3000.
Send a letter to the editor about this story.