09.16.09
home | metro silicon valley index | music & nightlife | underground parties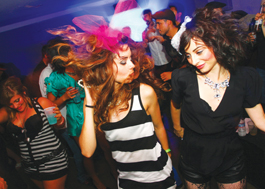 Free San Jose
For local fashionistas, indie rockers and alternative athletes, three not-so-secret parties are turning the summer of '09 into an unforgettable happening
By Metro Staff
IN THE 1985 cult classic T.A.Z.: The Temporary Autonomous Zone; Ontological Anarchy, Poetic Terrorism, theorist Hakim Bey writes about "spaces that elude formal structures of control."
The TAZ, as Bey defines it, is a place that has somehow slipped between the cracks of law and order and been taken over by the fun-loving, freedom-craving crowd. "Humans seem to need the peak experience of autonomy," he writes, "'free freedom,' as Rimbaud says, not just in imagination, but in space/time." Such places have popped up throughout modern history, from the Left Bank to Greenwich Village to Burning Man.
In San Jose this summer, three such scenes have emerged, from who knows where: the Workout, a downtown fashion disco; the Gingerbread House, a backyard freak-folk show; and San Jose Bike Party, which is exactly what the name says.
Metro's reporters and photographers located these halfway-hidden fun zones and brought back three reports.
Vogue Underground
'The Workout' turns a downtown San Jose basement lounge into a fashionable monthly disco extravaganza.
AS THE BASS thrums toward climax, around midnight on a recent Friday, the heads of three glamorous hotties appear above the swirling vortex of damp, gyrating bodies on the Cellar's dance floor. The three women hoist themselves up on a sweat-splattered subwoofer next to the DJ booth and begin moving their hips to the thumping electro beat. One girl wears a gigantic hot-pink hair bow and pearls; another a bejeweled cat mask and lace stockings; the third is clad in a sparkling striped tunic. The trio gets down to the music with hair flailing, eyeliner running and booties bumping as the pulsating mob cheers them on.
Condensation seems to gleam and drip from the Cellar's walls and low ceiling, illuminated by a single, intense black light. Beads of perspiration glow like comic-book kryptonite on the foreheads and torsos of the swarm, the air perfumed with sweaty bodies, beer and remnants of this morning's Right Guard. By this time, the concrete floor is slippery with the exertion of the flashy, glittery mass.
This is the Workout, the newest underground indie-dance party in the South Bay. For the past year, an alliance between five DJs and one host/photographer has brought the freshest electro beats, most stylish dressers and hippest vibes to downtown San Jose's nightlife.
With the motto "Dance Until You Sweat," the Workout party has been packing 200-some people into the Cellar, in the basement of the Agenda on South First Street, every first Friday of the month since last September. For the party's founding host/photographer Eric Belladonna, this is all a dream come true.
"The fact that we've had such successful parties blows our minds," Belladonna says. "Every time we have a party we just look at each other like we can't believe it's happening. It's strange that it's becoming this really popular, kind of the cool scene, because we never imagined that anyone would think that."
Misfit Party Guru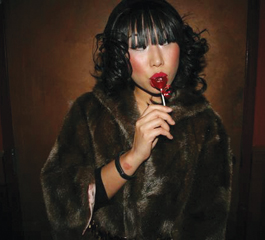 Belladonna, along with his friends and fellow promoters Michael Basura (DJ Basura), Brandon Slater (DJ Rokwel), Craig Salazar (DJ Art Thief), Perry Roush (DJ KidLove) and John Sagouspe (DJ Johnatron), started the Workout after getting sick and tired of driving to San Francisco to party.
"Growing up in San Jose, it's really not hard to notice that there isn't much to do here," Belladonna says. "We all just wanted to make our hometown fun, so we wouldn't have to run away every weekend and go up to San Francisco. We were frustrated with the boredom of not having a place that we belonged. So we finally just stopped waiting for someone to throw it, and decided to throw it ourselves."
Flying by the seat of their tight, tight pants, the group's first attempt at party promoting ended in disaster, with a broken sound system at Johnny V's, tons of people spilling out on the street, and the cops showing up.
"We were like, 'Oh, my God, we're in so much trouble," Belladonna says of that first party. "Johnny V was yelling at us, because one of the DJs was playing the music so loud that his system actually exploded."
Amped up on adrenaline at the end of that catastrophic night, the group made a pact to throw a bigger, better dance party that would blow everybody away. Three days later, they had booked the Cellar, and after some furious texting they had settled on the name.
"We were like, 'Let's call it the Workout, because we want people to dance so hard that they are going to sweat and loose so many pounds that they can just go to Burger King in the middle of the night," Belladonna recalls, laughing.
As they launched into promoting the next party, he says, San Jose seemed unreceptive to their music and style. On one occasion, Belladonna remembers getting told off by people at Music in the Park while he was handing out fliers.
"People were making fun of me for my jeans, because I'm really tall and skinny, and I wear really tight jeans. I was like, 'Aw, man, if they are making fun of me, they're not going to want to come to any party I'm throwing,'" he says.
"We just wanted all the misfits to come to our party. Just because you're a misfit doesn't mean you're not cool. It doesn't mean that you're like this big, ew, like, freak. It just means that most people in San Jose don't understand how cool you are."
When the kick-off party finally rolled around in September 2008, the group was shocked to see that more than 200 beautiful people had turned out, with the Cellar reaching maximum capacity by just 11:30pm.
"The night was insanity," Belladonna remembers. "We had lines out the door. I almost went and cried in the bathroom. I couldn't believe it, because this was such a huge dream of mine."
Golden Boy in Black
Open and friendly, with a graceful walk and impeccable sense of dress, Eric Belladonna moved to the South Bay from Mexico when the was a young child. With his artistic personality, he says, he was made fun of a lot growing up. Now 22 years old, he just got his U.S. citizenship last year.
After pursuing a degree in English (on and off), Belladonna is currently taking a break from school for that all-encompassing early-20s activity of finding himself. His Myspace page lists his occupation as "Maharaja of disco dance floors."
Thin, clean-shaven, boyishly handsome, with his hair oiled into a precise retro flip, Belladonna reeks of style. But for a guy so passionate about aesthetics and glam, it's almost surprising how genuine, personable and down to earth he is. This, combined with persistence and a certain sort of polished social grace, makes him an excellent party promoter and host.
At every Workout, Belladonna flits around the bar from group to group shaking his guests' hands, introducing himself, asking: "How you are doing?" "Are you having fun?" "I love those shoes!" "How is your night going?" "Do you need another drink?"
Occasionally, he'll join the fury on the dance floor for a little bump and grind and snap a few shots on his camera. But he always emerges to make sure everybody at the party is comfortable and having fun.
The Look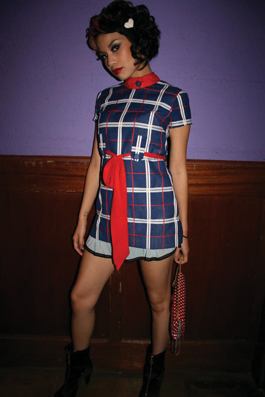 As the parties got rolling, Belladonna and his fellow, broke, twentysomething promoters knew they couldn't pay to bring any big name DJs to play. Their solution: Make the partygoers themselves the attraction.
"For me, dressing up is a creative outlet—I see it as an artform in itself," says Belladonna, who at the August Workout made a statement in skintight plaid skinny jeans and black-and-white wingtips, his neck dripping with chains. "So, when people come dressed up I just want to take their pictures and show them off to everybody."
Belladonna plays the paparazzi at every party, documenting every Workout by photographing the most fashionable attendees, drinks in hand and getting their groove on. He posts all of his photos on the Workout's Cobra Snake-esque Myspace page (www.myspace.com/theworkoutparty).
To say that people get dressed up to dance at the Workout is an understatement. At the Workout, you'll see everything from guys in stilettos to hipster chicks in veils and face paint. It's a relaxed atmosphere where anything and everything goes.
"I'm really proud of our eclectic crowd," Belladonna says. "It amazes me the way they dress. It's not your regular crowd, it's more of an artsy crowd."
It's no surprise that many of the Workout regulars are in the beauty industry themselves. At the Aug. 7 party, the entire staff of 5 Color Cowboy Salon showed up sporting the best bangs and color jobs in the room, while representatives of San Jose's Crossroads Trading Company, the Workout's official sponsor, strutted on the dance floor in their vintage best.
Sporting black leggings, Edie Sedgwick eye makeup, mounds of jewelry and a Marilyn Monroe tattoo, Bobby Friday is a Workout regular. A makeup artist and stylist at Sophisto Salon by day, his platinum blond Mohawk almost brushes the low ceiling as he dances to the pounding beat in 4-inch black patent leather pumps. "Honey, I need no excuse to get dressed up," he says.
The Music
Though getting dressed to the nines is half the fun, the other reason they pack 'em in at the Workout is the music.
"When everyone comes, as soon as they get their picture taken, they go to the bar and start drinking and just destroy themselves on the dance floor," Belladonna says. "I see people get dressed up so well, and by the end of the night their faces are melted-off disasters. They want to look cute when they walk in—then they just want to have fun."
The tunes being spun by the five DJs range from obscure electro mixes to Top 40, all served up from a fleet of sticker-adorned Apple laptops.
"The same sort of people who would go to places like the Cinebar are coming to our party, but we also have people trickling in from Wet across the street, and it still works," says Craig Salazar, a.k.a. DJ Art Thief. "I don't know what it is about the space or the music or the people, but it all seems to really work together."
The music everybody is dancing to fits with the Workout's anything-goes attitude. There's a lot of electro, with its staccato drum machines and percussive dance rhythms with a disco edge. The DJs often take these beats and mash them up on top of other tracks—putting, say, the Doors on top of a Black Eyed Peas melody, layering in a "donk," and creating a bass driven concoction that is a sure-fire booty shaker.
Salazar says one of the reasons the Workout has been blowing up this year is that electro music itself has been growing in mainstream popularity lately.
"There has defiantly been a shift in open-mindedness when it comes to electronic music. Especially with our crowd, the lines between independent music and electronic music have been really blurred," Salazar says. "It used to be such a separate genre, but now you have Lady Gaga using all these electronic mainstays in her music and production, but she still does it in a popular fashion."
Belladonna says that he finds it funny that many San Jose venues are playing electro now, because in the past they were totally turned off to the genre.
"When we got together, the overall thing we said was that San Jose was ready for this, this something different," Belladonna says. "Finally, here is something we really like, and other people really like it too. That is such a great feeling."
Our Gracious Host
It's closing in on 2am on Saturday morning, and only about 30 or so die-hard dancers are still working it on the soaked Workout dance floor. At this point, all pretense of glamour is gone. Makeup that had been applied with precision hours before has been sweated off. Faces are ruby red with exertion, and long hair has come undone and sticks to the back of sweaty necks as these men and women continue to bust moves to the beats.
Since the Cellar has pretty much cleared out by this point, Belladonna is back on the dance floor. He's swaying filthily with his boyfriend, who wears a pointy-shouldered blazer over a bare chest and jeans so tight you can tell his religion. The two grind on each other to the music, and then Belladonna leans over and kisses him deeply.
Across the room in a dark corner, a young woman in a green jumper moves to straddle her night's conquest as they make out on a soiled couch. As the final DJ closes in on the end of his set, the lights come on, and the barman yells last call.
Belladonna darts out from the dance floor as the music fades, rounds the corner and runs up to the Cellar's exit. As the remnants of destroyed partygoers teeter and climb the grimy, red-carpeted Cellar stairs to leave, Belladonna stands stationed by the door. Always the dedicated host, he shakes each and everyone's hand as they cross the threshold, hoping that they had a fun time, telling them to drive safe and wishing everyone good night.
"It's like New Year's, every time," he says.
—Jessica Fromm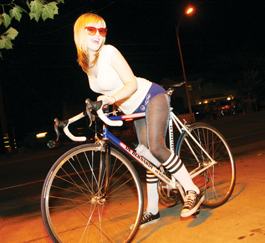 Rock & Roll
San Jose Bike Party brings thousands into the streets to ride and dance
HOW FAR can word of mouth actually go? In the case of Amber Lamason it can go pretty far.
I met Lamason outside of the Cinebar in downtown San Jose, talking shop about bikes and bike groups a few years back. The little shindig of bike posse that I rode with was starting to fade out, and she brought up the idea of creating a giant bike community for everyone to ride along.
Seeing that our group rolled out 10 or 15 deep at most on a good day meant anything bigger than 20 cyclists would be very unlikely.
Nonetheless, I got her contact info to be sure I would hear about this new bike group. A few months went by, and of course I heard nothing, until a former member of our crew tells me there's a legion of cyclists that meet at the Campbell water tower every third Friday of the month for something called Bike Party.
The monthly event that Lamason had devised took shape with roughly 50 people on bikes. But something happened. As it turns out, if 50 people on all kinds of bikes, with all the bells and whistles imaginable, and sometimes in costume, cruise through neighborhoods screaming "Bike Party!" every 30 seconds while waving at the ordinary people looking out through the windows of their homes, word of mouth can go very far.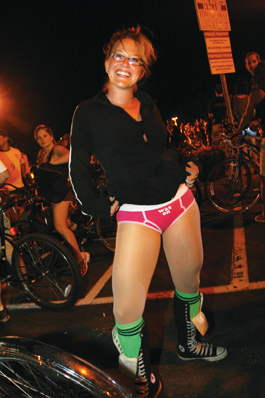 So far in fact that what was once a little rolling party has now become the San Jose Bike Party, with more than 2,500 participants. The event promoters now disclose the location of the meeting point 24 hours before the start so as to keep the number of riders from exploding.
Bike Party is all about community and fun. Forget the protest politics that define Critical Mass, the big confrontational bike ride up north.
No one cares what you're riding, but monthly themes promote ways to dress up for the ride or to dress up your steel steed (whether it's "light up your bike" or "no pants").
It's the fun that takes the cyclists for a ride, but it's a ride that's nothing to sneeze at. Bike Party riders travel an average of 20 miles per Friday, and there is always a different route.
These "no-cry" rides have several programmed stops to rest and replenish—or to set up an impromptu disco party in the middle of a local supermarket parking lot. Music is provided by anything from a handlebar sound system built around an MP3 player with tiny portable speakers to a couch with a subwoofer in tow behind a tandem. Think the disco ball is missing these days? Think again.
—Story and Photos by Felipe Buitrago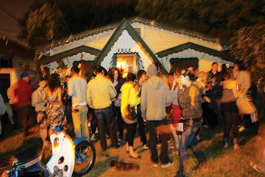 Suburtban Renewal
For five years, the 'Gingerbread House' has been home to a quietly successful secret music scene
ON A WARM summer evening, a flock of youngish music fans wander around a backyard campfire, guys in beards sipping PBRs, gals with tats in retro boots smoking American Spirits. Inside, Unit Breed, a band visiting from Portland, plays to a small crowd packed into the living room.
This is the Gingerbread House, which has become the center of a unique music scene. On a select few Friday and Saturday nights, this quaint old San Jose home in a quiet residential neighborhood—notable only because its A-frame roof line is decorated with Christmas lights year-round—is transformed into a rock venue.
In theory, anyone is welcome to attend the Gingerbread House's legendary underground parties—but invites are strictly word of mouth. Todd, one of the four roommates who live at the Gingerbread House, declines to even share his last name.
"I try not to advertise the shows here too much, because if there were any more people, it would probably start to get chaotic," Todd says.
He says he was turned on to the idea of hosting shows in his home when a next-door neighbor who hosted underground parties moved out of town about five years ago. A musician himself, Todd wanted to offer a venue for out-of-town bands to play when they came to the South Bay.
And while hosting 100-plus people can present some serious problems (such as annoyed neighbors, a visit from the cops, drunken fights, stolen property, an aggravated landlord, etc.), Todd says he 's lucked out when hosting house shows.
"It's actually kind of a rare thing, because I expect chaos to happen, but everyone seems to behave themselves," he says. "Since it is in my house, I think people tend to behave themselves a little better than if it was at a venue."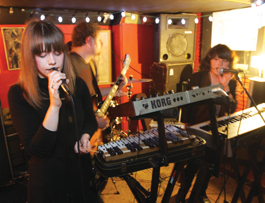 Todd attributes the success of the Gingerbread House over the last five years to his tolerant neighbors and a hands-off landlord. Bands perform in a soundproofed back room. Todd never charges a cover to attend his house shows—all donations go straight to the band.
And while not many local residents may know about the Gingerbread House, there are plenty of bands from across the country that have heard of its legendary house shows. Past shows have included Up the Empire (from Brooklyn), Boy Skout (from San Francisco), Zettaimu (from Japan), Triumph of Lathargy (from Seattle), Mannville (from Boise), Seamonster (from Virginia) and Captain #1 (from Georgia). Todd says the word has gotten around that there's some kind of scene in San Jose.
"I get tons of requests all the time from people I don't know, and I have to tell them, sorry, we're not doing anything right now," Todd says. "It's kind of overwhelming.
"I would like to do this somewhere that is not my house, but I don't know how much of a demand there is for this in San Jose," he says.
While Todd doesn't see himself retiring from the world of house shows just yet, he does keep the future of the Gingerbread House in mind. "If I do move out, I would like to have younger kids here who get stoked on shows take over the lease. It would be a shame for it to end—this is such a rare thing."
Although it's usually a mellow scene, things do get out of hand on occasion. "Fourth of July was close. That was the most people we had here. The house was full, the back yard was full, the front lawn was full. I thought the cops were going to come for sure—especially when we started lighting off fireworks at the end of the night."
—Andrea Frainier
Send a letter to the editor about this story.