09.16.09
home | metro silicon valley index | silicon valley restaurants | review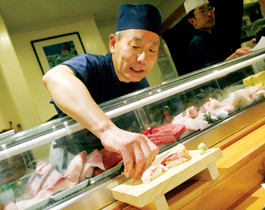 Photograph by Felipe Buitrago
MASTER MONVES: Owner Howard Arita commands the sushi bar.
My Date With Arita
It pays to listen and learn from the sushi master at Kitsho in Cupertino
By Stett Holbrook
IN ADDITION to the potential for great food, I think part of the appeal of pulling up a chair at a sushi bar is the ceremony and ritual that surrounds the meal. For the non-Japanese among us, there's often a slight anxiety about the Japanese dining experience. The typically gruff and undercommunicative itamae behind the counter can be off-putting at first and throw you off your game.
"Should I just shout out my order or wait for him to take my order?"
"What is all this stuff written on the special board? Will he mark me as a rookie if I ask for a translation?"
I think cutting through that anxiety is part of the appeal, too. Show some interest in the sushi chef's work and ask the right questions ("What do you recommend?"), and suddenly the unsmiling man with the knife will notice and perhaps treat you a bit differently. After a few visits, an extra slice of sashimi or an off-menu treat may come your way.
In Western dining, the customer is always right. In the better sushi bars, the customer is respected, but it's the itamae who really knows best. For me, part of the sushi bar experience is trying to curry favor with the sushi chef. This isn't groveling or pandering but rather an effort to show appreciation for the sushi chef's craft and ingredients.
You could order California rolls (a flare gun–like signal that you're not particularly interested in some of the more nontraditional items), rub your chopsticks together (a pointless maneuver) and dunk your nigiri into the soy sauce first (a quick way to oversaturate the rice with soy sauce and negate the effort the itamae put into preparing your food) and have a perfectly enjoyable time. But I believe your experience can be even better if you refrain from doing those things and instead play by the rules and defer to the chef.
This strategy paid rewards to me at Kitsho, one of Silicon Valley's premier sushi bars. Eleven-year-old Kitsho is on the corner of Wolfe Road and Stevens Creek Boulevard. It's hidden and not visible from either street but is definitely worth seeking out. The restaurant's menu extends beyond sushi with noodles, grilled fish and some great tofu dishes, but I came for the sushi.
The 10-seat bar is the domain of owner Howard Arita. There's usually another chef behind the bar, but Howard is your man. After being seated and handed a scalding hot oshiburi to clean my hands (and refolding it and placing it in the little wooden try provided), I waited for Arita to engage me and take my order. His assistant set a geta before me, the little wooden plank dolloped with pickled ginger and a little pile of wasabi. I waited a little more as Arita continued to trim squid. Finally, he washed his hands and turned to me.
"Thank you for waiting."
There was a place mat/menu of standard sushi items set before me, but instead of going that route, I asked what he suggested. He turned around and handed me a thin paper menu with printed and handwritten special fish selections. Some items were translated into English, but others were just written in Japanese. The list changes regularly depending on availability and the seasons. I knew what some of them were, but others were a mystery. After I asked for a few translations, Arita finally handed me a laminated glossary of terms. (I quickly snapped a cell phone photo of this useful document for future reference.)
Pricing is a bit of a guessing game, since there's no sushi menu with prices. During my visits, five or so items that included nigiri, a bowl of the restaurant's excellent miso soup and a few prepared items like live uni and squid salad came to about $45. When ordering, you can also tell Arita what you'd like to spend; that way there will be no surprises when you get the bill.
I fired off my orders and what followed was some great sushi, including several items I haven't found elsewhere. I expected the snow crab to taste and feel different in the raw, but it was almost the same as the cooked version, only more delicate and fine textured. Sanma (pike) is meaty, full-flavored and supremely rich. What really set me back in my seat was the kamasu (barracuda). I've seen barracuda swimming over coral reefs but never in a sushi bar. Too bad. It's one of the most uncommonly delicious, buttery and succulent slices of fish I've had.
My favorite of all might have been house-made ikura, or cured salmon eggs. The delicate, pale red eggs didn't so much pop as melt in my mouth with a faintly salty, fatty richness. I finished it off with a wasabi hand roll, a sheaf of seaweed stuffed with various microgreens and lettuce and enough wasabi that I thought my brain was going to vaporize. After the blinding, sinus-blasting heat subsided, I felt refreshed, and my mouth was scrubbed clean of the fish that came before it. My only complaint is that the roll was made with wasabi paste squeezed from a tube rather than with fresh wasabi.
Only I wasn't finished, and I asked for one more item. Arita asked if he could pick. My heart fluttered. He likes me! He's picking out something just for me! And what a pick it was: thick sea scallops the consistency of chilled bacon fat and almost as rich but eminently lighter and fresher tasting.
On my next visit, I again asked what he recommended and without missing a beat, he asked if I like sardine (iwashi in Japanese). Did I? It's become a habit to ask for it at every sushi bar I go to only to be denied. And now here was a sushi chef offering it to me. While sardines can be quite strong cooked, sliced thin and served raw over rice, the fish is silken in texture with a pleasingly briny flavor. Arita topped it with a wasabi-spiked sweet soy glaze that really set the fish off.
Another treat was the tairagai, two firm yet buttery slices of pen shell clam. For sheer dramatic effect, the live uni was hard to beat. The golden sea urchin roe was scooped out of a live urchin and the fierce-looking, hollowed-out spiky shell served as the "bowl." I've had uni that tastes a little too much like a tide pool smells, but this was subtle and very mild with a distinct perfumelike finish. Good stuff.
I skipped the wasabi roll this time and just enjoyed complimentary sliced oranges prepared by Arita's assistant.
"Domo," I said. "I'll be back."
Japanese culture is tradition bound and those bonds extend into the sushi bar. Show a little respect, and it will come back to you. What goes around comes around. That's especially true at Kitsho.
---
Kitsho
Address: 19541 Richwood Dr., Cupertino.
Phone: 408.873.1444.
Hours: 11:30am–2pm and 5:30–9:30pm Mon–Sat.
Cuisine: Japanese.
Price Range: Five items of sushi and miso soup about $45.
Web: www.kitshosushi.com.
Send a letter to the editor about this story.