09.16.09
home | metro silicon valley index | music & nightlife | band review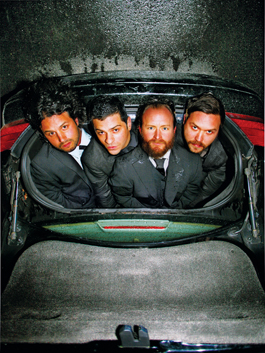 Photograph by Merkley
WHAT'S THE RUSHDIE: Dredg's latest takes its inspiration from the famous writer.
Lit Up
Los Gatos' Dredg explores Salman Rushdie's writing on new album
By Garrett Wheeler
IN THE '60s, rock & roll experienced a kind of transcendental shift in subject matter, turning what was once a placid ocean of relative calm into a stormy sea of outspoken expression. Dylan, Hendrix, Lennon—these artists and others helped transform the capabilities of not only what music could do and sound like but, more importantly, what it could say. Suddenly, protest music was popular music.
But forget the past—this is 2009. The mighty rebellion that rock & roll once represented has been deliberately and ceaselessly recommoditized, repackaged and ultimately undermined in order to be sold at the nearest Wal-Mart. But fear not: there's at least one rock band that still strives to produce music ripe with intellectual substance and philosophical prose, despite it all. And no, I'm not talking about Green Day.
Dredg started the same way most bands do, forming at Los Gatos High, playing on campus, at parties, at the local teen center and then, eventually, at local clubs. "I can remember our first real gig, at the Cactus Club in San Jose," recalls guitarist Mark Engles. "I think it was like a Tuesday night or something, and it was such a big deal for us to be up onstage with lights and monitors."
As it began to attract a passionate following, Dredg made a leap that most bands only dream of, attracting major-label attention and eventually singing with Interscope Records in 2001.
Upon the release of the first band's full-length album, El Cielo, in 2001, it was clear that Dredg was no ordinary rock outfit. The album brazenly defied all notions of genre-typifying, merging an eclectic assortment of styles ranging from modern prog-rock to pop and alternative, all the while retaining an undeniably distinct underlying sound. Influences ranged from U2 to Pink Floyd, and singer Gavin Hayes established himself as one of the most gifted vocalists to reside behind the microphone in years. The band's second album, Catch Without Arms, could have represented Dredg's crowning achievement, with its beautifully constructed songs and slick production, but its newest effort, The Pariah, the Parrot, the Delusion, is without doubt the group's finest hour.
"We've always tried to do something different," says Engles. "I think we'd be bored if we didn't mix things up. Even within a single record, we like to explore and move around the style consistently."
The most apparent divergence Dredg has made with The Pariah, the Parrot, the Delusion is one of substance more than style. Though the record does achieve new ground musically, the album's content draws largely from, among other things, Salman Rushdie's essay "Imagine There's No Heaven: A Letter to the 6 Billionth Citizen." The piece is a clever—and poignant—decrial of the dogmatic principles of religion and the pitfalls inherent in its histories. "I'd been reading a lot of agnostic and atheist literature, and when I read [Rushdie's] essay, I thought it seemed to tie together a lot of the things we were thinking about," Engles says. "We had already written about half the material by the time I read it, but it was so thoughtful and focused on certain ways of looking at the world—like how people use faith as an excuse for poor logic—it provided us a loose mold of inspiration."
The inspiration felt by the band seems to have filtered to other sources as well, evidenced in part by an upcoming charity event in New York sponsored by Spin magazine and its Spin.com Book Club. The club, of which Dredg bassist Drew Roulette is a member, is a community of literary enthusiasts who happen to be rock stars, allowing the musicians an open forum for discussing their literary influences. The Book Club has partnered with the nonprofit Housing Works Bookstore Café to create the Liner Notes series, which pairs writers and musicians together for an evening in order to promote literacy and raise money for nonprofit organizations. The third event of its kind will feature a live performance by Dredg as well as a reading by Rushdie himself.
Though Dredg relinquished their relationship with Interscope after the release of Catch Without Arms, Engles says the newly acquired freedom has given the band a fresh impetus toward creating new music. The Pariah, the Parrot, the Delusion represents the first step down new roads. "After we left Interscope, we thought it would be a great alternative to do it ourselves, so we got some help financially and started our own label, Ohlone Records," Engles says. "Back in the studio, it felt like 12 years ago, with just us and a producer. We never had any problems with Interscope, and we never felt like anybody was telling us what to do, but it's nice to not have to feel like you need to impress anyone—we're just trying to impress ourselves."
DREDG plays Friday (Sept. 18) at 9pm at the Blank Club, 44 S. Almaden Ave., San Jose. Tickets are $10.49. (408.292.5265)
Send a letter to the editor about this story.