09.16.09
home | metro silicon valley index | the arts | stage | review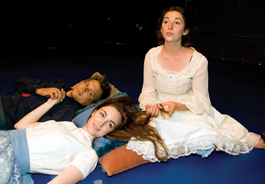 Photograph by Ray Renati
TRIANGULATION: Austin (Bjorn Geske), Susan (Siobhan Doherty, center) and Emily (Caitlyn Louchard) become deeply involved in 'Tell It Slant.'
A Life in Verse
Pear Avenue's 'Tell It Slant' conjures up the early years of Emily Dickinson
By Jessica Fromm
A RECLUSE WHO spent most of her life holed up in her father's mansion in Amherst, Mass., Emily Dickinson was an enigma both in life and in death. Considered one of the major American poets of the 19th century, Dickinson wrote more than 1,800 poems, only a handful of which were published during her lifetime. Her blank canvas of a life serves as the backdrop of Tell It Slant, the opening play of Pear Avenue Theatre's eighth season. Concentrating on her coming of age, this drama with music is more of an allegorical than a literal interpretation of Dickinson's formative years. Based on her extensive correspondence and the few known facts of her early life, the production presents poetry as the coping mechanism that the young writer used to cope with the heartbreaks and cruel realities of her sheltered existence.
Written by Palo Alto playwright Sharmon J. Hilfinger, the action and swift scene changes of the production are initiated by a quirky demiurge spirit, played by Paz Pardo. At the start of the play, the demiurge pulls each character to their feet and tells them where they fit in the story that is about to be told. Tell It Slant really hits its stride at the end of the first act, when the strange love triangle between Dickinson (a dynamic Caitlyn Louchard), her brother, Austin (Bjorn Geske), and their family friend Susan Gilbert (Siobhan Doherty) comes to a head.
Both Dickinson and her brother Austin project their emotions onto Gilbert, who is torn between her feelings for Austin, and her loyalty to her childhood friend. Dickinson is in giddy love with Gilbert—and is crushed to pieces when she hears of Gilbert's engagement to her brother, plunging into a deep depression from which she never fully emerges. After spending months in an unresponsive stupor contemplating death, she eventually pulls herself out with the help of her new idiosyncratic poetic voice. But the breakdown will forever cause her to choose a life of imagination over worldliness. Each actor plays multiple parts, and Bear Capron is particularly hilarious in his bonnet-clad turn as the prim mother superior of Mount Holyoke Female Seminary, the school Dickinson attended for a short time as a teenager.
The stage space itself is decorated sparely, with black walls scrawled with white select blow-ups of Dickinson's writing and the floor painted royal blue and sprinkled with a wide circle of baby-blue petals. The most imaginative of the props used was a single long white rope, which was mimed into many purposes, including a jump rope, a kitchen table, a heart shape curled on the floor, a woven crown and even serving as a long "poem" that the actors hold up and read. Playing a grand piano live onstage, composer Joan McMillen scored all the original songs for the play, with lyrics based on Dickinson's poems.
Though the second act was maudlin and certainly the weaker of the two, kudos must be given to director Rachel Anderson and the entire cast of this production for their sheer vigor and enthusiasm. Not much can be hidden inside Pear Avenue Theatre's minute stage space. With most of the audience just feet away from the actors, there was little leeway for hiccups in this production, and the eight-person cast remained constantly strong in their various energetic incarnations. Every scene remained expertly choreographed and timed to showcase different aspects of the actors, the drama or the songs.
TELL IT SLANT, a Pear Avenue Theatre production, plays Thursday–Saturday at 8pm and Sunday at 2pm through Sept. 27 at 1220 Pear Ave., Unit K, Mountain View. Tickets are $15–$30. (650.254.1148)
Send a letter to the editor about this story.