09.16.09
home | metro silicon valley index | columns | style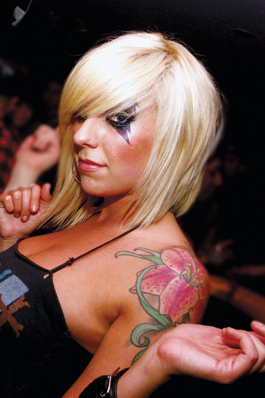 GLAM ROCK: A San Jose club-goer channels Ziggy Stardust at the Cellar last spring.
Paint Misbehavin'
By Jessica Fromm
BLAME IT on Lady Gaga, but face paint and outlandish makeup techniques have seen a resurgence in the Bay Area nightlife scene, with partiers cavorting around bars in looks that haven't been popular since David Bowie's Aladdin Sane era. Individual expression has stretched beyond the confines of the eye area. Both girls and boys are using chunky rainbow-colored glitter to highlight cheeks, eyebrows, lips and foreheads in a look that screams '70s glam rock star.
The younger set are even coloring outside the lines of ordinary cosmetics, applying streaks of attention-seeking neon, metallic or pastel face paint to their features before spilling out onto the streets for a night on the town.
New York's Lady Gaga was really the first one to re–kick off this avant-garde trend among the show biz set last year with her ever-changing sexy-space-invader-meets–John Paul Gaultier look. Since Gaga hit the Top 40, more and more celebrities have been stepping out of the ordinary with their approach to fashion. Actress and perpetual flower child Drew Barrymore was been seen rocking silver, gold and purple stripes all over her mug at Bonnaroo this summer, while Lilly Allen has been experimenting extensively onstage with shimmery blue raccoon makeup as of late.
Though playing Picasso with the face has always been an element of the fantasy world presented in haute couture, surreal, futuristic, disco-tinged makeup is now working its way onto the ready-to-wear runway. Swedish clothing label Cheap Monday took a urban-jungle interpretation of this trend in its spring/summer 2010 collection, sending ripped jeans down the catwalk on models sporting slashes of blue and black tribal face paint.
There are a few sure-fire face paint designs that tend to look good on most people who are bold enough to indulge in this trend. Try metallic lightning bursts and stripes painted around the eyes, neon stars on the cheeks, sparkly false lashes or even stick-on gemstones applied around the hairline. MAC makes a large range of bold and decadent cosmetics that are perfect for experimenting with, while U.K. brand Illamasqua's eye shadows and eyeliners are highly pigmented enough to really make this look stand out.
Send a letter to the editor about this story.