09.16.09
home | metro silicon valley index | columns | Wine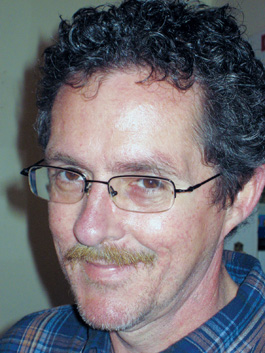 Ask the Sommelier
By Stett Holbrook
VINO LOCALE, as you can probably guess, is Italian for local wine. The Palo Alto wine bar is located in a historic Victorian building and specializes in wines from Santa Cruz, San Mateo, Santa Clara and San Benito counties, a great but still underrated wine producing region we're lucky enough to call our own. At Vino Locale, owner Randy Robinson showcases 70 different local wines as well as locally grown organic food to match.
METRO: Why did you decide to pursue a career in wine?
RANDY ROBINSON: I love wine. It started when I was very young. My parents would let us taste wine, mixed with water, when I was a toddler, always with food. Later, I picked grapes for Almaden Winery when I was old enough to be able to stand up and have a job. I was hooked. It's in my blood.
Later I worked for several different wineries, picking grapes, giving winery tours, bottling wine, disgorging sparkling wine, etc. It got into my skin. I decided to open a wine bar in Palo Alto, featuring local wines after traveling to Italy in visiting enotecas where the wines and food are typically from local wineries and serving local food.
What makes the wine list at Vino Locale special?
We specialize in local wines from the Santa Cruz Mountains, Santa Clara County and San Benito County. These are small, family owned wineries that are unfortunately not well known to people that live here. Our goal is to change that. What is special about us is that a person can get a taste, glass, bottle or a flight of up to 30 different wines every day. Always with good local food.
What wine or wines are you passionate about right now?
I'm passionate about all the wines that we carry. It depends upon how you are pairing the wine with food. However, if I have to pick one, [it would be] Martella 2008 Sauvignon Blanc—crisp flavors of grapefruit, peach and honeysuckle. A perfect wine to drink on its own or with a nice artisanal cheese plate.
Right now, I am a big fan what I call "patio whites"-----—sit on the patio, with family, friends or by yourself and have a nice glass of cold dry and crisp white wine—that will work well on their own or with food. Look for a viognier, riesling, malvasia bianca, and gewürztraminer or sauvignon blanc.
What are some of the best wine values now?
Wine values are subjective. It depends upon what you like and what you can afford. Taste the wine. See if you like it. The great thing about having a wine bar is the people can taste before they buy.
What is your go-to wine for every day, casual drinking?
It depends. What time of the year is it? I tend to favor cold white wines in the summer and big bold reds in the winter. Most important is: What am I having for dinner?
Vino Locale
431 Kipling St, Palo Alto; 650.328.0450.
Send a letter to the editor about this story.