09.17.08
home | metro silicon valley index | silicon valley restaurants | review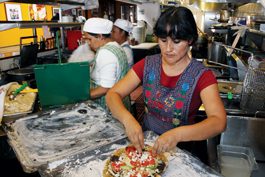 Photograph by Felipe Buitrago
CRUNCH TIME: Co-owner Zaida Kent prepares a tlayuda at Oaxacan Kitchen.
Kitchen Confidential
Mexico's best-kept culinary secret arrives in the South Bay
By Stett Holbrook
SHORTLY AFTER they were married 18 years ago, Ron and Zaida Kent started leading culinary tours to Oaxaca, Mexico. Ron is a chef with more than 30 years of experience in some of the top kitchens in the Bay Area. Zaida is from Oaxaca, in southern Mexico. Their marriage was a culinary match made in heaven.
"I had never tasted Oaxacan food," Ron recalls of his first trip to Oaxaca. "I was stunned by the food ... [Oaxaca] is like the Tuscany or Paris of Mexico."
Because of its diverse indigenous cultures, varied landscape and abundance of produce, Oaxaca produces some of Mexico's most complex and delicious food, a far cry from the wet burritos and cheese-laden enchiladas that pass for Mexican food north of the border.
Five years ago, the Kents took their love affair for Oaxacan food a step further and started selling mole negro, chocolate, tamales and other Oaxacan street snacks at the Palo Alto farmers market. Their company, Oaxacan Foods, now sells at a half-dozen farmers markets in Silicon Valley.
Six weeks ago, the couple opened the Oaxacan Kitchen, a small, neighborhood restaurant off Palo Alto's California Avenue, to further showcase their passion for the distinctive foods of Oaxaca.
"It was evolution," says Ron. "It was perhaps the next step for us to have a restaurant."
And for us. In a land of heavy-on-the-sour-cream, overcheesed Mexican-American food, the Oaxacan Kitchen offers a refreshing, if unfamiliar, side trip into one of Mexico's greatest and yet least appreciated regional cuisines.
Walking in the door of the narrow restaurant, the first thing you see is a pair of women manning the comal, a griddle on which the restaurant makes all its tortillas and various masa-based dishes. Using an ancient device called a molino that consists of two stone wheels made of volcanic rock, the Kents grind their own corn to make the masa (dough). They also use the molino to make their own chocolate from cacao beans imported from Mexico. It's safe to say this ain't your typical sombrero-on-the-wall taqueria.
There are tacos and tortas, but also an array of Oaxacan street snacks seldom seen in these parts. My favorite is the molotes ($8), tubes of masa filled with potatoes and chorizo and topped with a creamy—delicate, even—black bean purée and queso fresco, salsa and guacamole. The masa is lightly fried and the interior is moist and flavorful. It quickly turns into a delicious mess.
Tlayudas ($8.50) are another Oaxacan classic that is well done here. The dish consists of a thick sole of masa that's crispy on the outside and still moist inside and topped with the same goodies as the mololtes, but served with a choice of poached chicken or grilled steak.
The mushroom-filled quesadilla ($6) is great too, especially when made with a hot-off-the-comal tortilla.
Lunch is the time to come for tamales ($4 each). On my visit, there were six kinds available, including ones made with pork and zucchini; butternut squash, corn and zucchini; and chicken with delicious mole negro. The one disappointment was the bitter tamale verde made with goat cheese, mushrooms, garlic and zucchini. It sounded great on paper, but somehow didn't add up.
Although mole is not unique to Oaxaca, the rich sauces made from dozens of ingredients are closely associated with it. To get a taste of four of Oaxaca's best-known moles, go for the fiesta de moles ($16.95), four moles served with a poached chicken breast. My favorites were the spicy red mole coloradito and the sumptuous, smoky, faintly sweet mole negro, the king of Oaxacan moles.
My one gripe is the naked piece of poached chicken breast served with the moles. I like my mole served with a slow-cooked chicken leg that's been infused with the sauce. I don't know how you do that when you're trying to showcase four kinds of mole, but a boiled piece of chicken is pretty boring no matter how good the mole.
Several dishes are really variations on a theme, that theme being masa and black beans, so order wisely. Enfrijoladas ($10), a big tortillas dipped in black bean sauce and topped with queso fresco and onions, is good, but awfully close to a tlayuda, so don't get too much of a good thing.
I expected big, smoky spicy flavors from the camarones con chipotle ($17) but it was one of the most tame—OK, boring—dishes I tried. Far, far better is the superb chile relleno with picadillo ($13), a smoked-tinged, fire-roasted pasilla pepper filled with a mixture of chopped chicken, raisins, herbs and nuts.
There's a well-chosen wine list that draws on several Santa Cruz Mountain producers, but on my dinner visit we tried a bottle of Santa Rosa's Hook and Ladder Winery's "Station 10 Red Blend," a spicy food-loving blend of zinfandel, carignane and petite sirah.
On my visits desserts weren't yet available, but they are now. You can bet I'll be back to try some and explore the rest of the menu while I'm at it.
---
The Oaxacan Kitchen
Address: 2323 Birch St., Palo Alto.
Phone: 650.321.8003.
Hours: Lunch 11:30am–2pm Tue–Fri and dinner 5–9pm Tue–Sat.
Cuisine: Oaxacan.
Price Range: Dinner entrees $12–$19.
Web: theoaxacankitchen.com.
Send a letter to the editor about this story.