09.17.08
home | metro silicon valley index | movies | current reviews | dvd review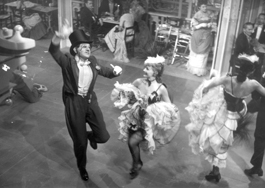 Courtesy of the Criterion Collection DANCE FEVER: A masked man twists the night away in 'Le Plaisir.'
Pleasure Dome
Max Ophuls' camera never had time to stand still in 1952's 'Le Plaisir'
Reviewed by Michael S. Gant
IN HIS 1952 French feature, Le Plaisir, director Max Ophuls stitches together three stories by Guy de Maupassant to form an elegiac secular altarpiece dedicated to a kind of Heraclitan notion of life as always in flux and ever changing—as critic Robin Wood's essay that accompanies Criterion's new release of the film puts it, "Life is movement." Two compact urban episodes flank a long reverie in the country. The film begins with "The Mask," in which a whirling dervish figure with frozen features collapses on the dance floor of a boisterous pleasure palace. Underneath his rubber mask an old man is revealed (the cutting away and peeling back of this second skin eerily presages Georges Franju's Eyes Without a Face). A solicitous doctor returns the man to his long-suffering wife, who delivers a cautionary tale about her husband's inability to let go of the womanizing pleasures of his youth. In the extended central sequence, "The Tellier House," Madame Tellier (Madeleine Renaud) presides over an idealized brothel that serves as the social glue in a Normandy town, providing sensual companionship for respectable gentlemen in the front parlor and sailors in the bar around back. Consternation reigns among men of all classes when the women take a day off to visit Julia's family in the country for her niece's first communion. The simple, sun-dappled pleasures of this rural retreat (so much like Jean Renoir's A Day in the Country) elicit unexpected emotional responses in the giddy visitors; in the church, Madame Rosa (Danielle Darrieux) starts to cry, and soon the whole congregation is teary-eyed. A fleeting attraction develops between Rosa and Julia's rustic brother (Jean Gabin), so evanescent that neither is completely sure what has happened. Back in town, life goes on, and the relieved townsmen return to the flock, as if to a church of the flesh. The film concludes with "The Model," in which a boho artist (Daniel Gélin) falls meets his ideal muse/model (the ever-mysterious Simone Simon of Cat People fame) in the Louvre and falls madly in love only to suffer through a tragic breakup leading to an ironic coda.
Ophuls is justifiably famous for his elegant, gliding tracking shots unfolding in deep-focus architectural spaces, and he takes full advantage of the technique in Le Plaisir. In the dance hall of "The Mask," revelers, waiters and entertainers swirl, congregate and float apart like so many ping-ponging atoms in complicated patterns as the unblinking eye of the camera tracks them in and out of archways and up and down stairways. The intricacy of the setup recalls how Orson Welles set his camera dancing through the fancy-dress ball at the Amberson mansion. In "The Tellier House," Ophuls never takes us inside the brothel; we see the arrival of the customers and their interactions with the prostitutes only through windows and transoms, peeping between slatted blinds, and following Madame Tellier along an exterior catwalk as she moves from room to room. The probing cranework makes us feel like a giant investigating the inhabitants of a dollhouse.
Ophul's method reaches its peak in "The Model" in two remarkable shots. In one, the artist and his model argue in motion through a warren of rooms with glass walls—it is hard not to think that Fassbinder didn't use this scene as the reference point for the "Memories Are Made of This" sequence near the end of Veronika Voss, in which the camera circles around a similar set of glass walls looking to pinpoint Veronika's lovers, friends, enablers and enemies all at once. And finally, there is the renowned subjective shot of Simone Simon rushing up a staircase, her shadow racing before her as she prepares to jump from a window after her lover has rejected her. In an interview with this package, actor Daniel Gélin recalls that so much effort and time went into executing this sequence that when it was finally done, the crew burst into applause for Ophuls. This disc also includes interviews with director Todd Haynes (Far From Heaven), scholar Jean-Pierre Berthomé and the assistant director and set director from Le Plaisir. The last offers a great tribute to the director: "He was a magician and he drove you to be one, too."
Le Plaisir; one disc; the Criterion Collection; $39.95
Click Here to Talk About Movies at Metro's New Blog
Send a letter to the editor about this story.