09.17.08
home | metro silicon valley index | movies | current reviews | dvd review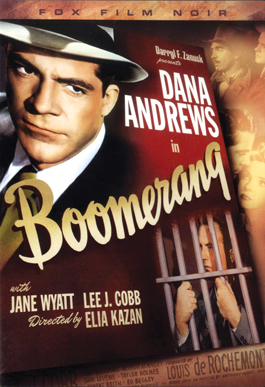 Boomerang
One disc; 20th Century Fox; $14.99
Reviewed by Michael S. Gant
Based on a true story (from the 1920s but updated), Boomerang (1947), directed by Elia Kazan, claims to use some of the original locales and as many of the "actual characters" as possible, which may account for some of the stiffness in this quasi-documentary retelling of justice bent but not broken. The opening narration, set to low strains of "America the Beautiful," introduces us to a Connecticut small town that could be anywhere, U.S.A., and "underneath [the people] are the same as your next door neighbor." One of those people is kindly old Episcopalian priest Father Lambert, who is brutally murdered while taking his evening constitutional on Main Street. When the police can't turn up a perp, the local newspaper magnate accuses the ruling reform party of incompetence (including a funny political cartoon about blind politicians leading blind police in circles). Desperate to solve the case, the police finger a drifter named Waldron (Arthur Kennedy), one of those disaffected World War II vets who figured so prominently in film noir. Under dubious police interrogation tactics, Waldron confesses, but upright DA Henry Harvey (Dana Andrews) has doubts about the circumstantial evidence and surprises everyone by undermining his own case for the prosecution. A lot of familiar faces turn up: beefy Lee J. Cobb as the police chief, a young Karl Malden (young in years but looking the same as he does in Streets of San Francisco 30 years later), a sweat-dripping Ed Begley as a reform politician with a guilty conscience and, in a brief part, pert June Lockhart as Harvey's totally supportive, submissive wife. The clunky nature of the courtroom scenes is leavened by the wise-guy attitudes of the local newspaper publisher (Taylor Holmes) and reporter (Sam Levene), who massage public outrage in order to further their own political ends. The publisher crows that the reformers at city hall are "running around like chickens with their heads cut off." What would your boys be doing if they were in? asks an underling. "Running around like chickens with their heads cut off," the publisher ripostes with a cynical chuckle. Extras include commentary by noir experts Alain Silver and James Ursini and stills and posters.
Click Here to Talk About Movies at Metro's New Blog
Send a letter to the editor about this story.