09.17.08
home | metro silicon valley index | movies | current reviews | film review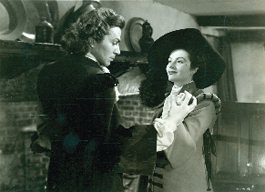 Stiff Upper Lips: The Stanford delves into British film with 'The Wicked Lady' (above) and 'The Brothers.'
Brit Pack
The Stanford Theatre screens 22 rare treasures from the British cinema
By Richard von Busack
UNTIL THE 1960s, British film had an inferiority complex. Studios worked on a smaller and less flamboyant scale than the ones in Hollywood. When stars were born in Shepherd's Bush or Islington, they often fled for the orange groves and big paychecks in California. Now Palo Alto's Stanford Theatre unveils a month's worth of little-seen British film. Here are 22 movies, from 1932's Rome Express (Sept. 19–21), a Conrad Veidt thriller by Sidney Gilliat, a longtime collaborator with Alfred Hitchcock, to the 1953 comedy Always a Bride (Oct. 4–5) with Peggy Cummins (forever deathless as the murderess in Gun Crazy) as one of a pair of short-con artists working the French Riviera.
One name that comes up repeatedly in the schedule is that of James Mason. A Byronesque theatrical actor with cinema's most buttery voice, Mason stars in The Wicked Lady (1945; Sept. 27-28) against Margaret Lockwood—a born-in-Karachi beauty who critic David Thomson claims rivaled Vivien Leigh. Lockwood plays a titled lady of the 1700s who becomes a highway robber for the fun of it. Mason plays the dashing bandit she meets along the way. The Man in Grey (1943; Oct. 2–3) stars Mason as a not-so-divine marquis in the British regency. It was an international hit, typecasting Mason as a velvety aristocratic cur. Still, the actor wasn't happy with either the part or the director, Leslie Arliss. Mason later commented, "I have to conclude that my sheer bad temper gave the character color." And They Met in the Dark (1943; Oct. 2–3) features the rumbling actor as Commander Heritage, a cashiered officer in World War II's Royal Navy.
Stewart Granger, a fit and accomplished swashbuckler in 1950s cinema, makes his first major film appearance in The Man in Grey against the far more compelling Mason. Granger has the top bill in the fragrantly titled Madonna of the Seven Moons (1946; Oct. 4–5), a romance of past-life regression. In Love Story (1944; Oct. 17–19), Granger plays an RAF pilot who may be going blind and romances Margaret Lockwood. In Caravan (1946; Oct. 25–26), Granger is in Spain during the Victorian era, escorting a valuable necklace through bandit territory.
Some other names familiar to British film watchers turn up in this minifestival; Bank Holiday (1938; Sept. 19–21) is an early Carol Reed neodocumentary drama about a long weekend in London. The Stanford's Cyndi Mortensen gives a big endorsement to The Brothers (1947; Oct. 11–12), a drama of the Isle of Skye with Finlay Currie (Magwitch in David Lean's Great Expectations) as one member of a pair of feuding families. Seemingly to draw a bigger crowd, The Brothers is double-billed with something more high-tech: The Perfect Woman (1949), an unusual sci-fi comedy about a humanoid robot named Olga (Pamela Devis).
Also of interest: Gasbags (1941; Sept. 25-26), the Crazy Gang's answer to Duck Soup. This popular troupe of proto–Monty Pythonites finds itself in an accidental invasion of Nazi Germany. In The Gentle Sex (1943; Oct. 30–31), seven women (one of them Joan Greenwood) join the wartime service and do their part. Director Leslie Howard (Ashley in Gone With the Wind) finished the film shortly before he was shot down over the Bay of Biscay—such were the conditions during the making of these small-scale films, with global war and depression just outside the theater walls. During 20 years of struggle in England, these movies diverted a population hanging on by their fingernails.

RARE TREASURES OF BRITISH CINEMA runs Friday–Sunday, Sept. 19–Oct. 31 at the Stanford Theatre in Palo Alto (www.stanfordtheatre.org)
Click Here to Talk About Movies at Metro's New Blog
Send a letter to the editor about this story.