09.19.07
home | metro silicon valley index | silicon valley restaurants | review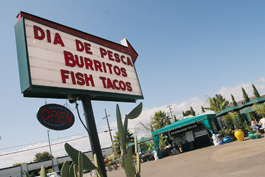 Photograph by Felipe Buitrago
SIGN AND SPINES: The Dia de Pesca parking lot is a bit of Mexico on Bascom Avenue.
Gone Fishing
Dia de Pesca brings the flavor of the sea and the feel of Ensenada to a South Bay parking lot.
By Stett Holbrook
IT IS a sad and ironic fact that the Mexican food in Silicon Valley is generally not very good. It's sad because, well, Mexican food is so good that it's a shame we don't have more standout Mexican restaurants. It's ironic because the South Bay has so many Mexicans and Mexican food lovers.
There are a few worthwhile higher-end places, like Consuelo in San Jose and La Estrellita in Los Altos, and there are a handful of good taquerias (especially on Middlefield Road in North Fair Oaks near Menlo Park), but most of the Mexican food in these parts is solidly mediocre. That's why the opening of Dia de Pesca in San Jose is so exciting. There's nothing else like it.
The restaurant occupies a parking lot on Bascom Avenue, but don't let that throw you. It's a cool, inviting place. All the seating is outdoors on ceramic-tile-inlaid concrete tables. Big planted pots, a cactus garden and wrought-iron sculptures make the place look like the roadside stops between Rosarito and Ensenada instead of a Silicon Valley parking lot. Music from a stereo-docked iPod adds to the atmosphere.
The kitchen is nothing more than a styled-out taco truck. But this gleaming, stainless-steel portable kitchen is no roach coach. It reportedly cost $70,000 and is clean and well equipped. And for a restaurant that specializes in fish, smaller is better. There's not much room for cold storage, so the kitchen goes through its seafood quickly.
Co-owner J. Xavier Sanchez owned a Mexican restaurant in Capitola called the Coyote Cafe but sold it a few years ago and wanted to open something special in San Jose, where he lives now. The former chef at Coyote Cafe, Hector Plascencia, came aboard as co-owner and chef.
"If you lift up a rock here, a taqueria will crawl out," says Sanchez. "They're everywhere, but they're all really mediocre in my opinion. With [Dia de Pesca], we really wanted to make a statement."
As you might guess from the name (Dia de Pesca means "gone fishing" in Spanish), the restaurant specializes in seafood—fish tacos, ceviche, shrimp cocktails and soups.
To order, you walk up to the makeshift cash-register station, pay up (cash only) and wait for one of the cooks wearing clean kitchen whites to run your food out to you. I'm a huge fan of the tempura-battered, Baja-style fish tacos, so I was a little skeptical when Sanchez said his fish tacos ($3.25) were sautéed and made with no batter.
But when I peaked inside the kitchen and saw one of the cooks trimming beautiful, deep red slabs of tuna, I knew the tacos were going to be special. In addition to tuna, you can also get tacos made with salmon, halibut, red snapper, shark, tilapia, scallops, crab and shrimp. That's just unheard of around here.
I went with a tuna taco, and it was excellent. The chunks for fresh fish were sautéed with bell peppers and onions and topped with cabbage, pico de gallo and a little diced avocado and tucked into two large corn tortillas. They're big and meaty, so two would make a perfect meal.
Although Dia de Pesca touts its fish, I couldn't resist the "chickenitza" taco ($2.50), chunks of chicken breast marinated in orange juice and cilantro sauce topped with peanut sauce, avocado sauce and a light salsa fresca. Although the chicken bordered on dry, the flavors of the marinade and different sauces were great.
Most Mexican restaurants offer seafood cocktails, but I usually avoid them because the sauce is too thick and ketchupy sweet, and the seafood sometimes suspect. But Dia de Pesca makes a great one. The shrimp cocktail ($7.95 small, $9.50 large) features a light and lively garlicky cocktail sauce loaded with avocado, cucumber and tomatoes. The shrimp itself was fresh, sweet and plump.
Another dish that surprised me was the quesadilla del mar ($7.95). It is served with a choice of shrimp, octopus, crab, scallops or prawns; I went for the scallops and got two large flour tortillas loaded with gooey jack cheese, sautéed red and green bell peppers, cabbage and fat, fresh sea scallops. It's a messy but delicious dish.
After two visits, I was already loving this place, but the big bowl of caldo de carmaron ($9.95) sealed the deal. The soup had a chile pepper–tinted broth redolent with the flavor of shrimp, tomatoes and onions. Tender, juicy shrimp bobbed in the bowl with bits of avocado and cucumber. A squeeze of lime really brought the soup to life.
The restaurant doesn't serve beer or wine, but the agua frescas (fruit drinks, $1.50) make the perfect accompaniment to the food. Sanchez is outfitting a small building on-site for seating during the winter, but as long it's not pouring rain you'll find me at one of the outdoor tables enjoying a delicious slice of Mexico in the heart of Silicon Valley.
---
Dia de Pesca
Address: 55 N. Bascom Ave., San Jose.
Phone: 408.287.3722.
Hours: Daily 10:30am–8:30pm.
Cuisine: Mexican.
Price Range: $2.50–$12.50.
Send a letter to the editor about this story.