09.19.07
home | metro silicon valley index | movies | current reviews | film review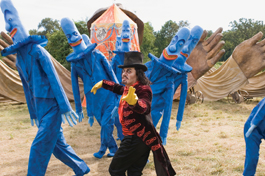 Photograph by Abbot Genser
HELTER SKELTER: Eddie Izzard's Mr. Kite and his blue buddies typify the confused nature of Julie Taymor's 'Across the Universe.'
Don't Let Us Down
Alas, Julie Taymor's Beatles farrago 'Across the Universe' is a huge letdown.
By Richard von Busack
SOMETHING is lacking in Across the Universe. What the film needs is a damned good whacking. The Beatles are the subject of the muzziest human reveries, like other vague capitalized topics: "Christ" or "Poetry" or "Love." Trying to visualize a concept this high is the quickest path to kitsch. And Across the Universe is rock-solid kitsch, compete with giant puppets, hidebound lyricism and chiffon-wrapped floating nudes, much like the levitating Greek oracle in 300. The more I see "tasteful nudity," the more I am convinced that I am only interested in the distasteful kind. Director Julie Taymor ransacks 30 Beatles songs for this period musical. A Liverpool boy ("Jude," Jim Sturgess) meets a patrician American girl ("Lucy," Evan Rachel Wood). Lucy's brother, Max (Joe Henderson), a wastrel Princeton drop-out, risks being drafted for Vietnam. (The CGI'd Uncle Sam poster, coming to life and reaching for the draftee, is the film's single most effective image.)
The three principals live in a New York flat where the landlady is Sadie (Dana Fuchs, channeling Idina Menzel in Rent). Coming in through the bathroom window is the incipient lesbian Prudence (T.V. Carpio). Now that we have something like the cast of Friends together, the movie seems staffed with nothing but minor characters. Together, they endure the turmoil of that one particular decade that no one wanted to see re-enacted on screen again as long as they lived. The film's take on the 1960s is political spinelessness. Lucy drifts into antiwar activities and begins hanging with a thinly veiled version of the SDS. Her telephone call home: "I'm a radical! You should be a radical, too. Everyone should be a radical!" In turn, Jude berates the activists with a rendition of "Revolution." Finally, a restaging of the accidental Weatherman bombing at a New York townhouse demonstrates the wrongness of all antiwar efforts. Except, that is, for carrying puppets and crying.
Drugs darken this film's door when a Neal Cassady–like Dr. Robert arrives via magic bus. As the driver, Bono provides an acceptable version of the Beatles' great moment of foaming, wrathful Dada, "I Am the Walrus." Only by Joe Cocker's downtown pimp singing "Come Together" equals it. Weirder is Salma Hayek in a digitized five-part harmony. Wearing naughty-nurse regalia, she wields a hypodermic. This cinco de Salma party, set to "Happiness Is a Warm Gun," is indebted to the "Acid Queen" sequence in Tommy. Most audiences won't remember that Ken Russell moment, but it convinced virginal viewers worldwide that LSD was an injectable drug. Of Eddie Izzard's "Being for the Benefit of Mr. Kite," it is perhaps best not to speak. Taymor sought artlessness and got amateurness. Some songs work despite what the performers do to them; "Blackbird" seems to survive any musician. Illustrated with derivative psychedelia, the film bottoms out when Jude creates the "Strawberry Records" logo. Impaled on push-pins, a basket of strawbs hang, leaking gore. It's a veritable dysfrutopia. So many little bleeding hearts, just like the one Across the Universe has on its sleeve. What a bloody mess.

ACROSS THE UNIVERSE (PG-13; 113 min.), directed by Julie Taymor, written by Taymor, Dick Clement and Ian La Frenais, photographed by Bruno Delbonnel and starring Evan Rachel Wood ad Jim Sturgess, opens Sept. 21 valleywide.
Send a letter to the editor about this story.