09.19.07
home | metro silicon valley index | music & nightlife | band review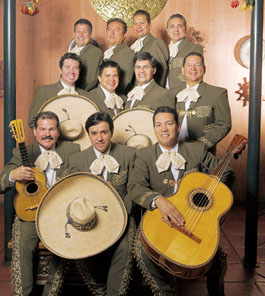 New Tradition: Mariachi Cobre holds its own on a bill with Los Lobos and Linda Rondstadt.
Mariachi Palooza
Ozomatli, Linda Rondstadt, Los Lobos and Marco Antonio Solis light up the 16th Annual San Jose International Mariachi Festival
By Jesse 'Chuy' Varela
This isn't your daddy's mariachi festival anymore—the 16th Annual San Jose International Mariachi Festival is making a radical turn in its artistic direction. Adding a lineup of Latin Alternative rock acts this year could leave some purists shaking their heads, but it may also leave the Mexican Heritage Corporation—the parent company of the festival—deep in the black.
This year, the festival could become the largest of its type in the United States. Since South Bay concert producer Bruce Labadie has joined the Mariachi Festival team, he has implemented several changes that will hopefully attract bigger audiences by providing them with better location and younger crossover appeal.
"The Mexican Heritage Corporation asked if I would come in and take a look at the Mariachi Festival," says Labadie. "They wanted to take it in a different direction so I suggested that they make their outdoor festival two days and add a Latin Alternative element to one day and ramp up the quality of the mariachi on the other."
As a concert producer and promoter, Labadie established himself running the Mountain Winery, Villa Montalvo and San Jose Jazz Festival. Currently he works with the city of San Jose to turn the downtown into a viable entertainment district. If anybody can take the Mariachi Festival to the next level, he can.
"Right now the Mexican Heritage Plaza is having a hard time making it financially. But the Mariachi Festival is really good for the organization, which gives them a high profile and makes it money."
The festival begins with Mariachi Day at the Children's Discovery Museum on Sept. 23, a free family event with music, dance performances, workshops and arts and crafts. The Mariachi Symposium starts on Sept. 26, with workshops and an educator's conference that draws over 400 students.
Highlights include Friday (Sept. 28) night's Noche de Serenata Gala Concert with Linda Ronstadt, Los Lobos and Mariachi Cobre at the San Jose Event Center. The Sunday (Sept. 30) Feria De Mariachi features Mariachi Reyna de Los Angeles, Mariachi Internacional Guadalajara, Mariachi Sol de Mexico de Jose Hernandez, Los Lupes de San Jose, Mariachi Azteca, Mariachi Cielo de Mexico and others. The festival concludes with Mexican pop star Marco Antonio Solis performing a "mostly mariachi" concert at the HP Pavilion on Sept. 30.
The Arena Green, next to the HP Pavilion, will be the open-air site for a Saturday (Sept. 29) of ruckus Latin rock with a dash of Cuba and flamenco. Not since the ill-fated Watcha Tours at the San Jose Fairgrounds in the late '90s has there been such a stellar lineup of Latin Alternative bands sharing the same bill in San Jose. Two stages will feature bands including Incendio, Maraca, The Iguanas, Kaweh, Los Mocosos, Los Pinguos and Diego's Umbrella, with the Grammy winning group Ozomatli headlining the event.
"We love that kind of music and look forward to hanging out with some bad-ass mariachis," says Raul Pacheco, lead singer for Ozomatli. "It's been a dream of mine to have the band jam with a mariachi and maybe this is the chance."
Ozomatli are riding high with their latest release, Don't Mess With the Dragon (Concord). Recent tours to Europe and Japan and soon to China and Korea are garnering them international acclaim for a pop sound fusing Latin, hip-hop and rock. Known for socially conscious themes and infectious beats, they bring a youthful perspective to the festival.
"We are a high-energy dance band," adds Pacheco. "We play music that makes you want to dance and transcend differences. After 12 years together we are searching now for different things to try that are spiritually and artistically fulfilling."
The fusion of rock and mariachi has yet to happen and maybe it never will. But what Ozomatli brings is fresh and helps give higher visibility to these French-derived Mexican ensembles comprised of violins, trumpets, varying guitars and voices who are struggling to survive in such traditional strongholds as Plaza Garibaldi in Mexico City.
Sunday begins with the traditional Mariachi Mass in the morning, followed by world-class mariachi ensembles with regional and international acclaim.
"This is the largest mariachi festival in California and the second largest in the United States," adds Labadie. "We also looked for different mariachis we could bring in and negotiated with nine bands from Guadalajara, Veracruz, Miami, Tucson, Oakland, Fresno and Los Angeles."
This year the must-see show is at the Arena Green and the introduction of Latin alternative music to the festival. Admission is only $5. "The admission price will allow us to bring in better music. I don't think $5 is going to hurt anybody for the quality of the music they're getting," concludes Labadie.
THE SAN JOSE INTERNATIONAL MARIACHI FESTIVAL happens Sept. 23–30 at various venues. For more information, visit http://mhcviva.org/education/mariachi_festival.html.
Send a letter to the editor about this story.