09.19.07
home | metro silicon valley index | the arts | stage | review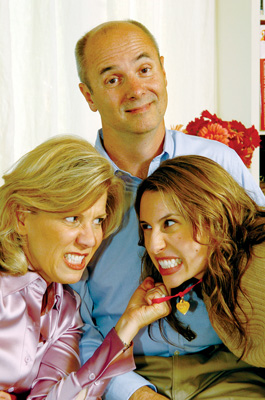 Photograph by Joyce Goldschmid
CANINE TRIANGLE: Jeff Swan (center) has a wife (Mary Moore, left) and a very fetching dog (Katie Kelleher) to deal with in 'Sylvia.'
This Dog's Life
Palo Alto Players paw up new comic ground in 'Sylvia'
By Marianne Messina
DOG-OWNERS with that irresistible urge to treat pets like humans have heard all the derogatory diagnoses. They will hear some creative variations on the theme in Sylvia, A.R. Gurney's play about a man in midlife crisis who brings home a stray dog. Showing all the signs of midlife madness—absenteeism from work, vague yearnings for "connection," passion for walking in the park—Greg (Jeff Swan) has "pastoral nostalgia" according to his therapist Leslie (Steve Bologna) and has succumbed to the human tendency to "project our needs onto the world." Leslie warns Greg he's in the "dangerous years between the first days of retirement and the first whiff of the nursing home."
Greg can hardly be blamed for anthropomorphizing his new pet, since Sylvia is played, in this Palo Alto Players production, by the very human Katie Kelleher. Costume designer Mary Cravens puts Kelleher in kneepads and tennis shoes for added doggy agility, while the tan oversize sweater, scruffy and torn, hits a gray area between fur and vestment. Later, Cravens humorously differentiates just-groomed Sylvia from stray Sylvia by exchanging the tattered pullover sweater for a frou-frou fluffy waist jacket and replacing the slept-in look with pert pink bows in neatly pigtailed hair.
When Kate begins to mention putting d-CON in Sylvia's dog food, it seems the play could take a nasty turn, but this is not The Goat (Edward Albee's gruesome, more neurotic nod to Gurney's play). Gurney's commentary is less an assault on dog doters than it is a dose of dogoholic sharing, complete with spayer's guilt. Walking Sylvia, Greg befriends the macho Tom (Steve Bologna) and his dog Bowser, and they exchange advice and theories. Bologna makes a fun, Marlboro-smoking man's man. So he's all the funnier when he comes out as Kate's friend Phyllis, a tea lady with tart red accessories, shying and shooing Sylvia away when the dog bounds up saying, "Nice crotch here; nice crotch!" Bologna also plays the androgynous therapist Leslie ("That's why I wear these ambivalent clothes").
Shrewd scenic preparation by Kuo-Hao Lo make for dramatic transitions as drops whisk away, skies go from sunny to starry or characters go from apartment to park. Bologna's comic types are balanced by Moore's very earnest Kate, an English teacher just returning to work (and occasionally sounding like the playwright's mouthpiece). To Moore's straight performance, Swan's slightly high-pitched Greg occasionally gooses his lines with laugh-hungry exaggeration.
But the real workhorse of humor in this play is Sylvia, enhanced by Gurney's premise. In one dog-to-human analogy, Sylvia says, "Hold on, I have to check my messages," and starts sniffing around the ground. With a new facial expression for every tone of voice from her master, Kelleher owns the role, inspiring lots of out-loud laughter—flea scratching, getting tangled in her leash, going off on a cat, "You sack of shit—can you smell that thing?" Even while Greg and Kate are arguing on another side of the stage, Kelleher draws the eye her way.
Where you stand on the "Dogs are people, too" credo may affect whether you root for Greg or Kate. But Moore and Swan give us characters likable enough to forefront Gurney's more serious strain, the ability to find individual fulfillment in the context of a mutual arrangement like marriage. Gurney also continuously shifts our way of viewing Sylvia as her side of the conversation vacillates between clever translations of dog-think and full human characterization. She can be representative—any object of passion—or actual—the other woman. This provides the aware audience an interesting study on how what we name things affects how we invest in them.
SYLVIA, a Palo Alto Players production, plays Thursday–Saturday at 8pm and Sunday at 2pm through Sept. 30 at the Lucie Stern Theater, 1305 Middlefield Road, Palo Alto. Tickets are $26–$30. (650.329.0891)
Send a letter to the editor about this story.