September 20-26, 2006
home | metro silicon valley index | music & nightlife | band review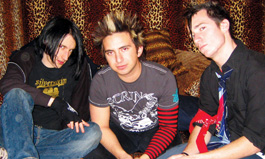 It Takes Three: The Wrec may live up to its name after 5606 is through playing.
Dreams Come True
5606 thrives on 'controlled mayhem' and the unpredictable future
By Claire Taylor
WITH MILLIONS of bands in the world, it seems as if one pops up and another dies with each moment passed. The search for stardom requires persistence and passion, and when many bands get their start during high school, they often fracture when members go off to college or begin working full-time jobs—living in the real world as it were.
San Jose's 5606 is one of those bands, sprouting from the ashes of ... 5606. Lead vocalist and guitarist Eric Ventimiglia originated 5606 with two other members in 1999 during his freshman year of high school. After a few years, those members decided they no longer wanted to play music, and Ventimiglia had to make the choice to continue with his band or start completely anew. The 22-year-old chose the former and brought in friends Kevin Bligh, 21, on drums, and Anthony Greene, 21, on bass, keeping the group's original name and pop-rock trio format. "This band was born a three-piece and it will die a three-piece," says Ventimiglia.
The band has pushed forward where the first lineup left off, hoping to gain momentum with every new show, passing out fliers and using what Ventimiglia calls "guerrilla-style promoting" for its concerts and EPs. "I've seen a lot of bands who play two shows and think they're the biggest band in the world, and they don't bother promoting or working toward getting their name out there," Bligh says, expressing that it takes "sacrifice" in order to fulfill a dream of making a living performing. Ventimiglia adds, "Everything we do, we earn, and everything we dream comes true."
In its current incarnation, the band has released two EPs, played shows with acts such as All-American Rejects and Yellowcard, gained national radio play and performed at the Vans Warped Tour, proving that their dreams are beginning to come to fruition. "In the past year and a half it's become more of a reality—we weren't delusional anymore," says Ventimiglia. The group recently placed highly in a battle of the bands at the Verge in San Rafael, earning a spot to open for Starship at this year's Rock'n Blues in Novato.
The group's straightforward rock sound, along with frequent opportunities for group singalongs and dancing are what draw multihundred-body crowds to its shows. "It's very powerful, it's simple and terribly, terribly catchy," Ventimiglia says about his band's music. "Watching kids sing the words you made up playing an acoustic guitar on Sunday morning watching Teenage Mutant Ninja Turtles in your underwear ... you just have a big, dorky smile on your face," he adds.
5606 headlines a show at the Wrec in Saratoga this Friday with I Am Ghost, Undergone, Aquabox and Vaux. Ventimiglia says the Wrec is his favorite local venue because "it's a new place to play, it's a big venue, it's a safe place to play, but ... it gets a little chaotic ... bodies were flying on the stage [at our CD-release show there]—it was controlled mayhem." Expect to see more of the same at this weekend's show, as Ventimiglia and Bligh say each show is a new experience. "I live every 30-minute set in fear because I don't know what's going to happen—it's not systematic."
5606 plays Friday (Sept. 22) at 6pm at the Wrec, 19655 Allendale Ave., Saratoga. Tickets are $10 in advance, $12 at the door. (408.868.1272)
Send a letter to the editor about this story.