September 20-26, 2006
home | metro silicon valley index | the arts | stage | review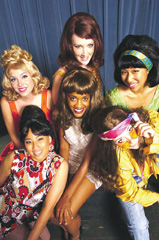 Photograph by Joyce Goldschmid
Where the Girls Are: The singing wonders of 'Beehive' are (clockwise from top center) Melissa T. O'Keefe, Katie Chaidez, Pilar Alvarez, Jujuana ShaRon Williams, Jeanne Batacan-Harper and Allyson Rocha.
Boomer Box
The Palo Alto Players relive the sound of the '60s female pop stars in 'Beehive'
By Marianne Messina
STARTING WITH sticky hair flips and '60s girl bands, the musical showcase Beehive continues through Janis Joplin's tie-dye and bandanas dedicated to the proposition that America grew up in the '60s (which would put us currently on our second or third childhood). In the Palo Alto Players' production, the six ladies singing many of the now wedding-DJ favorites have obviously studied the mannerisms of '60s grrrl power from the English accent and prim haute posture of Petula Clark (Allyson Rocha) to the open hipped shudders of Tina Turner (Jujuana ShaRon Williams).
Spanning '60s genres over the entire hit parade, this sextet deftly covers the incredible vocal variety with a forte in harmonizing and layering. Yet even as they re-created the lady icons down to amazing detail, many of the performances had a practice-in-front-of-the-mirror quality that needs to start feeding off the audience. It probably didn't help that the band was loose as a Boston tunnel and occasionally as deadly.
Despite such hopefully first-night kinks, the production pulled off a sensational Aretha Franklin moment. If you weren't around to be impressed by the original Aretha, these boomer retrospectives could cliché her to the numbing point—she's become a lazy shorthand for the breakout decade, feminism to civil rights. And yet this production makes you feel Aretha in your blood. Turbaned and dressed in regal, flowing robes, Williams, Katie Chaidez and Jeanne Batacan-Harper take turns singing the different shades of Aretha: "A Natural Woman" (Batacan-Harper), "I Never Loved a Man" (Chaidez), "Do Right Woman—Do Right Man" (Williams). Almost as if to say it takes three people to make one Aretha, this number came pretty close to channeling the pain, the pride and the power that made her the voice of an era. At the end of the number, three voices come together piling one song over another for a goose-bumpy finish.
Excepting a few obligatory data points like the assassination of President Kennedy, the show has no story line and offers little context. There is no mention of the boiling scene behind the music, writers like Burt Bacharach, the Holland/Dozier/Holland team ("Stop in the Name of Love" etc.); producers like Phil Spector and Quincy Jones. And writer/singer Carole King should at least have had a walk-on considering the hits she penned as a woman in a man's world.
However, taken as two-dimensional nostalgia, the show's other fine moments include the familiar pale makeup and bleached white hair of Dusty Springfield (wigs, Rande Harris) and a sketch poking fun at Leslie Gore as the queen of devastation by love. Happily, Melissa T. O'Keefe, the narrator of sorts, takes us into her confidence from time to time—how in her teen years she got past Mom by wearing her skirt knee-length out the front door only to hike it up to minilength with a belt as soon as she got to school. "You know what I'm talking about," she says, wagging her finger.
Sean Grady's perceptive period choreography is showcased on platforms set in a psychedelic frame of blue, purple, aqua tones. Costume designer Mary H. Cravens had to be one really busy lady—especially stellar: the bold red, fringed and sequined thigh-topper dresses of Tina Turner and her dancers. The Palo Alto Players' Beehive is already the kind of show you leave saying "remember when." Some tightening and more connecting with the audience could turn it into something special for anyone interested in '60s girls.
Beehive, a Palo Alto Players production, plays Wednesday-Saturday at 8pm and Sunday at 2:30pm through Oct. 1 at the Lucie Stern Theater, 1305 Middlefield Road, Palo Alto. Tickets are $20-$30. (650.329.0891)
Send a letter to the editor about this story.