September 20-26, 2006
home | metro silicon valley index | silicon valley restaurants | review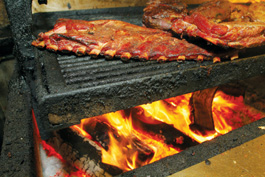 Photograph by Felipe Buitrago
Ribbed For Your Pleasure: Check out the rack cooking up at Andy's.
Still Smokin'
Andy's Bar-B-Que returns victorious to Santa Clara
By Stett Holbrook
FOR years I drove by Andy's Bar-B-Que in Campbell without ever stopping in. Speeding by on Highway 17, I looked down on the bunkerlike building on Campbell Avenue with its neon-lit sign, imagining the plates of ribs and brisket within. If the winds were right, I could catch a whiff of the oak-fueled pit. Open since 1965 in a building that began as a bar, it looked like the kind of place that served good barbecue, and I had heard as much from lots of people. One day, I told myself, I was going to pull off the freeway and get me a plate of barbecue and taste it for myself. But I never did.
Eventually I moved out of Silicon Valley, and when I came back a few years later, Andy's was gone. The landowner kicked Andy's out in 2004, razing the building to make way for a Marriott hotel. Ironically, before the late owner Andy Unzen opened the restaurant, he ran a bar on South First Street in San Jose called Howard's, but he got the boot there as well to make way for the construction of the 280 freeway.
Unzen's son Andy Jr. took over the family business from his father around 1980, but when he learned the wrecking ball was coming, he sold the business to longtime employee and friend Ken Smith. Since the building was slated for demolition, Smith was buying just the name and recipes. He hoped to reopen elsewhere one day.
Smith, who started working at Andy's in 1976 when he was 16, kept the barbecue flames alive for more than year with a catering business before opening a new Andy's in Santa Clara a year ago.
The new Andy's is bigger than the original but looks similar, at least to what I remember of the old place. It's a squat, windowless building on El Camino Real that used to be a steakhouse. Inside, there are comfortable booths and an old-school bar that began pouring drinks during the Kennedy administration and has probably never served a cosmopolitan or chocolate martini in its life. (Sadly, Charlie Chan, a popular bartender at Andy's since 1981, passed away earlier this month.)
Smith says that the menu and recipes are just the same as the old Andy's. I can't vouch for that, but I can say that most of what I had was good. A basket of grilled garlic bread arrives while you pore over the meaty menu. My favorite dishes were the tri-tip ($15.25 for platter) and spare ribs ($13.95 for a slab platter.) Tri-tip is usually marinated and grilled, but Andy's slow-smokes its tri-tip in white oak goodness until it's fall-apart tender and juicy. The deep smoke ring and caramelized crust provide a nice contrast to the succulence within. The spare ribs are big and hugely meaty with a pronounced but not overpowering smokiness. And critical to the success of any slab of ribs, they're moist and tender.
Barbecued chicken is usually my least favorite item at barbecue restaurants. Because it cooks so quickly, it generally has a less developed smoke flavor and is really just slowly grilled chicken. But Andy's half chicken ($12.75) manages to achieve both smokiness and tenderness.
However, I was disappointed with the brisket ($14.75). This initially tough cut of beef meat requires slow cooking to transform it into barbecue bliss. Andy's was plenty tender, but on two occasions I found it dry. Brisket is usually served in thin-sliced, juicy ribbons, but Andy's slices theirs into thick slabs, a practice that doesn't help with the dryness.
The smoked pork shoulder ($14.75) had a different problem. While it was plenty tender and moist, it lacked any real barbecue flavor. Compared to the other smoked meats, it tasted like it could have been cooked in the oven.
The barbecue platters come with a green salad and a choice of baked potato, french fries or baked beans. The beans are rich and good but definitely on the sweet side. Salads are fresh and voluminous but pose a drowning hazard to small children because of the buckets of salad dressing poured over them.
Andy's serves a mild and spicy barbecue sauce. I like the mild best. The spicy version just tastes like the mild one with lots of Tabasco thrown in.
For dessert, Andy's touts its "award winning" peach cobbler ($3.95), but it's a cobbler in name only. Instead of a crumbly, crispy dessert with peaches underneath, Andy's serves a spongy, insipid cake with peaches on top that have been heavily seasoned in cinnamon. The mound of low grade, airy vanilla ice cream on the side doesn't help.
But a few missteps are easy to forgive. Service is fast and friendly and the place is spotless. And it's hard to hold a grudge against a place that has crayon-rendered children's artwork on the walls. I'm just glad Andy's is still around.
---
Andy's Bar-B-Que
Address: 2367 El Camino Real, Santa Clara.
Phone: 408.249.8158.
Hours: Lunch 11am-3pm Mon-Fri, and dinner 3-9pm Mon-Thu, Fri-Sat 3pm-10pm and 3-9pm Sun.
Cuisine: Barbecue.
Price Range: $12.75-$23.25.
Send a letter to the editor about this story.