September 20-26, 2006
home | metro silicon valley index | movies | current reviews | film review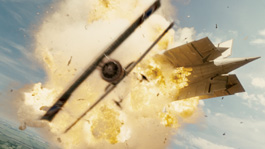 Blowed Up Real Good: A gas-filled craft goes down in flames in 'Flyboys.'
Plane Joes
'Flyboys': Where was Snoopy when these dashing devil-dogs of the air needed him?
By Richard von Busack
TRUE, Flyboys is not without actual historical detail. It notes the smoked glass through which a pilot can see a diving Fokker against the clouds. It explains why World War I pilots wore silk scarves (skin irritations from rubbernecking in a stiff-collared wool tunic). And it notes that there was actually a black flying ace in the Lafayette Escadrille, though Eugene Bullard is called Eugene Skinner in this version. Still, this reanimation of every late-show flying-hellcats movie is more a ghastly sight than a friendly one.
Tony Bill's epic relies on a script with the texture of a 10-year-old banana peel. And unfortunately, the films that Flyboys raids—1930's Hell's Angels and 1927's Wings—aren't household items, so it's hard to prove to the mass audience that they're better in every way. For example, Wings was directed by an actual ex-Lafayette Escadrille pilot (William Wellman). Footage from Howard Hughes' Hell's Angels turned up in The Aviator, and it still looks stunning, as well it should: we saw some of the 40 planes from Hughes' private air force dogfighting in the skies; far below, Oakland Airport gave a tour-de-force performance as Flanders fields. Martin Scorsese dredged up Hell's Angels' finale, when a flaming gasbag is punctured by a pilot, an incident based on Flight Sub-Lt. Reginald Alexander John Warneford's posthumously VC-winning feat. Time doesn't stale the heroism, but the CGI does; Flyboys' restaging of the attack takes place in such washed-out color that the aerial sequences looks like entries in the Rear Projection Film Festival.
Admittedly, Flyboys' various scripters didn't cough up that one line Mad magazine always used to chortle at: "Gad, it's murder to send up a kid in a crate like that." But what clichés did they miss? The types never transcend their types: faintly overstuffed rich bastard (Tyler Labine); the old-young man of the group (Philip Winchester), who delivers the howler "A lot happened in this war before you got to it." Goodhearted Texan Blaine Rawlings is played by James Franco, who really needs to un-James Dean himself. The only girl in the movie is a nervous filly named Julienne (Jennifer Decker), the non-Anglophonic mam'selle who helps Franco pantomime his chaste courtship.
Jean Reno rounds out the cast as their captain, basically a scoutmaster beaming at the young rascals. Enduring one bad movie after another, Reno seems to be improving. I should also mention the group's African American (Abdul Salis, also not so bad) and an ominous Jesus-botherer named Porter (Michael Jibson), who sings "Onward, Christian Soldiers" as he shoots up German triplanes. On the side of Porter's crate is painted the motto "Timothy 4:7," but is it 2 Timothy 4:7—"I have fought the good fight"—or 1 Timothy 4:7? This here atheist suggests the latter: "Have nothing to do with godless and silly myths," such as the movie-fed myths that war is glorious in any aspect. Bill bats the two poles of this film—"War is hell, but killing is fun"—back and forth until neither argument has any force. The fatalism is a pose; so is the fury of the killers, and the whole cast look alike, in their hoods and goggles and flying scarves: in a word, ridiculous.

Flyboys (PG-13; 139 min.), directed by Tony Bill, written by Phil Sears, Blake T. Evans and David S. Ward, photographed by Henry Braham and starring James Franco and Philip Winchester, opens Sept. 22.
Send a letter to the editor about this story.