09.24.08
home | metro silicon valley index | columns | 5 things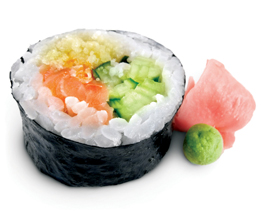 5 Things to Love
Locally Harvestable Sea Vegetables
By Stett Holbrook
SEAWEED is not only nutritious and delicious, it's free if you know where and what to look for. Here are five local species worth seeking out. Check out the classic Sea Vegetable Gourmet Cookbook and Wildcrafter's Guide by John and Eleanor Lewallen for harvesting tips.
Bullwhip Kelp This is the stuff you often see washed up on the beach after big storms. The fronds on the bulbous head on the end of the "whip" are the edible part.
Kombu Essential for Japanese cooking. Kombu is loaded with glutamate, a powerful flavor enhancer that contributes "umami" or deliciousness to food.
Nori Nutty and mild, nori is the seaweed used to wrap sushi.
Sea Palm looks just like a miniature palm tree and grows on rocks exposed to pounding surf. Low tide harvesting is a necessity. The fronds are the edible part. Be sure to leave some fronds intact to promote future growth.
Wakame Delicious and versatile, wakame grows long, swordlike leaves.
Send a letter to the editor about this story.