09.24.08
home | metro silicon valley index | columns | silicon alleys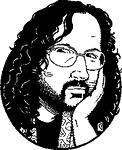 Silicon Alleys
Key Witness
By Gary Singh
SAN JOSE NATIVE and pianist extraordinaire Thollem McDonas is about to make history. The SJSU graduate was recently invited to compose for and record on the only piano that French composer Claude Debussy owned during the last 14 years of his life (1904—1918). Currently occupying the Labenche Museum of History and Art in Brive-la-Gaillarde, France, the instrument is a Blüthner piano, which uses the unique Aliquot stringing system. An extra set of resonating strings is included just above the usual sets, enriching the tone and giving the piano a luminous, iridescent sound in the higher registers. McDonas has invited legendary contrabassist Stefano Scodanibbio to join him for the Sept. 29 concert and contributions are currently being accepted to help fund the documentation of this historic project.
If you're not familiar with Debussy, at least dig this much: His revolutionary 1894 orchestral work Prelude to the Afternoon of a Faun, based on the Stéphane Mallarmé poem of the same name, is pegged by many as the beginning of modern music. The piece disregarded any adherence to standard tonality and was more of a continuous free-flowing tone poem than a customary orchestral composition. Although radical for its time, the piece was widely accepted and influenced generations of composers. Debussy himself drew heavy inspiration from the Symbolist poets and painters of his era and his music often evoked the shapes, colors and schemes of nature, but somehow on a more subtle and mystical plane. Conveniently, he also hung around all the prominent occult circles in turn-of-the-century France, of which there were many, and the conspiracy theories place him as the Grand Master of the Priory of Sion following Victor Hugo and preceding surrealist painter/filmmaker Jean Cocteau. With Prelude to the Afternoon of a Faun, Debussy claimed he had created music that "will no longer be professional rhetoric, but will be given a more universal and essential psychic conception." And when publishing music criticism under the pseudonym of Monsieur Croche the Dilettante Hater, Debussy blasted finicky academic analyses of composers' works, claiming that such nonsense "kills their mysteries." In short, Debussy was a mysterious, elusive personality who could never be pigeonholed, a special quality that, in my opinion, comes through in much of his music.
McDonas himself originally emerged from what's now San Jose City Council District 8 and was initiated into the piano-playing path almost from birth. After graduating 18 years ago with degrees in both piano performance and composition, he tripped around with various political and ecological movements before returning to music with full focus. These days, he spends his time perpetually touring back and forth between Europe and the States, mostly as a soloist, but also in collaboration with countless other individuals and groups. He's released over a dozen CDs and he's performed in theaters, art galleries, universities, elementary schools, concert halls, jazz and rock clubs, festivals, house concerts, forests, riots, and on TV and radio. This Saturday, he performs with a punk band in Milan, Italy, and the very next day he hops on a train to Paris and then to Brive-la-Gaillarde to record on the Debussy piano.
"It's an amazing opportunity that makes me equally terrified and ecstatic," he wrote me in an email from Italy. "There are thousands of pianists and composers who would probably be willing to break my legs to be in my position."
He added that Debussy's piano itself, due to the extra set of resonant strings, evokes a shimmering mystical quality. "In all of my travels, I've never played a piano like this," he said. "Six months ago, on my last French tour, I had an afternoon to play it, and immediately I was deeply connected to what felt like a supernatural energy."
Contributions are being solicited at three levels: $50/$150/$500 and can be made via PayPal to: [email protected] or by postal mail to: Debussy Project, 1077 Fewtrell, Campbell, CA, 95008, USA.
Contact Gary Singh or send a letter to the editor about this story.