09.24.08
home | metro silicon valley index | the arts | books | review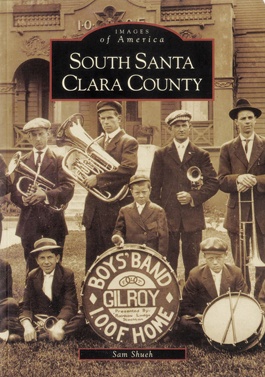 Past Delights
'South Santa Clara County' showcases images of arural and raucous past in Morgan Hill, Gilroy and points south
Reviewed by Jessica Fromm
IT SEEMS South County is quite the treasure trove of fascinating photographic history. Although Arcadia Publishing has already issued two photo books in its Images of America series within the last five years on the pictorial history of cities Gilroy and Morgan Hill, it recently released a new addition, titled South Santa Clara County. Written by Sam Shueh, the book offers a mix of historical and modern snapshots that highlight the local lore and history of a part of what once was collectively known as the "Valley of the Heart's Delight." This paperback covers all of South County, encompassing everything from south San Jose, Coyote Valley, Morgan Hill and San Martin, all the way to Gilroy and Pacheco Pass.
If you are used to seeing El Toro, the distinctive 800-foot-tall peak that overshadows Morgan Hill and serves as the official city logo, surrounded by masses of tract houses, ever wondered what it looked like in a more natural state? More than a century ago, the original settlers of the Morgan Hill area chopped down the native live oak forests to plant row upon row of fruit orchards. Two photos show the foot of El Toro (and the current location of Morgan Hill City Hall and Library) covered by a massive prune orchard dramatically in bloom. How about downtown Morgan Hill? Now on its way to being the manicured apple of the city's eye, back in the day it was a muddy, horse-manure-strewn rural center of commerce. One photo depicts the old Bank of Italy building (now Hot Java coffeehouse) and its neighboring stores complete with horses and buggies parked out front. Also visible is J.F. Mentz's Blacksmith shop, which occupies the current location of the Granada Theater. Advertised services include horseshoeing, wagon making and "general blacksmithing."
As true today as it was in the past, an area's history is a byproduct of the people who live there. It's fascinating to see how much not just the landscape but also the people of South County have (and haven't) changed. The book includes a photo of the Morgan Hill Women's Christian Temperance Union in the early 1900s, a club that included many prominent wives in the area. With a mission to stop local men from consuming alcohol, this formidable-looking, tightly buttoned-up group gives the term "battle ax" a visual presence. However, as seen on the smiling faces of the five men doing shots at Battista Tognalda's Gilroy saloon, even then, downtown Gilroy had a raucous reputation as a local watering hole where bars as long as 40 feet were documented. Did you know that there was a substantial settlement of Chinese immigrants living between Sixth and Ninth streets in Gilroy, in the mid-1800s? Back then, one-third of the town's population was Chinese, as can be seen in photos of residents in traditional Cantonese garb as far back as 1860. Remarkably, the book also mentions that an 1870 census listed almost all Chinese women in the area as prostitutes, a product of the prejudices of the time.
Considering that a large part of the population of Morgan Hill, Gilroy and the rest of South County has lived there for less then a decade, perhaps people should get to know the history of where they're living, and South Santa Clara County serves as an excellent introduction to that rich past. With ever-growing development encroaching on the area's once great agricultural heritage, it's even more important for citizens to see what the land looked and felt like when the prune and peach trees outnumbered the people.
SOUTH SANTA CLARA COUNTY by Sam Shueh; Images of America, Arcadia Publishing; 128 pages; $19.99 paperback
Send a letter to the editor about this story.