09.24.08
home | metro silicon valley index | silicon valley restaurants | review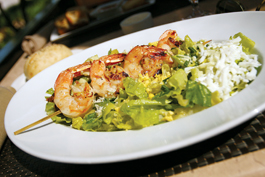 Photograph by Felipe Buitrago
PRAWNS GONE WILD: Wild-caught white prawn Cobb salad at Parcel 104
Art and Parcel
Santa Clara's Parcel 104 maintains its commitment to culinary excellence
By Stett Holbrook
SEPTEMBER might be my favorite food month of the year. Summer vegetables like tomatoes, chiles and stone fruit are still in abundance, while cooler weather crops like squash, chard and cauliflower are also making their appearance. Fresh local seafood is still abundant and wild mushroom season is near. With winter right around the corner and all that great produce soon to disappear, the abundance carries with it a taste of bittersweet.
I timed my visit to Parcel 104 with a look to the season.
The Santa Clara restaurant touts its "seasonal, farm fresh American fare," and its ingredient-forward approach makes it one of the most delicious and exciting restaurants in Silicon Valley. I reviewed the restaurant two years ago, and since then Robert Sapirman has replaced Bart Hosmer as executive chef, so I also wanted to see how he was holding down the fort.
Parcel 104 is connected to Santa Clara's Marriott Hotel and as I drove into the large parking garage (free validation!) before lunch I was reminded what a bad location the restaurant is in. It's in a bland land of office parks and minimalls near Great America. The hotel itself is an ode to boring, utilitarian 1970s architecture. Parcel 104 is well worth the drive, but I'm sure it would be more of a household name if it weren't ensconced in such an unremarkable, out of the way area.
The restaurant itself is quite beautiful. The big dining room faces a gleaming open kitchen and a spacious lounge and bar. There's also an appealing patio across the way.
As far as I can tell, the transition from Hosmer to Sapirman has been seamless. Sapirman worked under Hosmer at Parcel 104 and then left to lead the kitchen at Arcadia in San Jose, then came back as executive chef in 2006. The menu is still a showcase for premium quality, sustainably sourced ingredients prepared in a elegant but unfussy manner.
Parcel 104 has one of the most comprehensive and yet accessible wine lists I've come across in Silicon Valley. The bar is equally well stocked. For a drink that's a meal in itself, try Parcel 104's signature "heirloom" bloody Mary made with the flavor of smoked tomatoes and salumi-wrapped, blue cheese–stuffed olives.
For dinner, $64 gets you a choice of appetizer, entree and dessert. Given the quality and variety of choices, it's a good deal for food of this caliber.
All the starters I tried were strong. The heirloom tomato salad with green tomato dressing was just the taste of early fall I was looking for, even if the battered eggplant confit served with it was a forgettable accompaniment. The Santa Barbara spot prawns were a wonder. Cooked on a flat griddle called a planchsa, the head-on shrimp is dabbed with an intensely delicious prawn-infused butter and sprinkled with shoestring fries. Imported, frozen shrimp dominate the market, so these were like tasting the crustaceans for the first time. They were rich and savory and loaded with big shrimp flavors.
Outstanding too was the vanilla-and-honey-cured pork belly, a fat hunk of tender porky goodness with a barely sweet vanilla foam and grilled nectarine chutney on the side.
Chicken is often a refuge for timid eaters, but the crispy blue foot chicken with braised baby shiitakes and lickable black garlic jus made for flat-out, delicious eating. Best of all was the Texas redfish with jambalaya. The moist, perfectly crisped fish was great, but it was the andouille sausage and crawdad jambalaya that really took the dish to another level.
The one clunker was the zucchini "cannelloni," thin slices of zucchini that stood in for the cannelloni wrapped around a black mass of roasted eggplant with a glob of melted mozzarella on top and a mound of roasted tomatoes on the side. The one-dimensional, uninspiring plate screamed "token vegetarian dish." A restaurant with such a reverence for seasonal produce should do better.
For lunch, the pompano (a small white fish) "BLT" ($25) may be as near a perfect sandwich as I've ever had. Then again, for 25 bucks it better be. Stacked between a beautiful onion roll, the sandwich combines crispy but moist pompano, thick-sliced bacon, a sweet yellow tomato and crunchy lettuce. Flavor and texture were all in perfect balance. Excellent too was the deconstructed Cobb salad ($19) made with superb Alabama Gulf shrimp.
Desserts either had me cheering or yawning. At lunch I loved the unbelievably rich and creamy Colombian flan ($3.50) and impossibly chocolatey, fudgelike devil's food cake ($3.50). I also appreciated the scaled down, lunch-size portions. At dinner, the coconut-coated Vahlrona chocolate croquette served with tapioca pearls in a slushy passion fruit purée was exotic and delicious, but the chocolate brioche-strawberry milkshake-chocolate ice cream trio was surprisingly forgettable, while the "fig Newton" was a doughy, poorly executed mess.
In spite of a couple of stumbles, Parcel 104 remains one of Silicon Valley's few destination restaurants.
---
Parcel 104
Address: 2700 Mission College Blvd., Santa Clara.
Phone: 408.970.6104.
Hours: Breakfast 6–11am Mon–Fri and 7–11am Sat–Sun, lunch 11:30am–2pm Mon–Fri and dinner 5:30–9pm Mon–Sat.
Cuisine: New American.
Price Range: $64 for three-course dinner.
Web: Parcel104.com
Send a letter to the editor about this story.