09.24.08
home | metro silicon valley index | movies | current reviews | dvd review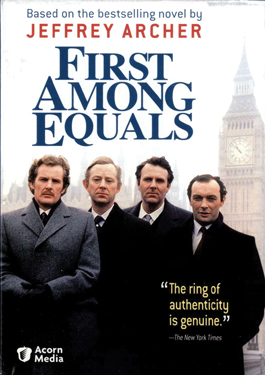 First Among Equals
Three discs; Acorn Media; $49.99
Reviewed by Michael S. Gant
Fans of Tom Wilkinson (Michael Clayton, Cassandra's Dream) will be pleased to see him in this British TV series from Granada. Released in 1986, First Among Equals, based on a novel by ex-pol Jeffrey Archer, tracks the fortunes of four British members of the House of Commons over the course of nearly 20 years, starting in the mid-'60s. Wilkinson plays Raymond Gould, a lawyer and Labour Party member with high ideals, low morals and a marriage on the rocks. Also toiling for Labour is Andrew Fraser (David Robb), a Scottish striver and womanizer. For the Conservative Party: Simon Kerslake (James Faulkner) and Charles Seymour (Jeremy Child, a dead ringer for Prince Charles with his weak hairline and protruding ears). As world events unfold and prime ministers come and go, these four jockey for ministerships and promotions, while their home lives crumble. The material is basically high-toned soap opera, but the political intrigue (even if the details of British electoral maneuvering are sometimes baffling) is engrossing. The wives tend to be nudges or hysterics except for Jane Booker as Charles' haughty, acid-tongued mate, who flays her husband's pretensions and steals his greatest treasure: an ancestral portrait supposedly painted by Holbein. Charles' Tory pride takes another beating in a funny scene with his reprobate gay brother, who stands to inherit the family fortune just because he was born a few minutes earlier. The action flags a bit in the later episodes (there are 10 installments of 50 minutes each), when Andrew Fraser pretty much disappears from the story. Still, the witty cut-and-thrust of the Parliamentary sessions puts Congressional discourse to shame.
Click Here to Talk About Movies at Metro's New Blog
Send a letter to the editor about this story.