09.24.08
home | metro silicon valley index | movies | current reviews | dvd review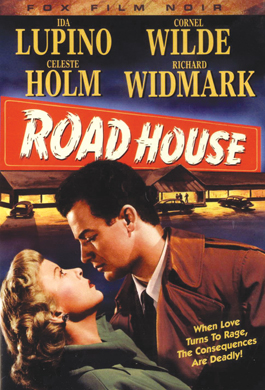 Road House
One disc; 20th Century Fox; $14.98
Reviewed by Michael S. Gant
She's got a great voice ..."if you like the sound of gravel," quips Celeste Holm's cashier about lounge singer Lily Stevens (Ida Lupino) in the 1948 Fox noir Road House. And it's true: Lupino's voice is so flat she's barely singing at all. But that hardly matters; her voice is so sultry, her gowns so shimmering and revealing, that every lug in Jefty's (a combination bar/resort/bowling alley near the Canadian border that predicts One-Eyed Jacks in Twin Peaks) lusts after her. Lily's smoky voice is literalized in the cigarette butts she leaves burning on the lounge piano; indeed, Lupino takes a drag in nearly every scene. A hard-bitten type, Lily has been brought to town by smitten club owner Jefty. Richard Widmark's Jefty is a time-release rage-aholic. The corners of the mouth flick upward like a rattlesnake's tail twitching, and then the maniacal laugh strikes. At first, Jefty's loyal buddy and business manager, Pete (stolid Cornell Wilde), resents Lily's intrusion into his cozy relationship with the boss; in the most unintentionally funny scene, Pete, alarmed at Jefty's new affair, vents his barely repressed homosexual frustration with a session of vigorous bowling. When Jefty stashes Lily away in the Antlers Hotel (another Twin Peaks precursor) and goes away on a hunting trip, Pete finds himself hopelessly ensnared by Lily's charms; he even tells her of his dream of a fisherman's life on the Pacific Coast, perhaps a reference to Lupino's role as a bait-barge salesgirl in Moontide, another recent Fox Noir release. Upon Jefty's return, the setup starts to resemble 1946's Gilda, in which Glenn Ford and George Macready sublimate their mutual desires by vying over Rita Hayworth. Jefty can't stand losing Lily, so he engineers a dubious legal gimmick that makes him Pete's parole officer (this plot device can only be explained as a symbol of Jefty and Pete's unspoken attachment), and the action climaxes in a remote cabin showdown with the deranged Widmark going deliriously over the top. The extras include a lively background documentary with the usual film noir suspects.
Click Here to Talk About Movies at Metro's New Blog
Send a letter to the editor about this story.