09.24.08
home | metro silicon valley index | movies | current reviews | film review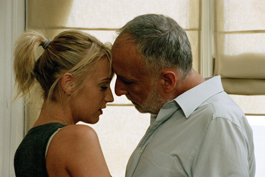 © 2006 Aliceleo Cinema-Rhones Alpes Cinema-France2 Cinema- Integral Film-Aliceleo
SNOW JOB: Literary lion Charles Saint-Denis (François Berléand) falls for a voracious TV personality, Gabrielle Deneige in 'A Girl Cut in Two.'
Splitting the Difference
French director Claude Chabrol replays an age-old male-femaleconflict in 'A Girl Cut in Two'
By Richard von Busack
RIGHT AFTER Elegy, the pristine soap opera made from Philip Roth's The Dying Animal, the bright new Claude Chabrol film, A Girl Cut in Two, comes to town and gives us a better idea of the modus operandi of professor Kepesh—or Roth's Kepesh as he would be if he were French.
This savory drama matches an old man's direct, sometimes cruel, selfishness against the inexperience of a young TV weather girl from Lyon. Ludivine Sagnier plays TV personality Gabrielle Deneige ("snow" in French, a matter made much of, in bad puns throughout), a chic trick with a motorcycle and a white raincoat, untroubled by the book world. At the studio, she brushes up against the famous old satyr Charles Saint-Denis (François Berléand), a celebrated novelist putting up with the discontents of electronic-era life.
Saint-Denis owns a fine house with swimming pool in the woods, and he radiates the grizzled, mahogany-colored virility of Picasso in the sunset years. Poked out of his contentment by the duties of promoting a new novel, Saint-Denis tries to keep his dignity on a chat show called En Toutes Lettres. Chabrol shows the inanity of that experience far better than Elegy does: "What motivates you?" asks the ignoramus host.
The sixtysomething Saint-Denis—no saint in either personal life or in his obviously fictitious name—comes up with one idea, despite the ambient dumbness of the TV studio. He fears that French society is "drifting either to puritanism or decadence." One loves such prognostications. It's like the joke about Nostradamus predicting a war: "Two great powers will fight, but only one will win."
Certainly, Saint-Denis believes that there is a balance in his own life between Puritanism and decadence. In 25 years of marriage, his wife (Valeria Cavalli) has turned a sad but accepting eye to the writer's affairs. Saint-Denis carries on a long-term, open-air thing with his publisher, Capucine (the wanton-looking Mathilda May). Something is missing, though. His latest novel, titled The Absence of Penelope, suggests that Saint-Denis' Ulysses-like wandering through the world of women isn't finished.
He pursues Gabrielle, and he sweetens her with a 2,000 copy of Pierre Louÿs' much-filmed The Woman and the Puppet, complete with what an auctioneer describes as "ambiguously exciting illustrations," and spirits her off to his city apartment.
It's a hidden place with "Paradis" on the buzzer, instead of Saint-Denis' name. The wife and the mistress don't know—as yet. But Gabrielle's new lover is watched by a spoiled and filthy rich pharmaceutical heir called Paul (Benoît Magimel), a violent fashion-plate of a cad who zooms around town in his sports-car. And he hates Saint-Denis even before he gets to know him.
A Girl Cut in Two is a contemporized and fictionalized version of a famous scandal from 1901: the New York love triangle of the beautiful soubrette Evelyn Nesbit, the renowned architect Stanford White and the deranged Pittsburgh coal and steel princeling Harry Thaw. (Nesbit's story showed up as one of the episodes in Milos Forman's adaptation of Ragtime, with Elizabeth McGovern as Nesbit and Robert Joy as Thaw. The incident was also filmed in 1955 as The Girl in the Red Velvet Swing.)
Chabrol, a major Hitchcock fan, echoes the weird harmony of the doting mother and loony aristo son from Strangers on a Train—too bad, Magimel isn't up to Robert Walker's standards. Despite an interesting mannerism of tossing things in a fury (empty cocktail glasses, parking tickets, Saint-Denis' novel), he is not as "ambiguously exciting" as this drama. It turns out that Paul's mother—Caroline Sihol, seemingly a breathless dotard like Mrs. Howell on Gilligan's Island—knows how to protect her family in particular and the upper-class in general. Magimel, by contrast, only seems pettish, never genuinely pathetic. The character comes across as showboaty but flat, a bounder in an Agatha Christie novel.
By contrast, Sagnier is at her best. Some men choke back a whimper when they mention her name. Without any more erotic display that you would see in a PG-13 film, she is eroticism itself. Physically, she recalls an elongated Gloria Grahame, and her clarity as an actress keeps the sexuality in this film from becoming either sinister or ridiculous.
Any movie that introduces a new fetish deserves wholehearted recommendation: during one role-playing session, Sagnier is apparently dressed like a turkey with a black tulle tail. "I'm not your first lover," she tells Saint-Denis "You could be the last one," he replies.
This line is perhaps the only concession that Chabrol makes to acknowledging that he's 78—well, that and a comment about how an old man proves himself old by declaring how young he feels. The movie makes no apology for old-age truculence, and it evinces the breezy, salty aspect of true-crime reporting. The title, suggesting bloody murder, only pantomimes that crime. The film is really about the enigma of what men want from women: puritanism or decadence? This conflict leaves women and their pursuers divided at the heart.

A GIRL CUT IN TWO (Unrated; 115 min.), directed by Claude Chabrol, written by Chabrol and Cécile Maistre, photographed by Eduardo Serra and starring Ludivine Sagnier, François Berléand and Benoît Magimel, opens Sept. 26 at selected theaters.
Click Here to Talk About Movies at Metro's New Blog
Send a letter to the editor about this story.