09.24.08
home | metro silicon valley index | movies | current reviews | film review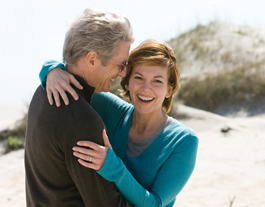 Photograph by Michael Tackett
FROM GERE TO ETERNITY: Adrienne (Diane Lane) romances Paul (Richard Gere) on the beach in 'Nights in Rodanthe.'
Doctor at Sea
The sparks fail to fly in film version of Nicholas Sparks' 'Nights in Rodanthe'
By Richard von Busack
NICHOLAS SPARKS' novels celebrate craftsmanship: the smack of hammers, the carving of wood, the boat building of Kevin Costner in Message in a Bottle. And yet the plot of Nights in Rodanthe is sheer prefab, a retread of 1940s weepers. When Sparks gets stuck in a novel, must he always go directly to AMC? George C. Wolfe, a noted theater director and playwright, obviously has taste. This is by far the best of four Sparks screen adaptations, even though it's every bit as unbelievable as Message in a Bottle, A Walk to Remember and The Notebook. In its favor, Nights in Rodanthe has a fine soundtrack of vintage soul and R&B, heavy on the Dinah Washington. The crisp costumes and the pristine Carolina beaches make you think that they at last made a movie of the J. Crew catalog. Still, William G. Davis' art direction is attractively cluttered with Third World and outsider art. This funk is useful, since the exterior of the hotel is a CGI mockup, built precipitously close to the ocean. The realest thing in the movie is the lead, the canny Diane Lane. She knows that the only way to play Sparks' romantic dilemmas is to sink into them without a struggle.Her Adrienne is a newly divorced mom, with two children. One of them, daughter Amanda (Mae Whitman), is starting to rebel, by getting a tattoo. During a long weekend, Adrienne heads out to her usual place of refuge, an old beachside hotel run by Amanda's godmother, Jean (Viola Davis). As Jean is heading off on vacation, Adrienne agrees to baby-sit the place and its one guest. He arrives: a surgeon, Paul Flanner (Richard Gere), who is in the middle of a journey of expiation for accidentally killing a patient. (The way Sparks tells it, the incident sounds more like the anesthesiologist's responsibility.) The kind of fault Flanner bears is an acceptable kind of fault; he's an overworker, as we see in a frenetically edited scene of him arriving at the operating room, scored to Glenn Gould racing his way through a Goldberg Variation. The doctor's workaholism alienated his son Mark (an uncredited James "You're tearing me apart!" Franco); thus Mark, also a physician, has headed off to Ecuador to run a clinic.
During the course of a brief hurricane, the surgeon and the divorcee go their separate ways when the weather clears. Later, they're bonded by correspondence, until the usual Sparks trapdoor opens. Nights in Rodanthe can only be understood as an application of the principle, "They liked it once, they'll love it twice." Gere is slightly warmer than his usual abstracted self, even if so much boyish head-tossing doesn't really become someone his age, reputedly under a load of suffering. Scott Glenn mortgages his integrity to play an angry widower. By contrast, Lane, with a chopped, two-toned housewife's haircut, melts prettily, touchingly, even as if unobserved by a camera. Without at all being slick, Lane is a Teflon actress. She's immersed in this muck, but it doesn't stick to her.

NIGHTS IN RODANTHE (PG-13; 97 min.), directed by George C. Wolfe, written by Ann Peacock and John Romano, based on the novel by Nicholas Sparks, photographed by Afflonso Beato and starring Richard Gere and Diane Lane, opens Sept. 25 at selected theaters.
Click Here to Talk About Movies at Metro's New Blog
Send a letter to the editor about this story.