09.24.08
home | metro silicon valley index | movies | current reviews | film review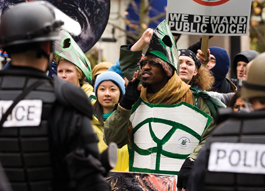 Ed Araquel; courtesy Redwood Palms Pictures
SHELL GAME: Protester André Benjamin berates the powers that be in 'Battle in Seattle.'
Turtle Time
'Battle in Seattle' tries to turn 1999 WTO protests into high drama
By Richard von Busack
DIRECTOR Stuart Townsend missed a trick by not going for a visual rhyme between a policeman and protester in his fictionalized docudrama Battle in Seattle. Here's a riot cop, clad in tortoiselike belly armor and smooth helmet. And there's a protester costumed as a sea turtle. It might have been fun to put them in the same frame. The protesters' costumes, recalling the contestants in the old Let's Make a Deal game show, tend to visually undercut the serious millennial drama of the WTO riots in Seattle in 1999. If the whole world is watching, should you really be dressed as a butterfly? Battle in Seattle's most striking moments are the excerpted documentary footage of the local police on the warpath. They hose down seated protesters with belching foggers of tear gas, and beat and kick unresisting demonstrators. The fictional footage doesn't have that kind of impact. The film flits back and forth between the protesters (each with his own emotional backstory) and a policeman and his pregnant wife. Howlworthy lines come thick and fast. In a department store, the pregnant Ella (Charlize Theron) is fretting about the fun she will miss by being a mom. She is told, "You just signed up for the biggest adventure of all." Townsend ignores the natural source of Paul Schrader–like drama when Black Box anarchists bring down the wrath of the law by smashing the windows of local businesses. (Their thinking must have been something like "It's going to be just like Kristallnacht, only this time it's our turn!") Meanwhile, the mayor of Seattle (Ray Liotta), a political progressive, broods moist-eyed in his wood-lined office, trying to hold the line against those who want to bring in the national guard.Some of the horror-movie mechanism works, such as a TV newswoman trapped in a van by clouds of smoke suddenly jarred by an unseen protester slamming into windshield. The cops, in ponchos and gas masks, look like World War I soldiers on the march. It gives you a bad feeling to see them trudging through the poisoned mist. André Benjamin plays an almost psychotically cheery save-the-turtles activist and demonstrates why OutKast was one of the most popular bands in history; he's an effortless entertainer. Woody Harrelson, as Dale, the most humane of the Seattle police, towers over the rest of the cast literally and figuratively; like John Wayne, Harrelson always seems like the tallest man in a movie. He has no serious competition from Michelle Rodriguez as a hard-core activist and Martin Henderson as a self-sacrificing organizer who doesn't dare to be arrested for a third strike. It's amazing that Battle in Seattle was done at all, of course. Political importance aside, being in a protest is great theater. It's easy to wince at these scenes of the gassed protesters if you've ever had your sinuses turned inside-out by tear gas. But watching this protest staged as cinema has the same limitations as watching any other theatrical performance committed to film. The self-importance, the mottos as dialogue—"How do you stop those who will stop at nothing?"—gives this film more heat than light; ultimately left-wing kitsch is still kitsch.

BATTLE IN SEATTLE (R; 100 min.), directed and written by Stuart Townsend, photographed by Barry Ackroyd and starring André Benjamin, Ray Liotta and Charlize Theron, opens Sept. 26 at Camera 3 in San Jose.
Click Here to Talk About Movies at Metro's New Blog
Send a letter to the editor about this story.