09.24.08
home | metro silicon valley index | music & nightlife | band review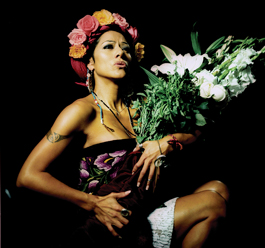 FLOWER GIRL: Lila Downs headlines the San Jose Mariachi and Latin Music Festival.
Sublimation
San Jose Mariachi Festival singer Lila Downs transcends her political demons on her newest album, 'Shake Away'
By Andrew Gilbert
LILA DOWNS realized that the political had become perilously personal when her temper frayed and she started lashing out at her musicians for minor or nonexistent transgressions. After a while, the Mexican-American vocalist came to understand that she was internalizing her fury over the siege of Oaxaca, a prolonged political crisis that gripped the southern Mexican city where she was born to a Mixtec Indian mother and Anglo-American father.
Traces of that anger can be heard on Downs' remarkable new album, Shake Away, but as the title suggests, she used the process of writing, arranging and recording the project to shed the negativity that was plaguing her. Exploring a panopoly of grooves, from New Orleans second line and reggae to country & western boogie, Downs and her saxophonist husband Paul Cohen created a vibrant, horn-laden tapestry woven with humor, love, anguish and a powerfully mythic sensibility. "There were all these dark elements in our lives," said Downs, who headlines with her band La Misteriosa on Sunday at the 17th Annual San Jose Mariachi and Latin Music Festival. "I saw Oaxaca with the tanks on the streets. There's a fight going on in your back yard and suddenly I started getting really angry and hating all the guys in the band. I was generating all this anger. So when the time came to start recording, Paul and I agreed it's gotta be fun. We wanted to find that celebratory quality that music can have."
Rather than focusing on the Oaxacan conflict, which pits leftist teachers and students against a corrupt, entrenched state government dominated by the Institutional Revolutionary Party (PRI), Downs and Cohen cast a wider net, writing and adapting songs that explore the lives of exiles, immigrants and working people struggling for food, dignity and justice.
Working with a fascinating cast of guest artists and her wide-ranging international band, Downs moves back and forth between languages, employing potent mythic imagery drawn from Oaxacan folklore. On "Perro Negro" ("Black Dog"), a song inspired by rumors that Oaxaca's governor Ulises Ruiz Ortiz maintains his grip on power by transforming into a hound, Downs is joined by Café Tacuba's Ruben Albarran, an old friend from the days when she lived in Mexico City.
Another high point is the nostalgia-laden duet with the great Argentine singer Mercedes Sosa on Downs' "Tierra de Luz" ("Land of Light"), a song about longing for one's homeland. But the project's centerpiece is "Skeleton," a piece built on a lean second line beat laid down by La Misteriosa bassist Booker King and drummer Yayo Serka. "We started with a blues, then went to Booker who knows about New Orleans and Gulf Coast Texas," Downs says. "He put in some of that groove with Yayo, and the music started taking a direction. But for the overall sound, we wanted a brass band feel."
The brass arrangements come courtesy of jazz veteran trumpeter Brian Lynch, who won a Grammy last year for his brilliant collaboration with seminal Latin jazz pianist/composer Eddie Palmieri, "Simpático." Downs co-wrote a tune with Lynch for the Palmieri project and contributed vocals on la musica Latina standard "Paginas De Mujer." Downs and Cohen returned the favor, recruiting him for "Shake Away." Lynch studied various brass band traditions for the project, looking into Mexican banda music to inform his jazzy arrangements. Ultimately, he knew he could rely on Downs to put her personal stamp on the disparate material. "The quality of her voice isn't confined to one style of music," Lynch said. "No matter what she's singing, she transcends genre. But having said that, she's very concerned with exploring musical tradition, making something new in a very organic way, which is the way I feel I work with jazz and Latin music. Pay respect to tradition and make something new out of it."
That's the approach Downs also brings to mariachi, which she'll be singing at the Mariachi Festival's Noche de Serenata Gala Concert on Saturday at the San José State Event Center. Backed by the Los Angeles–based Mariachi Los Camperos de Nati Cano, she joins a glittering cast including Linda Ronstadt and mariachi superstar Aida Cuevas.
"That was my first influence," Downs says. "Mariachi just comes very naturally."
LILA DOWNS AND LA MISTERIOSA perform on Sunday (Sept. 28) at 5:45pm at the 17th Annual San Jose Mariachi and Latin Music Festival, Plaza de Cesar Chavez. Tickets are $10. (408.928.5564)
Send a letter to the editor about this story.