09.26.07
home | metro silicon valley index | columns | silicon alleys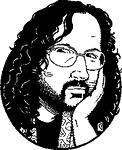 Silicon Alleys
Ghost of Best Ofs Past
By Gary Singh
WEBSTER'S Third New International Dictionary defines wanderlust as a "strong or unconquerable longing for or impulse toward wandering or traveling." With that clincher in mind, I found myself lurking around the corner of Branham Avenue and Almaden Expressway, one of my former haunts two decades ago. Aside from the corner functioning as fast food central amid the wonderful institutions of Orchard Supply Hardware and the Branham Lounge, the northeast corner features a strip mall that is of major significance, especially the building that houses Joyful Hair Salon downstairs and an insurance company upstairs.
Now, why would I be musing about a hair salon and some nondescript business? I'll tell you why. You see, in the '80s that building was a gold mine called Video Mania, by far the best video store anywhere in the South Bay. My entire knowledge of low-budget B-movies and old horror flicks comes from renting stuff at that place when I was a teenager. They had everything. At least once a week I would motor down Branham Avenue and go to that store. This was back when VHS was the standard format, and before Blockbuster Video and all the goliath chains came along and slaughtered most of the independent places. Video Mania presided over everything like royalty and it was our equivalent of something like Le Video in San Francisco. People came from all over to patronize the place.
You'd walk in the front door and the porno section, which was larger than the complete inventory of most other video stores, was to the right, behind a black curtain. The horror section occupied part of the upstairs and this was one of my homes away from home. It was one of the few places in San Jose where one could rent The Toxic Avenger when it came out. Surely nowhere else in San Jo could you put together the triple feature of Dr. Butcher M.D., Redneck Zombies and The Body Snatcher with Boris Karloff and Bela Lugosi—the 1945 flick based on a Robert Louis Stevenson tale. Karloff played a cab driver who delivered dead corpses to a doctor for classroom purposes. It was the last time Karloff and Lugosi were to play in a film together and no other video place in San Jose had that flick. I was in heaven.
Another rocking Video Mania story from the mid-'80s featured one of my first discoveries of the punk band the Misfits, who had already broken up by then. I had just rented Astro Zombies, the classically awful Ted V. Mikels B-flick featuring Tura Satana, the greatest femme fatale of all time. A fat, bald punk rock dude was lurking in the place and he waltzed up and told me that this movie is where the Misfits tune of the same came from.
"There's a song based on this movie?" I responded, in complete awe.
"Yeah," he said. "A lot of their songs are about horror movies."
Video Mania also stocked several of the old mystery serials from the '40s, like The Mysterious Doctor Satan and The Crimson Ghost, the latter of which the Misfits got their skull-face logo from. Again, no other video store in San Jose had that stuff.
Video Mania was the only one. I became a Misfits fan immediately and I have Video Mania to thank for it. Huzzah!
But the glories of that corner are not all left to history. Even today we are graced with great establishments like the Branham Lounge, one of San Jose's finest dive bars. It will never die.
And who could function without Orchard Supply Hardware? It's a manly place to be, and if it's hardware, those guys have it. The corner of Branham Avenue and Almaden Expressway simply rocks. It should be in all the tourist brochures.
Contact Gary Singh or send a letter to the editor about this story.