09.26.07
home | metro silicon valley index | the arts | stage | review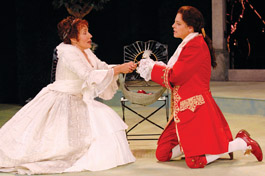 Photograph by Kevin Berne
Amor's Tricks: Domenique Lozano and Stacy Ross star in 'The Triumph of Love.'
Love Is a Battlefield
San Jose Rep brings a classic of French theater back to life in 'The Triumph of Love'
By Marianne Messina
DIRECTOR Lillian Groag's adaptation of the Pierre Marivaux play The Triumph of Love has made its way, as a co-production, from California Shakespeare Theater's outdoor stage at Orinda to San Jose Repertory Theater's indoor theater. However stunning the mountain view of Orinda's open-air backdrop, it does not allow designers the kind of flexibility they will have at the Rep, says technical director Erik Sunderman.
The Rep intends to add a petal drop and hanging lights. "Indoors you can start from black—complete black," Sunderman says, a bit like an alchemist on his way to gold. "And now you can start shining whatever you want and getting the colors that you want." Art vs. nature—an apt conflict for the age of Marivaux, 18th-century France.
Overseeing the transport and installation of the co-production's set pieces, Sunderman claims that "this was one of the easiest productions" to move, including very little "touch-up," those little repairs a set must undergo after suffering the whips and scorns of trucking.
It is hard to equate ease and simplicity with the era of Baroque and Rococo, of "Sun King" and "Hedonist King"—think palace at Versailles with the ornate gardens, the rows of Greek gods and goddesses. But Groag did not want to "throw a lot of eye candy up there." Sans eye candy, "You really have to pay attention to what's being said." You also have to keep track of the shifting identities and genders adopted by the unlawful princess Léonide (Stacy Ross) as she seeks out the rightful prince Agis (Jud Williford), cons her way past his guardians and triumphantly woos him (disguised as someone other than the usurping princess Agis has been taught to hate). Somewhere in all this strategic dissembling, we're supposed to see love at work.
"There's a bite; love is dangerous," explains dramaturge Kristen Brandt, who will oversee San Jose Rep's run of the show. Having watched what she considers Groag's genius at work, Brandt sees her directorial function mainly as that of helping the actors realize their roles in the new indoor environment (with added proscenium arch).
The dangerous bite of love is represented outside the garden gate in the brambles of Kate Edmunds' set design. "It's a jungle out there," Brandt admits. Groag claims we have the French sensibility to thank for this thorny texture, which at the same time makes The Triumph of Love a rich and exotic experience for American audiences in particular.
"There is a chill to Marivaux," Groag says. "Americans are much more sentimental and warmer" (at least in terms of their entertainment habits). By comparison, Groag contends, the French create art with a "world-weary" perspective. With the play's love-is-war undercarriage, Marivaux, according to Groag, intended to confine his characters in a world of Spartan severity. "They all have the names of defeated kings of Thermopylae," she points out.
And the notion that all's fair in both endeavors gives the heroine license to pose as man or maid and flirt with anyone who stands in her way. Though love triumphs, it doesn't do so without the warlike aftermath of devastation. For Brandt, the hard lesson of this war is that love requires careful balance between heart and mind. "This relationship between reason and love is that they can't exist without each other."
Agis' uncle and guardian, Hermo-crates, "the philosopher" (Dan Hiatt), only acknowledges one aspect of himself while denying the other. "He has this garden, and he says you can't let love in; it's all about reason and the brain," Brandt explains. "Hermocrates and his sister, when they are opened up to love, they become fuller human beings—they may not be happier, but they are fuller."
THE TRIUMPH OF LOVE, a San Jose Repertory Theatre production, reviews Sept. 26 at 11am and 8pm and Sept. 27 at 8pm; it opens Sept. 28 at 8pm; regular shows Tuesday at 7:30pm, Wednesday–Friday at 8pm, Saturday at 3 and 8pm and Sunday at 2pm through Oct. 21 at the Rep, 101 Paseo de San Antonio, San Jose. Tickets are $15–$59. (408.367.7255)
Send a letter to the editor about this story.