09.26.07
home | metro silicon valley index | features | silicon valley | feature story
Best of Silicon Valley 2007:
Intro | Art & Culture | Food & Sustenance | Love & Romance | Music & Nightlife | Shopping & Services | Short List | Staff Picks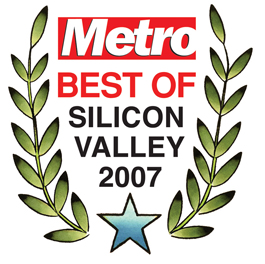 Best of Silicon Valley
Oh yes, we saw you. Saw you preening on Facebook and lurking around MySpace. We saw you looking for a job on LinkedIn and selling your jumping stilts on Craigslist (too rich for our blood). And we saw some of you at the lesser-known Silicon Valley social-networking haunts—hooking up with other dudes on BigJock.com, the gay MySpace, and literally stalking your neighbors on FatDoor.com, a social networking site that tells everyone where you live.
And we saw you networking somewhere else: our ballot box. That's right, your vote in Metro's Best of Silicon Valley reader survey made you part of the original social networking.
You see, back when Metro invented the first Best of Silicon Valley issue out of sticks and crude rock tools—long before we invented the Internet, and, later, "user-generated content" (yes, that was us)—no one could have foreseen the revolution it would one day spawn. For the first time ever, actual people got to send us pieces of paper filled with lithographic representations of their personal preferences for various local people, places and things (or "ballots," as we called them), which we would then count. The vendors with the most "votes" were declared winners.
Looking back, it was destiny. People all over the valley shared their favorites, turning other locals on to new discoveries and longtime neighborhood secrets. Local businesses proudly displayed their awards, as if to say, "Thank you for being a friend."
Hmm, seems like that friend concept might have caught on—we're looking at you, MySpace! However bright and shiny the future tech of today's social networking giants may have made it, the concept of online social networking is the same one that Metro's Best of Silicon Valley developed offline (and then took online) years ago—providing a place for our community to share their ideas and opinions. And hey, we'd never tell anyone where you live.
The evolution of Silicon Valley networking—from "Best Of" ballots to chat rooms and bulletin boards, to the "comments" sections on websites and blogs—has been a rough one at times, what with those jerks who insist on typing in all caps and the dawn of flaming. But we love most of all the social-networking sites, from the cool icons to the beautifully random user names. So this year, in a tip of the hat, we've decided to present the results of our 2007 reader survey in just such a format. The Metro staff has written up each of the top winners picked by you in the following pages, and we've adopted some temporary online-type identities to do it (feel free to see if you can guess who's who). You'll also find the annual Short List at the beginning of this section, and some picks from the staff at the end. Hopefully, you'll have fun reading our low-tech comments on the winners in a high-tech format. A complete list of winners from the reader survey follows the staff's web-esque profiles of your top picks.
Best of Silicon Valley 2007 | Food & Sustenance
Best of Silicon Valley 2007 | Music & Nightlife
Best of Silicon Valley 2007 | Shopping & Services
Best of Silicon Valley 2007 | Art & Culture
Best of Silicon Valley 2007 | Love & Romance
Best of Silicon Valley 2007 | The Short List
Best of Silicon Valley 2007 | Staff Picks
Send a letter to the editor about this story.