09.26.07
home | metro silicon valley index | features | silicon valley | feature story
Best of Silicon Valley 2007:
Intro | Art & Culture | Food & Sustenance | Love & Romance | Music & Nightlife | Shopping & Services | Short List | Staff Picks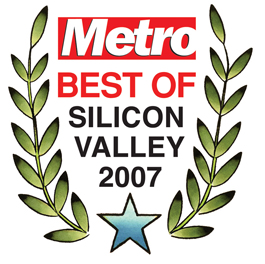 The Short List
Proof that Metro readers are among the valley's savviest judges of the ever-expanding menu of local lifestyle options comes with the results of this year's survey. They know about Cardinal, Cascal, Good Karma, Barefoot Roasters, Wooden Horse and others that would be at the top of any personal list we might put together. Still, in combing the valley for places to recommend, we always spot a few under-the-radar gems that we can recommend without hesitation. Here's a few to toss into the mix for 2007.
best place for really small planes
Aeromicro 2090 Duane Ave, Santa Clara; 408.496.6699
There are other places to buy radio-controlled aircraft, but the singular focus on model aviation makes Aeromicro stand out. Unlike other shops that include aviation among other hobbies, they don't sell model trains here. Just helicopters and screaming fast model aircraft, and a staff that can answer just about any question.
best thing to happen to downtown, ever
Trader Joe's 635 Coleman Ave, San Jose; 408. 298.9731
The old complaint of downtown residents about lack of grocery options ended June 29, 2007, a day that will live in history for reasons other than the introduction of the iPhone. With a 24-hour Safeway, a great specialty market (Zanotto's) and now Trader Joe's, downtownees are no longer second-class shopping citizens.
best new movie theater
AMC Cupertino Square 16 10123 N Wolfe Rd, Cupertino
Plush and modern with super comfortable seats, the escalator ride up is worth the price of admission. The rebirth of the dying Vallco shopping center as Cupertino Square is thanks to the vision of entrepreneur Alan Wong, a local risk-taker who's fearlessly jumped into a game dominated by big out-of-town shopping center investors.
best cafe & juice bar inside an auto dealership
Blendz 4343 Stevens Creek Blvd, Santa Clara; 408.961.3176
The last place you'd expect to find a great cafe serving healthy foods is inside a car dealership. The artichoke quesadilla alone is worth the trip, and there are breakfast burritos, grilled paninis, fruit smoothies and espresso drinks as well. Plus, you can ogle the shiny BMWs on the way in.
best perfume shop
Perfume Gallery Valley Fair, Santa Clara, 408.423.8900
A treasure trove of exotic, exclusive and discontinued scents, including .17-ounce miniatures.
best food figurines
Onyx Restaurant 374 E Santa Clara St, San Jose; 408.297.7994
A radish-torsoed Samurai swinging a carrot sword has just landed on your plate. This contemporary downtown Asian fusion restaurant with a wonderfully low-lit dining room has been serving up eye-popping carved vegetable garnishes of birds and dragons created by culinary artist Vu Do.
best custom paint store
Color Carousel 1896 Curtner Ave, San Jose; 408.377.4660
If you've been buying your paint at Wal-Mart or Home Depot, you may not remember the kind of service a small store can offer, with custom matches and personal advice on the subtleties of color. This Benjamin Moore paint store provides old-fashioned attention to detail and stocks hard-to-find products for home decorators.
best party in mountain view
Google Dance Googleplex, Mountain View
This annual event keeps getting bigger and crazier, with bands like Ozomatli, cool graphic themes, lighting effects, video karaoke, Google product demonstrations, dessert bars and impressive food spreads. What can't those Googlers do well?
best party in mexico (by a mountain view company)
Ujena Bikini Jam Puerto Vallarta
It's hard to believe that there's a garment manufacturer actually still stitching fabric here in the valley. This family-run company has built a formidable international mail-order business selling sexy swimwear and fashions. The Bikini Jam has since outgrown the valley and now takes over Puerto Vallarta for a week each fall for photography competitions, runway shows and private parties with an international cast of swimsuit models.
best revived classic
Plumed Horse 14555 Big Basin Way, Saratoga; 408. 867.4711
Josh Weeks and Peter Armellino have transformed sleepy Big Basin Way's restaurant row with a stunning renovation and concept overhaul that's worth watching.
best local bank
Bridge Bank
is what the other regional banks used to be before they got too big, banks that understood the unique culture of Silicon Valley, delivered exceptional service and were not afraid to innovate.
best restaurant comeback
Chez T.J. 938 Villa St, Mountain View; 650.964.7466
After a rocky period prior to his arrival, chef Christopher Kostow has put Silicon Valley classic Chez T.J. back on top of the culinary heap.
best independent bookstore
Willow Glen Books 1330 Lincoln Ave, San Jose; 408.298.8141
This small store is a surviving gem from the glory days of small bookstores, a place where President Clinton once picked up a few books to read during his post-presidential unemployment. Local history and authors are given special attention, as well they should be.
best little sushi spot
Yuki Sushi 1827 Pruneridge Ave, Santa Clara; 408.248.9144
This popular hole-in-the-wall consistently serves up an inventive menu of uncooked sealife that breaks the sushi sameness syndrome without reverting to gimmickry. The atmosphere is warm, intimate and welcoming.
best sushi spot in palo alto
Kanpai 330 Lytton Ave, Palo Alto; 650.325.2696
A high-quality sushi spot with hand grated wasabi and attentive service in an attractive setting.
best italian restaurant in los gatos
Vittoria 27 N Santa Cruz Ave, Los Gatos; 408.395.6000
With a cozy, handsome dining room, open kitchen and inspired Mediterranean wine list, Vittoria delivers a polished high-end dining experience. The whole-fish branzino al forno is a hit. Hopefully Vittoria will maintain its quality when it expands to a double-wide venue.
best steak house
Alexander's Steak House 10330 N Wolfe Rd, Cupertino; 408.446.2222
At more than $600 a pound, it had better be good! And Alexander's 6-ounce Kobe filet mignon ($250) is so marbled, succulent and tender that it practically melts in your mouth. Cut from 100 percent full-blooded Wagyu cattle from Japan's Miyazaki prefecture, Alexander's beef is an A5 grade rarely seen in these parts. Each side of beef comes to the restaurant with a certificate bearing the noseprint of the animal.
best campbell restaurant
Olio 384 E Campbell Ave, Campbell; 408.378.0335
Chef Thomas Ricci has placed an original stamp on contemporary fusion cuisine at this intimate Campbell eatery.
best tiki sculptures
Smoke Tiki Lounge 152 Post St, San Jose; 408.292.4266
San Jose artisan John Stewart's re-creation of tiki totems, cast in Bondo, bring nightclub design into the realm of fine art. Watch the Maori faces improve behind the bar after a few drinks.
best kitchen doors
Tanglewood 334 Santana Row, San Jose; 408.244.0464
The end seats on the long timber table are the best place to watch these motion-activated sliding glass doors open with a whoosh and provide glimpses of the meticulous preparation rituals that transpire within Tanglewood's impressive kitchen.
best rooftop patio
Capers Loft 90 S Second St, San Jose; 408.291.0677
With a climate like ours, it seems a waste to stay indoors all the time and, thankfully, Caper's delivers an al fresco environment without subjecting its patrons to bus fumes or panhandlers. It's ideal for private parties and happy hours.
best branding agency
Liquid Agency 448 S Market St, San Jose; 408.850.8800
With clients like Hewlett-Packard, Intuit and our own new media company, Liquid has plenty of creative talent to help companies visually represent themselves. Their mission goes beyond making companies look good, organizing a Brand Summit for valley companies learn to incorporate values and stories that help consumers understand what their enterprises stand for.
best truly middle eastern hummus
Café Taza 1 N First St (at Santa Clara St), San Jose; 408.292.8292
This downtown coffee shop has been through several names and owners over the years and continues to evolve while delivering personal service. With its latest remodeling, Middle Eastern specialties have been added to the sandwiches and espresso drink standbys, and its hummus is among the tastiest we have found.
best new club
Motif 389 S First St, San Jose; 408.279.1888
The SoFA district is showing signs of life again with an urban fusion club and restaurant that combines Asian minimalism with cabana lounges, black and silver chain sculptures and LED lighting effects. Somehow it all hangs together well and has already been embraced by SoFA's early adopters.
—Dan Pulcrano

Send a letter to the editor about this story.