09.26.07
home | metro silicon valley index | the arts | books | review
Book Box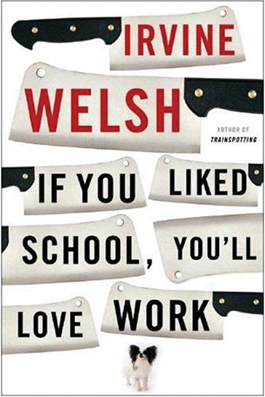 If You Liked School, You'll Love Work

It was work to read it. The further Irvine Welsh gets from Scotland (home of his Trainspotting), the more he sounds like a very bad movie. In the short story "Rattlesnake," a trio of deserving San Francisco chumps on the way back from Burning Man are victimized by a pair of gun-wielding Mexicans who talk like the Frito Bandito. More violence is provided by a poisonous "Mojave Green Snake" and a reprise of that rotten old joke with the punch line "The doctor says you're gonna die." Then comes a cycle of stories about a Canary Islands publican (the Ray Winstone type) who is up to his much-lauded pecker in trouble with dames and organized criminals. "The DOGS of Lincoln Park" hits rock bottom in a tale of neurotic ladies who lunch, a sinister Asian chef and a lapdog. Further stop-me-if-you've-heard-this-one material is provided in "Miss Arizona." An obese, wealthy, lonely old-lady taxidermist living in the desert and her social-climbing visitor—do I need to go on? The book comes to an acceptable ending in the novella "Kingdom of Fife." Jason King, ex-jockey, sometimes groom, table-top-soccer champ and out-and-out wanker, manages to get the girl of his dreams while fending off trouble. The story is astoundingly juvenile; 10-year-old copies of Viz comics deliver more pungent slang, and much of it is related in semilegible dialect. Still, there's authentic wit in the tale: an aggrieved daughter tells her father, "I didn't ask to be born," and he growls, "It's about the only thing ye huvnae asked fir."
(By Irvine Welsh; Norton; 392 pages; $19.95 paper)
—By Richard von Busack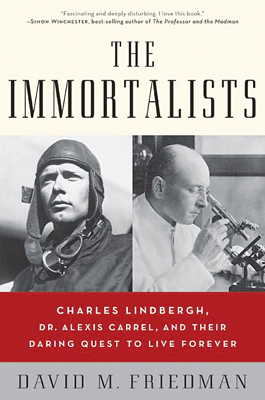 The Immortalists

After his solo flight to Paris, Charles Lindbergh ascended to a celebrity status that put a permanent zap on an essentially loner psyche. The media circus after the kidnapping of the Lindbergh baby sealed the deal—Lindbergh wanted no part of the democratic rabble. In this fascinating book, journalist David M. Friedman describes Lindbergh's little-known pursuit of perpetual life in the laboratory of Dr. Alexis Carrel. The first American scientist to snag a Nobel Prize, Carrel had managed to keep a chicken heart alive for years in a flask. Both men represented a curious admixture of genius and quackery. Carrel was a brilliant surgeon who worked in an all-black operating room. Lindbergh, an adept tinkerer, invented pumping mechanisms that aided in significant research on preserving living tissues. Too bad that they shared a taste for racism. Carrel's 1935 bestseller, Man, the Unknown, included such gems as "The Caucasian nervous system in superior to that found in any other race." Meanwhile, Lindbergh visited Germany and was mightily impressed by Der Führer. During the war, Carrel found himself trapped in his native France, under siege by the Nazis, while Lindbergh redeemed himself flying combat missions in the South Pacific. Friedman tells this twisted tale with novelistic dispatch and provides some extra insights about Anne Morrow Lindbergh's difficult role as the hero's wife.
(By David M. Friedman; Ecco, HarperCollins; 338 pages; $26.95 cloth)
—By Michael S. Gant
Send a letter to the editor about this story.