09.26.07
home | metro silicon valley index | silicon valley restaurants | review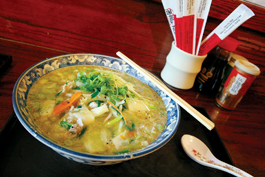 Photograph by Felipe Buitrago
KAHOO'S NEXT: Shio ramen with vegetables from chef So Nagano.
Top Ramen
With the opening of Kahoo Ramen, the noodle rises again in Silicon Valley.
By Stett Holbrook
WHEN Do Henkotsu closed earlier this year after a long run of business, Silicon Valley lost one of its premier ramen shops. The small, narrow restaurant had just a few tables and a long wooden counter in front of a cramped kitchen, but it turned out some of the most exquisite bowls of noodle soup I've ever had.
Now, with the opening of Kahoo Ramen four months ago in the hallowed space occupied by the late Do Henkotsu, the torch has been past to a new generation and, while different, the ramen is as good as ever—maybe even better.
Even before the doors open at 11:30am, there's usually a line of people at the door waiting to get in. Those queuing up appear to be Japanese expatriates and ramen aficionados who know a good bowl of ramen when they find one. And they've definitely found one here.
You're best off going to Kahoo alone because you'll be seated more quickly at a solo spot at the counter, and that's where all the action is. From the counter you can watch chef So Nagano work his ramen magic. Nagano is the talent behind Kahoo. He's a punk-rock-looking guy from Japan's Nagayama prefecture, who wears a thin beard and longish, blond-tipped black hair pushed up into a faux hawk.
The restaurant was packed on each of my three visits, but a confident calm pervades the busy kitchen. In between making bowls of ramen, Nagano strolls over to the stereo to change the CD. Japanese ska and indie rock appear to be the music of choice.
As orders come in, Nagano barks out commands in deep, guttural Japanese that his Latino assistants seem to understand perfectly. A steam-beaded stopwatch hangs over a big pot of boiling water and a battery of perforated noodle cookers. As Nagano drops a handful of noodles into the water, he punches the watch to ensure precise cooking. Nearby, he deftly stir-fries vegetables in a big wok atop roaring gas flames.
The rest of restaurant is spare but good looking with wood paneled walls and a zigzag motif painted on the walls.
In case you don't know, real ramen is nothing like those packages of dried noodles and salty powder that get so many students through their lean college days. The ramen I'm talking about is one of the world's great dishes. It's made with fresh noodles and long-simmering soup stock. Combined with fresh vegetables, meat, seafood or perhaps an egg, it's like Thanksgiving in bowl. While it takes only minutes to assemble, ramen's status as cheap fast food belies the skill and labor behind the creation of that steaming bowl of soup.
The two flagship bowls of ramen at Kahoo are the shoyo and shio ($6.95 each). Shoyo is defined as soy-sauce-flavored ramen, but that doesn't begin to capture the worlds of flavor within this bowl of soup. The pork-based broth is dark but clear and dappled with small blobs of pork fat and yet isn't overly rich or salty. Chicken feet and dried fish are also used in making the soup and the result is a subtle, complex and staggeringly good soup.
The surface of the ramen is an edible landscape of spinach, bamboo shoots, an iridescent sheet of nori, chopped green onions, half an egg just a few seconds past soft boiled and dangerously delicious chunks of roasted pork belly. The noodles are thickish and springy and have just enough texture to capture some of that great broth as you chopstick a load mouthward.
Shio, or salt-flavored ramen, is the most elegant of Kahoo's ramen. The pale-colored broth is a notch lighter than the shoyu but just as compellingly delicious. The pork belly that bobs on the surface has a sweet, caramelized flavor that plays off the richness of the soup base.
For a more nontraditional approach go straight for the spicy sesame ramen ($8.50). The thick, pork-topped soup is ridiculously good and has a rich, almost peanutty flavor and just a suggestion of spiciness.
The one less-than-fantastic item I tried was the miso ramen with vegetables ($8.95). The cloudy, miso-based broth is restrained but good, but the addition of stir-fried cabbage, carrots and onions didn't add much to the soup, and the thinner noodles served with it aren't as satisfying in the mouth as the fatter ones that come with shoyu and shio ramen.
Kahoo serves some other items like fried chicken wings and gyoza but I was too blissed out with the ramen to care about much else. Why give up valuable stomach space when there's more ramen to be had?
---
Kahoo Ramen
Address: 4330 Moorpark Ave., San Jose.
Phone: 408.255.8244.
Hours: 11:30am–2pm and 5–10pm Tue–Thu. 11:30am–3pm and 4:30–9:30pm Sat–Sun.
Cuisine: Japanese.
Price Range: $6.95–$8.95.
Send a letter to the editor about this story.