09.26.07
home | metro silicon valley index | the arts | stage | review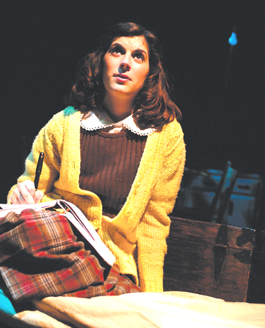 LONELY GIRL: Leah Marie Cohen plays Anne Frank in a stage version of her diary by San Jose Stage.
Hideout
San Jose Stage Company takes audiences into the hidden world of Anne Frank.
By Marianne Messina
THE HISTORICAL Anne Frank died in a German concentration camp just days before the Allies arrived. For anyone familiar with The Diary of Anne Frank, that knowledge looms over the action in this version by San Jose State Company. H0iding from the Nazis in an upstairs "secret annex" of Otto Frank's Amsterdam store, the Frank family of four, the van Daan couple with their son, Peter (Andrew Willis-Woodward), and the dentist, Mr. Dussel (William Ontiveros), hole up for more than two years. And yet the play remains surprisingly light, even as Anne's father Otto (Randall King) ticks off the rules: while the workers are below from 8 to 6, no noise, no shoes, no using the WC.
With gentle touch by director Rick Singleton, the production avoids the tack of pulling on sympathies. Instead, it brings the audience into that small suite of rooms. Used sparingly but to great affect, key sound effects sweep above and behind the audience (sound designer Sean A. Russell)—the metallic screech and clack of trains from Anne's nightmare, the peal of a violin merging into the wail of seagulls (a haunting aural progress that bookends the play). Spatially, the audience becomes part of the cramped hideout as, with no privacy walls, cots and mattresses spill out of the circumscribed living space. Minimizing the sense of narrative distance, the production quotes Anne's diary, sometimes with Anne (Leah Marie Cohen) speaking what she writes, other times in voiceover.
An eerie spotlight or shadowed actors in freeze-action help the closely designed voiceovers create doorway instants that cast a spell of otherworldliness—Otto called Anne's diary her escape. Wendy Kesselman's '90s adaptation of the 1956 play by Frances Goodrich and Albert Hackett reintroduces Anne's relationship to her Jewish identity, including rituals and songs, yet in this production what comes through are universal principles: reverence, bonding, a sense of connection to something beyond. As the glow from two thin Menorah candles ends Act 1, these principles seem to breathe into the dark.
Kesselman also sought to diminish the original play's lean toward hagiography. In this version, besides people squabbling over food and politics, Anne argues with her mother, finds that the pain of her period also brings a "sweet feeling," befriends and enjoys her first kiss with Peter (suitably dreamy) and writes "I'm longing, so longing for everything."
Sharp, nicely natural performances help us experience, not just observe, the families. As Mrs. Van Daan crying for her fur coat, Marie Shell embodies both the pettiness and the devastation. As Mr. van Daan caught stealing food, Mark D. Messersmith makes his humiliation as poignant as his act is deplorable. Cohen's Anne steadily grows on you, intriguing more than sympathetic, just as the real girl grows on her seven flatmates. She can be talky and starry-eyed, yet thankfully not chirpy, even as she first explores the hideout and declares the situation "an adventure." Oddly, as the sound of gulls washes over the final, darkened 1940s mise-en-scène, the play feels urgently contemporary. What seems to emerge from this presentation of Anne's life is the notion of youthful vision rebuilding the damage of war—in Darfur, in Iraq, in Afghanistan and countless other places, they will need it.
THE DIARY OF ANNE FRANK, a San Jose Stage Company production, plays Wednesday–Thursday at 8pm, Friday–Saturday at 8pm and Sunday at 2pm through Oct. 14 at the Stage, 490 S. First St., San Jose. Tickets are $20–$45. (408.283.7142)
Send a letter to the editor about this story.