September 27-October 3, 2006
home | metro silicon valley index | movies | current reviews | film review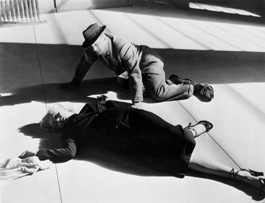 After the falls: Joseph Cotten plays the murderous husband to Marilyn Monroe in the thriller 'Niagara.'
Fox Prints
A series of 20th Century-Fox films at the Stanford Theatre features nearly 70 movies in 80 days
By Richard von Busack
DARRYL ZANUCK hailed from Wahoo, Neb. He dropped out of military school at 16 and joined the Nebraska Guard on an assignment to chase Pancho Villa; sent overseas for World War I, he became an army veteran at age 17. In Hollywood, he became a prolific pulp-fiction writer, a quality that landed him a job as head of production at Warner Bros. In 1933, he formed Twentieth Century films with the help of the Schenck brothers. Zanuck's Twentieth Century engulfed William Fox's studio, and Zanuck was a real mogul for the next 35 years: a polo player, a cigar fancier, a collector of dead wild game and live exotic starlets.
Twentieth Century-Fox's productions lacked the expressionism of RKO, the punch of Columbia and the elegance of Paramount. If MGM was a lion, the foxlike darting between subject matters fitted this studio's name. If any thread connects the films at the Stanford Theatre's massive retrospective of Fox films, it is that there is no thread. The series starts with Yul Brynner blustering at Deborah Kerr in The King and I and Gary Grant romancing her in An Affair to Remember and wraps up Dec. 6 with the epic that nearly destroyed the studio, 1963's Cleopatra. The series also includes a film from a pint-size actress Zanuck called "the world's eighth wonder": Shirley Temple (Curly Top, 1935). Also featured are a few with Marilyn Monroe (Niagara, Oct. 13; and Gentleman Prefer Blondes, billed with How to Marry a Millionaire, Oct. 14-15).
One can make some gross generalizations about Fox's content. Zanuck, a cartoon version of Teddy Roosevelt, with cigar and polo mallet, loved costume pictures, so much so that there was once a joke about "16th Century-Fox." He cast matinee idol Tyrone Power as a conquistador under the thumb of Cortez (Cesar Romero) in Captain From Castile (Dec. 1) and as a pirate of the Spanish Main (The Black Swan, Nov. 3). In Prince of Foxes (Dec. 1), Powers crosses swords with Cesare Borgia (Orson Welles); Power's outing as the most romantic of all Zorros (The Mark of Zorro, Nov. 11-12) is also being revived.
Fox also produced Americana musicals (the 1946 version of State Fair, Oct. 6) and the Chicago fire musical In Old Chicago (Oct 11-12). Auteurs passed through Fox's Pico Boulevard gates: Alfred Hitchcock (Lifeboat, Dec. 13-14), Preston Sturges (Unfaithfully Yours, Dec. 6-7) and John Ford (How Green Was My Valley, Oct. 20; Tobacco Road billed with The Grapes of Wrath, Nov. 8-9; and My Darling Clementine, Nov. 11-12.) Some real rarities offer surprises: George Montgomery's Philip Marlowe solving the case of The Brasher Doubloon (Oct. 25-26), the infrequently revived Peyton Place (Dec. 2-3) and Dorothy Dandridge as a contemporary Carmen in Carmen Jones (Nov. 4-5).
The series supplies a mix of classics, energetic trash and grand white elephants. It's cinema, in a word: an art that sometimes seems to be on its way out. Take the misunderstanding of Brian De Palma's The Black Dahlia, for instance; note David Denby of The New Yorker complaining about the too-richness of the film, as if his doctor had put him on a diet. The Stanford's tribute gives us a chance for an endangered experience, as today's cinema gets less and less cinematic and more and more like downloadable content.

The Films of 20th Century-Fox plays Sept. 29-Dec. 17 at the Stanford Theatre in Palo Alto.
Send a letter to the editor about this story.