September 27-October 3, 2006
home | metro silicon valley index | silicon valley restaurants | review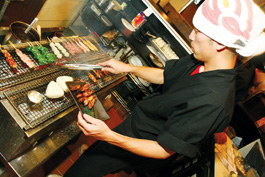 Photograph by Felipe Buitrago
Playing with fire: Takeo Moriyama works the grill at Sumiya.
Truly Unique Japanese
West San Jose's Sumiya is a one-of-a-kind Silicon Valley find
By Stett Holbrook
WHILE it doesn't have the roots or density of San Jose's Japantown, the Moorpark Avenue area in west San Jose is kind of a stealth version, with restaurants and markets scattered throughout the area. The food is especially good here. I had a fantastic bowl of ramen at Donhenkotsu and a great green onion pancake at Hana (see my June 22 and July 20 reviews, respectively). Nearby Tomi Sushi is a top Silicon Valley sushi destination. But my favorite restaurant in the area right now is Sumiya Japanese Charcoal Grill.
Sumiya—a tiny, 4-month-old restaurant with less than a dozen tables and a large wooden bar—specializes in yakitori, grilled skewers of meat, fish and vegetables. It's a simple but exciting place to eat. You won't find any place in Silicon Valley quite like it.
Yakitori is meant to be a quick snack to go with a glass of beer or sake on a night out with friends. Customers at Sumiya are almost all Japanese, and the place is popular with groups of four or more, giving the place a lively, communal atmosphere. The young chefs who man the grill wear colorful head wraps and dart about the small open kitchen while Japanese indie rock and reggae fills the intimate but casual dining room.
Once seated, you get a plate of green cabbage leaves drizzled with soy sauce. It's just OK, but it's also free. To order yakitori, you check off your selections from a paper menu and hand it to the server. Since each skewer costs just a couple bucks, experimenting is fun and low-risk.
If you've had yakitori before, it was probably chicken with some kind of soy or teriyaki glaze. Sumiya's chicken skewers go well beyond that. Sasami ($2.25) offers grilled chicken breast with a choice of plum, yuzu or wasabi sauce. The bright citrus flavors of the yuzu made it my favorite. For the more ambitious there are chicken heart, liver and gizzard ($1.85 each). Although it may sound off-putting, I implore you to try the kawa ($1.85), a.k.a. chicken skin yakitori. The skin is threaded onto a bamboo skewer and arrives pleasingly crisp on the outside and deliciously rich, sweet and chickeny inside. It's fantastic and not at all fatty or blubbery. Another skewer not-miss is the tsukune or chicken meatballs ($1.85). Smaller than golf balls, the perfectly round orbs burst with rich, juicy flavor.
Seafood is especially good at Sumiya, and I loved the squid (ika), $3.25, and shrimp (ebi), $3.75. The squid is charred until it blisters, and it melts in the mouth like warm bacon fat. The shrimp has a great salty crust that permeates the sweet meat.
Speaking of bacon fat, I'm a huge fan of butabara, or pork belly. On one of my visits, the pork belly ($2.25) was so rich and porky I had to force myself to slow down as I chewed so I could make the experience last longer. On a second visit, however, the meat was flavorful but nowhere near as tender.
If you like tender meat, go for the gyutan (beef tongue, $2.25). It's got a great rich and beefy flavor, no visible fat and lean texture. Charred on the grill with just a sprinkle of salt, it's great. Try it if you think you don't like tongue or have never had it.
From the list of vegetables and tofu, I liked the piman (Japanese green chile, $1.75) best. The single chile is lightly blackened on the grill and topped with bonito flakes (dried fish flakes with a mild, salty and meaty flavor), a combination that gives it a smoky, flavor enlivened with a little chile pepper heat. The block of grilled tofu ($2) is decent, especially dabbed with the lively ginger sauce on the plate.
From the specials board, I went for the grilled garlic ($3.25) and grilled eel gut ($3.25). The head of garlic had been slit open and baked, but the papery outer layers burned and tainted the usually sweet and nutty cloves with an acrid, bitter flavor. The eel gut (their words, not mine) is a pretty advanced dish. It has an aggressive, salty, metallic and bitter flavor that grows in strength.
Most of the yakitori are on the salty side, so beer, preferably a pitcher, is the best choice here. There's also a small but excellent list of premium sake.
While the yakitori is the main attraction, there's also a great menu of small hot and cold dishes that shouldn't be missed. Probably the most intriguing dish I tried was the yakinasu ($3.75), a halved and grilled eggplant topped with bonito flakes. What was so impressive about this dish was the way the sawdust-looking bonito flakes writhed and wiggled from the heat of the eggplant. They looked alive. While it was a little creepy, the smoky richness of the eggplant was delicious with the meaty bonito flakes and the aromatic tang of the ginger sauce.
Another winner was the Sumiya teba ($3.75), marinated and grilled chicken wings much smaller than your typical buffalo chicken wing. Each steaming wing contained just one bite of meat, but, oh, what a bite it was. That little morsel of chicken contained a tiny universe of flavors—salty, rich, meaty and tangy all at once.
---
Sumiya Japanese Charcoal Grill
Address: 5160 Moorpark Ave., San Jose.
Phone: 408.973.0604.
Hours: 5:30-11:30pm Mon-Sat.
Cuisine: Japanese.
Price Range: $1.85-$6.50.
Send a letter to the editor about this story.