September 27-October 3, 2006
home | metro silicon valley index | music & nightlife | preview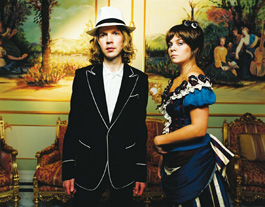 Photograph by Autumn deWilde
Information Man: Lollapalooza veteran Beck headlines this year's Download Festival.
Download This
The timely music festival aims to slow its connection speed with Beck
By David Sason
THE NAME of the Download Festival, the second annual concert that comes to the Shoreline Amphitheatre on Sept. 30, alone speaks volumes about the hard drive-driven modern music industry. Music downloading—legal or otherwise—continues to increase, while physically packaged albums are fast becoming a relic. Ninety-nine-cent downloads are the new 45s, evinced by Gnarls Barkley's downloads-only smash "Crazy," and any player bigger than an iPod may as well adorn a Johnny Rocket's. And it seems that every week another huge conglomerate is getting into the game, with even Wal-Mart now offering music downloads. (No, seriously.)
Record companies are understandably scrambling to cover their asses, dropping unprofitable artists like hot cakes and padding nearly every CD release with exclusive bonus material. They've even tried to reduce leaks by reportedly allowing reviewers to hear new releases only on record company premises. Perhaps it's fitting, then, that this year's festival headliner is Beck, whose upcoming album, The Information, features a bonus DVD and a blank cover for fans to adorn with selections from four included sticker sheets. And Interscope is holding on so tightly to the record before its Oct. 3 release that a review copy didn't arrive before presstime. So naturally ...
As the follow-up to last year's Guero, a throwback to 1996's smash Odelay album, The Information brings a sigh of relief that suggests Beck's thirst for artistic exploration didn't end with 2002's surprisingly heartfelt Sea Change. Once again working with that album's producer, Nigel Godrich of Radiohead fame, Beck seems to explore new ground on "I Think I'm in Love," where a persistent high-hat beat and "Superfly"-ish bass bounce are accented by crashing piano chords. In fact, ebony and ivory keys pervade the record, most interestingly on "Strange Apparition," whose Southern-rock piano licks, acoustic guitar and nasally, quivering voice recall a possible outtake from the Stones' Exile on Main Street.
Beck is certainly no stranger to alternative music festivals, having toured in 1994 with Lollapalooza, the fabled musical carnival that's the archetype for all modern music festivals. The Download Festival tries to follow suit by presenting established acts—the Yeah Yeah Yeahs, the Shins—alongside up-and-comers like prog-rockers Coheed and Cambria and Brooklyn jazz-fusion masters TV on the Radio. A sign of the times, though, is certainly the extensive corporate sponsor list, which features everyone from Wells Fargo to Volkswagen.
But MySpace is also a sponsor, providing a meeting area where cyber friends can finally meet face to face, one of a few festival elements striving to connect people without bandwidth. Also, among all the high-tech, interactive games will sit a simple foosball table, a relic from the bygone days of the arcades that have since been replaced by personal X-boxes and even more detachment.
Even Beck's stage show will feature a decidedly low-tech gimmick in the form of puppets created by L.A.-based Puppetown Productions. At his sold-out show at the Fillmore back in May, the marionette replicas of the band members dazzled the crowd, appearing on video screens to open the show with his classic slacker anthem "Loser."
With this shirking of modern technology, maybe it's better Beck's new album will be unreleased at the time of the show. Fans may find that hearing new songs for the first time at a show will use a better kind of memory.
The Download Festival, with Beck, the Yeah, Yeah, Yeahs and others, takes place Sept. 30 at 2pm at Shoreline Amphitheater. Tickets are Tickets are $29.50-$49.50. (Ticketmaster)
Send a letter to the editor about this story.